4-0 Vaqueros defeat friends with respect
Updated: January 31, 2018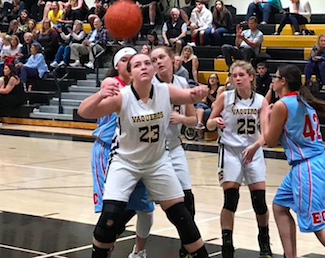 El Capitan's MIRANDA NICHOLS reaches for the ball Tuesday night.
2018 EAST COUNTY PREP GIRLS BASKETBALL
By Dave Dickens
EastCountySports.com
LAKESIDE (1-30-2018) – The visiting El Cajon Valley Lady Braves knew they had their work cut out for them as stepped onto the basketball court at El Capitan High Tuesday night.
For the Vaqueros, the Braves are a familiar foe, for lack of a better term, as two squads gather often in the off-season, as El Cajon Valley High Lady Braves coach CARLOS MOSS dedicates almost all of his free time to help the El Capitan and El Cajon Valley girls to improve their game and their character.
"The El Cajon girls basketball program should be proud to have a gem like Carlos representing them," said Lady Vaqueros head coach DARIN CURTIS.
As the game began, one would wonder how this contest might pan out, but in hindsight, with all the fantastic coaching and all the heart and dedication of the Lady Braves, the visitors would have had to play flawlessly to come out with a win.
That also says a lot about how far this group of young athletes have come in a short time, that being the Lady Vaqueros, who are coached by an outstandingly dedicated coach, as well, in Curtis.
Both of these legendary coaches have worked magic each year with the hand they were dealt.
The first quarter of action started quite slow, as the two squads were not warmed up completely and the score at the end of one was 17-8 El Cap, and it seemed in a couple instances of tangled legs and minor falls, all a part of getting warmed up.
Although as intermission approached, the home Lady Vaqueros were up by 22 points, 34-12.
However, the Lady Braves are playing as tough as ever.
From the start of the third quarter to the last six minutes of the rolling clock, the El Cap Lady Vaqueros were not only winning, they were learning how to perfect ball distribution.
"A lot of positives from this game other than just a win, were MACKENZIE CURTIS had more assists than turnovers," said  Curtis. "She may not be scoring as many points, however, new players are rising and we are playing smarter.
"JORDAN GRANDY and Mackenzie Curtis are competing at practice, which is inspiring others to follow suit."
The last six minutes of the game was a running clock, 63-22 was the final.
As for the Lady Braves, "One of my brightest spots tonight was my freshman SILIVIA (ABOUD) had 17 rebounds, I'm so proud of her, she is leading the league with 11.6, so glad she never quits," said Moss.
"Tonight was an incredibly tough game, and I kept working hard, we didn't give up and continued to play as a team," said senior Lady Brave DANIA ELIA.
The Lady Vaquero defense is really what propels this young group of young ladies.
"Personally I think we have two of the best defenders in the league," said Lady Vaquero JORDAN GRANDY, who had 16 points, including two 3-pointers, four rebounds and one assist.
Curtis had 20 points, including a three, and 8 assists.
The El Capitan Lady Vaqueros (11-12, 4-0) will face another league foe, Valhalla (3-12,1- 3), at Valhalla at 5:30 pm on Friday February 2, and the El Cajon Valley Braves (8-12, 1- 3) will be at home against the Hueneme Vikings (6-15) at 7:00 pm on Wednesday, Jan. 31.