LADY VAQUEROS REACH .500, 5-0 IN LEAGUE
Updated: February 3, 2018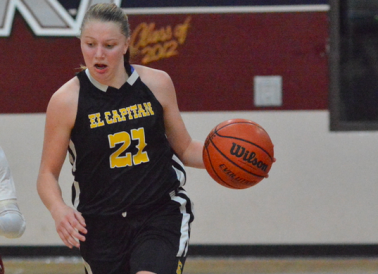 EL CAPITAN FRESHMAN MACKENZIE CURTIS
2018 EAST COUNTY PREP GIRLS BASKETBALL
By Dave Dickens 
EastCountySports.com
EL CAJON (2-2- 2018) – In just 24 hard-fought games, the Lady Vaqueros have reached the .500 mark at 12-12 overall and a perfect 5-0 in league play.
This young team has become a rising force and has been flying under the radar, but winning, and they have mastered the art of winning as a team.
The Valhalla Lady Norsemen were the latest victims of the Vaqueros' wrath.
The visiting Vaqueros went into this one, not working as individuals, but working on achieving more assists, and they came out on top with a big win in dominating fashion, 69-22.
"The girls are really working hard and it is making a difference with our defense in particular," said El Capitan head coach Darin Curtis.
"On offense, they are starting to look for each other and their opportunities to score."
KYLIE MEAD finished well inside, as VIRGINIA MARTIN and SHIANA PERES were able to convert their defense intensity into points.
MIRANDA NICHOLS also had her best performance of the season at both ends of the court and scored inside and out.
The older one of the bunch, DEVON BULLOCK, definitely did a phenomenal job running the offense to make sure that JORDAN GRANDY and SERENE WECKBACK got their looks.
Leading scorer MACKENZIE CURTIS achieved 10 assists, but also made her points.
The El Capitan Lady Vaqueros (12-12, 5-0 GVL) will next face the Steele Canyon Lady Cougars (12-6, 3-1 GVL) on Friday, February 9 at El Capitan at 5 pm.
The Valhalla Lady Norsemen (3-13, 1-4 GVL) will face the Lady Red Devils from Sweetwater (7-10) on Sat., February 3 at 6 pm at Sweetwater.