Patriots clinch share of long-awaited title
Updated: February 3, 2018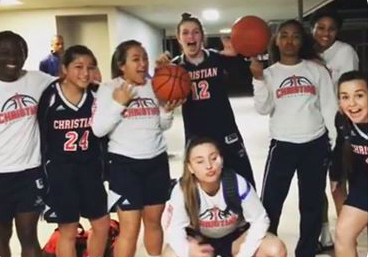 Christian celebrates following clinching at least share of Central title Friday night.
2018 EAST COUNTY PREP GIRLS BASKETBALL
EastCountySports.com staff report
SAN DIEGO – The Christian High girls' basketball team dispatched its closest contender for the Central League championship for the second time this season, and this time it was on the road, as the Patriots stymied Madision, 48-28, to clinch at least a share of the program's first league title since 2005.
Christian (15-7, 8-0) handed Madison (16-4, 6-2) its first home loss of the season and ended the War Hawks' seven-game win string.
Hannah Richardson and Kristin Williams got the Patriots going offensively in the first few minutes of the game, each hitting buckets, as Christian opened the game with a 9-0 run.
Williams had pair of three-pointers in the first quarter. Later, in the second, Williams hit a three that made it 22-11 Patriots.
"The momentum was slow and we played scrappy but there were lots of foul calls in first half and we shot poorly from the line (5-of-14)," said Christian High coach Vickie Carrington.
Patriots sophomore Simone James scored 15 points, had 16 rebounds for Christian (15-7, 7-0), which has two regular-season games remaining.
Christian high forced 21 turnovers against Madison, which shot just under 15 percent from the field for the entire game.
"Jasmyn Crawford coming off the bench played 'Lock Down' defense and was the energy boost we needed," added Carrington.
Madison won the free-throw game as they were 10-of-16 for the evening, while the Patriots ended up 8-of-20.
"Anytime you play at the opposing schools home gym, especially on senior night, you can expect the players to play differently and in most cases a lot better," Carrington said. "Madison definitely had excellent fan support, so their gym was packed. It was hot in the gym so I feel like our girls were fatigued much quicker."
Freshman Kristin Williams led Christian with 18 points.
Sophomore Hannah Richardson had nine points and 10 rebounds for the Patriots.
"Zoe Nordling and Simone James were consistently all over the boards for all four quarters," Carrington said. "Simone and Mailoni Aguila got in foul trouble quickly and we had to rely on our bench.
"In the second half, Madison played really well, they kept the game close, and did a good job protecting the paint. Our shots were really off so them going to a zone was definitely effective for them.
Carrington praised the Pats' rebounding efforts, as Nordling added 12 boards.
"Simone's presence on the floor was necessary when she got that early foul trouble in the first quarter and had to sit out for almost half of the first quarter and a few minutes into the second quarter it was noticeable," Carrington said. "Her athleticism and her length on the perimeter keeps the opponent on their toes, it's hard to match up with her as she has ability to shoot inside outside. Not mention She's just flat out quick."
Christian pasted Madison, 67-28, in the first meeting on Jan. 12 at Ryan Center.
snapped Madison's seven-game winning streak and handed the Warhawks their first loss at home,