Monarchs honored by second league win
Updated: February 3, 2018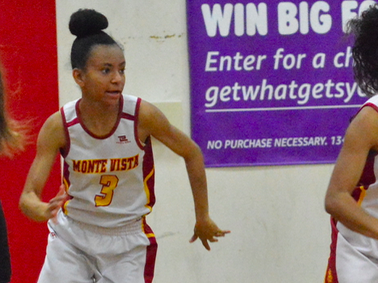 Monte Vista junior TORRI HONORE
2018 EAST COUNTY PREP GIRLS BASKETBALL
EastCountySports.com staff report
SPRING VALLEY – Monte Vista junior SARA TAHA scored 19 points and junior teammate TORRI HONORE scored 13 of her 15 points in the second half to lead Monte Vista to a 52-36 win over visiting El Cajon Valley on Friday evening.
Taha was hot early scored eight points in the first quarter, as Monte Vista worked a 12-8 lead after one.
Taha had a three-pointer in both the first and second quarter.
Monte Vista led 22-13 at halftime.
Monte Vista sophomore JOURDAN BARBER and junior MARIAH MOORE both added six points for the game.
The Monarchs improved to 2-3 in the Grossmont Valley League and are currently in third place in the league standings.
El Cajon Valley's VEAN GORGEES hit five three-pointers on the night and finished with 17 points, seven rebounds and five steals.
The Braves' LILIAN AKINTONDE had nine points, seven of them coming after halftime. She also added five assists and three steals.
El Cajon's SILVA ABOUD had a huge night on the glass with 19 rebounds.
While the Monarchs appear well out of the playoff picture in Division 4 currently, the team will face its most important game of the season on Tuesday at league foe and Division 4 12-seed Valhalla on the road at 6 p.m. A win could vault the Monarchs immediately into postseason contention.
The Braves travel to face Steele Canyon on Tuesday at 6.