LADY MATADORS FALL SHORT VERSUS LJCD
Updated: February 4, 2018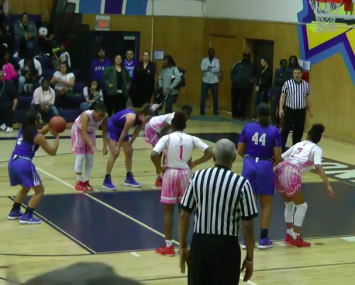 2018 EAST COUNTY PREP GIRLS BASKETBALL
By Dave Dickens 
EastCountySports.com
CHULA VISTA (2-3-2108) – "The most positive thing I can take away from this game, the atmosphere was phenomenal, the crowd cheering for both teams, people from all over in attendance, coaches from various schools, kids from other schools, loved it," said Mount Miguel Lady Matadors head coach ROBBIE SANDOVAL.
This contest was predicted to be a great one, with playoff implications of course.
This was the feature game as part of the Coaches vs. Cancer Showcase on Saturday at Bonita Vista High School.
The No. 1-ranked Mount Miguel Lady Matadors (21-1) versus La Jolla Country Day (15-7).
With a Mount Miguel win, Sandoval and his squad would snap a 12-year drought of losing to the Torreys.
It was a very physical game where the defenses would very well determine the outcome, as the score was tied at 11 after the first quarter of play.
Both squads were playing their tails off, as the score at the halfway mark was 16-14, Mount Miguel .
"Both teams were extremely physical and scouted very well, so there were mostly one on one matchups," said Sandoval.
The back and forth exchange between scoring led to a 29-29 score at the end of the third quarter.
"The Torreys had a lot of experience on their squad, as they have 5 seniors, while we have more youth, but that is not an excuse, just stating facts," said Sandoval.
This was definitely a contest to prepare both teams, a preview if you will, of the championship.
Lady Matador SYLENA PETERSON was one of the co-leaders this evening, and led in scoring with 16 points, 2 rebounds, and 1 assist, while CAMARA DOUGLAS had 14 points, 12 rebounds, 1 block and 1 steal.
However the Torreys went on to win 46-39.
"I believe, and if you review the streamed footage of our game, in the last 30 seconds, the officials missed a clear shot clock violation, the ball never hit the rim as the official claimed it did, and the Torrey's were awarded the ball," said Sandoval. "I'm not saying the officials cost us the game, but an opportunity to win."
" I'm proud of my girls and they need to hold their heads high as they played really hard," Sandoval said. "And another positive, we will not face Mission Hills, and will make the road to the finals a little less tough, as it will
be more than likely Santa Fe Christian."
TIAJA BENNETT had 6 points and 3 rebounds, while MICHELLE CORLEY had 1 rebound, 1 assist, and 1 steal for Mount Miguel.
The Matadors' DEYONNA MCBRIDE had 1 assist, while teammate LALLI GURROLA had 3 points, 1 rebound, and 1 assist.
The Lady Matadors will play the Grossmont Lady Hillers on Tuesday at 6 at Mount Miguel.