MATADORS GIVE HILLERS DOSE OF TREYS
Updated: February 7, 2018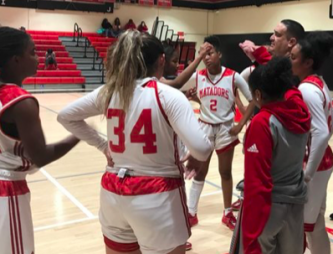 Mount Miguel during a time out on Tuesday night.
2018 EAST COUNTY PREP GIRLS BASKETBALL
By Dave Dickens
EastCountySports.com
SPRING VALLEY (2-6-2018) – The last two times the Mount Miguel Matadors and Grossmont Foothillers squared up, the end result was the same.
However, the Lady Hillers were able to challenge the top-seeded, high-flying, high-scoring Lady Matadors last month.
The total scoring was very similar at Grossmont last month, when it was 66-36 and Tuesday night's final was more of the same, 80-47.
"Mount Miguel is a great team and my team and I are happy to play a talented group like the Matadors," said Grossmont head coach GRACE CAMPBELL.
It has been a busy week, including a huge loss that the Lady Matadors suffered over the weekend versus La Jolla Country Day.
"We actually conducted a light practice yesterday as we played a tough game, and many games in the last week, but I'm proud of my team the way they responded tonight after suffering our first loss of the season on Saturday," said Matadors head coach ROBBIE SANDOVAL.
Grossmont (10-12, 3-4 Grossmont Hills League) came into Tuesday's contest ranked No. 15 in SDSCIF Division 2, while Mount Miguel came into this evening's bout, ranked No. 2 in SDSCIF Division 1 and is now 23-1 (7-0 Grossmont Hills League).
"We are hoping to avenge our three-point loss earlier in the season to West Hills to hopefully climb up the rankings, as I think we are really gelling and playing better basketball," said Campbell.
After tip-off is where the game tempo started to establish as Mount Miguel would toss in the the first points at the hands of freshman SYLENA PETERSON, as she happened to hit a 3-pointer that would end up being the first of 12 successful 3-point shots on the evening for the Matadors.
At the end of the first quarter, it was a typical lead but still competitive at 27-13, Lady Matadors.
The Lady Matador defense would improve in the second quarter, holding the Lady Foothillers to only 11 points, as the Mount Miguel offense would toss in 24 more points, leading at the half, 52-24.
Peterson shot 3 of the 8 from three-point range in the first half, as Mount Miguel made eight threes in the first 16 minutes.
For the Lady Hillers in the first half, MARISSA GILES generated 9 of the 24 points at the half for her team, 3 via a successful 3-pointer.
Mount Miguel's offense would continue to dominate, tossing in another 28 points, 12 of them shot from downtown.
Grossmont tallied up another 23 in the second half, coming up short in the loss to a very competitive and talented Mount Miguel squad.
"We have Helix and Mater Dei, and then time to prepare for the playoffs," said Sandoval.
MICHELE CORLEY had 11 points, 1 rebound, 3 assists, and 3 steals while TIAJA BENNETT had 6 points, 5 rebounds, 4 assists, 3 steals and took two charges.
CAMARA DOUGLAS had 19 points, 5 rebounds, two assists, 3 steals, and 3 blocks, while Peterson had 28 points, including 6 3-pointers, 5 rebounds, 7 assists, three steals
NYA MAGA had two points and two rebounds for Mount Miguel, while LALLI GURROLA added 12 points, all on three-pointers.
Grossmont's Giles had 13 points and CANDACE HENDERSON also had 13 points and 1 successful 3-pointer.
Mount Miguel will face Helix (16-7, 4- 2 GHL) at Helix at 5:30 PM on Friday the 9th.
Grossmont will face West Hills (10-12, 5- 2 GHL) at West Hills at 5:30 pm on Friday the 9th.