Griffins so close to knocking off City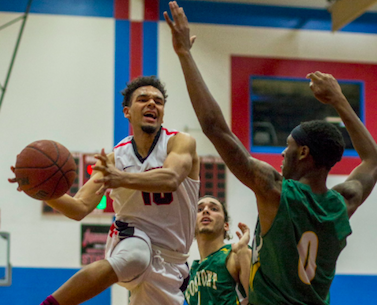 San Diego City's WONDER SMITH is caught in the air against Grossmont on Wednesday. / photo by Celia Jimenez
2018 GROSSMONT GRIFFINS BASKETBALL
By Dave Dickens
EastCountySports.com
SAN DIEGO (2-7-2018) – The Griffins from Grossmont College had a few goals to shut down the high-scoring San Diego City offense, including penetrate the defense and limit the turnovers.
Well, two out of three was a decent accomplishment, however, 20 turnovers to the host Knights is not going to pay dividends, as Grossmont fell to the state's No. 2-ranked team, 79-75.
"Originally the plan was to limit our turnovers, which we did not," said Grossmont's BRYCE PARSONS.
"The turnover battle is what determined the results of this contest," said Grossmont's RONALD BLAIN. "It wasn't for lack of effort or fight, we brought that and City felt that from the opening two dunks. "
Grossmont started off with a chip on their shoulder and led from the introduction of back to back dunks, and at one point in the first quarter of play led the 25-2 Knights, 14-7, and feeling the momentum build.
After a few early turnovers on behalf of the Griffins, the momentum would start to shift in favor of the Knights, who were up 16-14 with 14:06 left in the first half, as San Diego City's ADRIAN BYRD-JELINEK tossed in a bucket.
The following play would lead to yet another turnover on behalf of the Griffins.
There were quite a few missed shots for both squads until Grossmont's KYLE RUIZ tossed in a pair to put the Griffins back on top, 17-16, with 13:16 left in the first half.
One of the biggest leads for theKnights was with 3:05 left in the first, as San Diego City's JOSEPH RILEY was fouled by Blain, made the two free throws, and the Knights were up 39-30.
Unfortunately for the Griffins, the last play was a turnover, and City's ROBERT MCCOY would make the layup to
finish the first half up, 43-36.
The Griffins did win the battle in the second half as they outscored the Knights, 39-36.
Blain did pick up quite a few rebounds, and with 18:02 left in the early portion of the second half, Grossmont's DAVID WHEELER hit the three-point shot to put the Griffins in a better spot, now only down, 47-42.
Three plays later, Blain hit a beautiful three-point shot with 17:31 left and now Grossmont was only down, 47-45.
Definitely a back and forth scoring affair.
The end result at any rate would be another close one, but the Griffins suffered a third loss to the Knights this season. Grossmont was within 1 with under 2 minutes to play, but couldn't hold off the offensive firepower of the San Diego City.
"I believe having 20 turnovers in any game will result in a loss, although to still be within shooting
distance of a win, shows that we are a great team that many are sleeping on," said Grossmont's OSCAR LIMON.
"With 20 turnovers, that is 20 more shots we could have taken, but instead they did, and took advantage of their opportunities," said Parsons.
Wheeler almost hits another three at the buzzer, but it was just short.
Grossmont was so close with 4 seconds left down 77-75.
"I'm really proud of this team, we never gave up," said Grossmont's head coach Doug Weber.
Grossmont (16-8, 5- 1) will host Imperial Valley (3-19, 1-6) at Grossmont on Friday the 9th at 5:00 pm.
Notables – RONALD BLAIN – 17 rebounds, 3 assists, 1 steal, 21 points scored; BRYCE PARSONS – 3
rebounds, 3 assists, 2 steals, and 19 points; OSCAR LIMON – two 3-pointers, 2 assists, 1 steal, 15 points;
KYLE RUIZ 2 3-pointers, 6 rebounds, 1 assist, 8 points.