Vaqueros swat Cougars' title challenge
Updated: February 9, 2018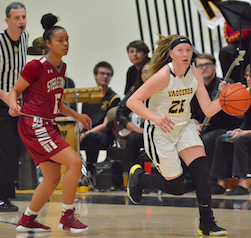 EL CAPITAN FRESHMAN MACKENZIE CURTIS DRIBBLES AGAINST STEELE CANYON FRIDAY. / photo by Ramon Scott
2018 EAST COUNTY PREP GIRLS BASKETBALL
EastCountySports.com staff report
LAKESIDE – It might have been a challenge for El Capitan head coach DARIN CURTIS to convince his team made up of nearly all sophomores and freshmen that they were going to be league championship contenders when the Vaqueros were saddled with an eight-game losing streak a little more than a month ago.
On Friday night, the group locked in no less than a share of the Grossmont Valley League championship by swatting its closest contender, Steele Canyon, 46-29, to improve to 6-0 with two games remaining in the regular season.
"We worked hard all season and especially this week," Curtis said. "We started strong, but lost our focus and they were able to come back. I couldn't be prouder of our team effort."
It was the tenth win in the last 11 outings for the El Capitan girls and also the second time in three weeks that the Lady Vaqueros outmuscled the Cougars, using their physical advantage to force the visitors out of their offensive comfort zone.
And how did El Capitan celebrate its big win?
After a short cheer at mid-court, the team lined up along the baseline and rooted on a pair of octogenarian women's teams competing in a half-court game.
The Vaqueros played with their usual poise similar to the "Golden Girls" on display, sticking with their rotations and post entries, despite a decently strong resistance by the physical Cougars.
El Cap got off to a quick start at 13-4, but a 5-0 run brought Steele to within 13-9.
Vaquero frosh MACKENZIE CURTIS hit a three-pointer with 5:45 to go in the second quarter to make it a 16-9 edge.
"Last time we played Steele Canyon, my head was not in the game," Mackenzie Curtis said. "I don't think we were all there until the fourth quarter the first time around against Steele."
A couple of minutes later, the Cougars' MYA CROSS went up strong against the Vaquero bigs and put one in to make it 18-14 in the second.
"We played hard tonight but El Cap had a great game," Cross said. "We are going to continue to work hard and go as far as we can in the postseason."
El Capitan's JORDAN GRANDY scored on a layup following a deflection and a team to extend the Vaqueros' lead to 23-14, then Curtis followed with a drive and scoop layin for a nine-point edge.
El Cap made a three-pointer with 4:30 to go in the third.
Cross had a basket for SC that made it 29-21, then Steele puts its best charge together for a rally in the third when freshman MAHKAYLAH CLINE had back-to-back buckets to make it a four-point game.
"It was a battle going into the fourth, but our conditioning all season and specifically this week was the difference in the fourth," coach Curtis said.
A Mackenzie Curtis basket early in the fourth made it 34-27 El Cap.
"This was very exciting, but I think we handled the pressure very well," Mackenzie Curtis said. "I am proud we ended up with this win. Pressure is when your true character shows.  This week was intense. We ran and ran and ran. We were not winded when this game came around."
SERENE WECKBACK had an inside basket to give EC a 10-point lead. She also had three blocks.
"They are a true basketball team," said Steele Canyon senior ELIZABETH BOTT. "We gave it all we had but ran out of steam in the fourth quarter."