ROUNDUP: Matadors, Patriots celebrate
Updated: February 9, 2018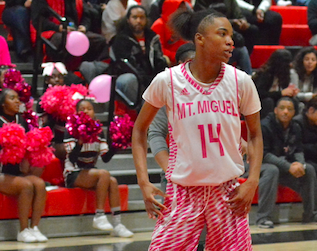 MOUNT MIGUEL SENIOR CAM DOUGLAS
2018 EAST COUNTY PREP GIRLS BASKETBALL
EastCountySports.com staff report
MOUNT MIGUEL 64, HELIX 34 – Senior star CAM DOUGLAS scored 30 points as the Lady Matadors clinched no less than a share of the Grossmont Hills League championship over Helix Friday night in La Mesa.
The Matadors improved to 8-0 in the league with two games to play.
MICHELLE CORLEY had 10 points for second-ranked Mount Miguel, which improved to 24-1 overall.
The Matadors will travel to take on the Mater Dei Catholic Crusaders in a non-league contest on Saturday at 7:15.
SANTANA 33, GRANITE HILLS 28 – The Sultans outscored the Eagles 7-0 in the first quarter and extended the advantage to 14-0 early in the second quarter, then continued on for their first Grossmont Valley League win of the season.
Both teams are battling to make it into the postseason picture.
Santana has its biggest game of the season next Tuesday at Grossmont at 6 p.m.
CHRISTIAN 68, MISSION BAY 29 – The Patriots led 17-7 after one quarter and 34-13 at halftime as SIMONE JAMES paces Christian with 21 points.
KRISTIN WILLIAMS and RAELYN MUECA both added eight points for the Pats, who improved to 9-0 in the Eastern League to clinch the league title outright.