Matadors run the table in Hills League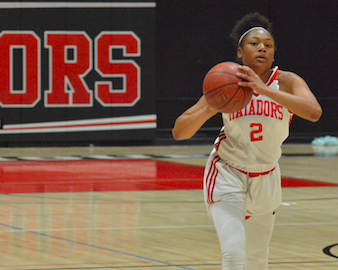 Mount Miguel's TIAJA BENNETT / photo by Ramon Scott
2018 EAST COUNTY PREP GIRLS BASKETBALL
By Adam Paul
EastCountySports.com
GROSSMONT HILLS LEAGUE
MOUNT MIGUEL 80, SANTANA 18
SANTEE (2-16-18) – The Mount Miguel Matadors looked to finish off the season with a victory and on Friday night they had no problem doing so as they led from start to finish against the host Santana Sultans.
With the convincing win, the Matadors wrapped up an undefeated league season and will go into the San Diego CIF Open Division Playoffs as the likely No. 2 seed.
Game wise the Matadors jumped out to a 21-0 lead before the Sultans scored on a couple free throws with over three minutes remaining.
Mount Miguel would finish off the first quarter on a 9-0 run to lead 30-2 after one period of play.
They would go on to dominate the second quarter as well and lead at the break 50-6.
For the Matadors doing a lot of damage was Sylena Peterson who notched 16 points including four triples as well as Camara Douglas who scored 16 points including a perfect 4 of 4 from the foul line.
After the intermission, the Matadors went back to business as they outscored the Sultans in the third quarter 17-8 and led 67-14 heading into the fourth quarter. With the fourth quarter played under running clock the period went by fast.
On the night for the Matadors, Douglas scored 19 points, Peterson 18 points and Tiaja Bennett rolled up 13 points all in the first half.
Douglas also had six rebounds and four steals. Peterson recorded six steals and Bennett added seven steals and six assists.
On the other side for the Sultans, Kobie Holland scored 6 points and Leslie Black scored 4 points.
The Matadors have now won 5 straight games and 27 of their last 28 games since their close loss to La Jolla Country Day and will be a formidable foe in the Open Division as they offer up a lot of key ingredients to match up very well with the other teams in the Open Division.