Vaqueros already burst playoff bubble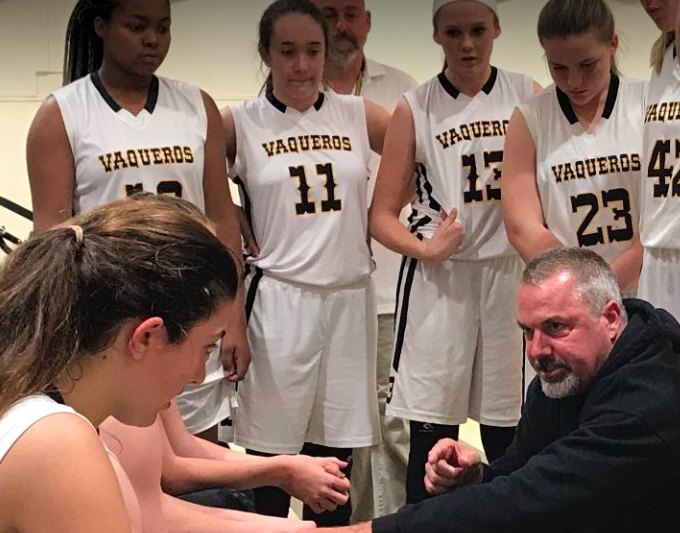 El Capitan during a time out on Wednesday night.
2018 EAST COUNTY PREP GIRLS BASKETBALL
By Dave Dickens
EastCountySports.com
LAKESIDE (2-21-2018) – The Lady Vaqueros from Lakeside are on a mission this season.
These talented young ladies, mostly made up of freshman, are a force to be reckoned with.
The El Capitan High girls have completed a few incredible tasks for being such a young team that flies under the radar.
Incredible task number one, they won the Grossmont Valley League, finishing 8-0 ahead of second-place Steele Canyon, who still finished at a respectable 6-2.
Task number two came as the buzzer hit zeros on Wednesday night, the home crowd went crazy, and deservingly so, as did the Lady Vaqueros, as they defeated the Chula Vista Spartans, 46-37.
El Capitan ladies are 16-12 overall, and sputtered a bit out of the gate, but have been a driving force to be reckoned with ever since.
The Lady Vaqueros are ranked 511 in the state, and No. 6 in the SDSCIF Division 3 rankings.
Their next opponent, the Tri-City Christian Eagles, are currently 20-5 overall and finished 10-0 in the Pacific League, not to mention on a 12-game winning streak, also ranking No. 3 in the SDSCIF Division 3.
The Lady Vaqueros had an amazing crowd cheering on the home squad.
As the first quarter was completed, the lady Vaqueros led 16-4, as the Vaquero defense held as it has for most of the season.
El Cap was outscored in the second quarter, 9-8, leaving the score at 25-13, Lady Vaqueros at intermission.
Both teams came out playing more competitive on the defensive side of the ball, not to mention a couple of blown shots here and there, especially on behalf of the Spartans, as their key was to try to hit the three-point shot.
However, the Lady Vaqueros were going to have no part of that on this CIF girls basketball evening.
In the fourth quarter, the El Cap ladies put it together and played serious defense, which led to steals and a couple of beautiful layups at the hands of MACKENZIE CURTIS, KYLIE MEAD, and JORDAN GRANDY.
"Our main focus was to stay calm and make it look easy," Grandy said. "Mackenzie and I weren't focused on creating chaos, we focused on winning, which really helped us tonight."
Grandy finished with 10 points, while SERENE WECKBACK added nine points and Mead had eight markers.
"It is very impressive how well we are playing," said Curtis, who finished with 18 points. "We played very well in the first quarter, and somewhat of the second, third and fourth. We let go of the reigns and let them shoot."