Highlanders have second gem with playoff win
Updated: February 22, 2018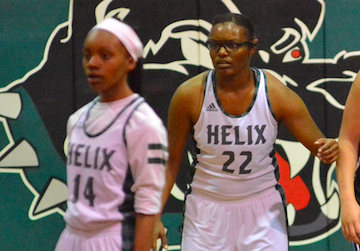 Helix senior FAITH MCWASHINGTON / EastCountySports file photo
2018 EAST COUNTY PREP GIRLS BASKETBALL
EastCountySports.com staff report
LA MESA – Head coach FREDDIE GARRETT and his Helix Highlanders had to think of "three the hard way" after their San Diego CIF Division II playoff win over visiting Fallbrook on Wednesday night.
In this case, Garrett's late friend and former coach of the Highlanders, PAT TABOR, would have labeled this "three the hard way," as a league championship win, which Helix earned last season, a playoff win, which Garrett picked up his first on Wednesday, and finally, a CIF championship, which could come sooner, rather than later, as the Scotties' girls basketball program picks up steam.
Fifth-seeded Helix is moving on to face the fourth-seeded Vista Panthers, who defeated Canyon Crest, 53-38, on Wednesday.
It wasn't an easy task for Helix.
Fallbrook, the 12-seed, scored the first six points of the game and Helix rallied to tie the score at 12-all after one.
How evenly matched were the two teams?
Helix and Fallbrook scored the same amount of points in three of the four quarters.
The difference came, as it usually does, in the second quarter.
The Highlanders doubled through the Warriors, 20-10, to take a 32-22 lead into the locker room.
Helix would lead by as many as 14 early in the fourth quarter, but the Warriors closed to within 56-50 late.
MARIAH HOWARD scored 14 points for Helix, while teammate CHARITY MCWASHINGTON added 11 points.
Helix improved to a nifty 19-10 record heading into the quarterfinals, while the host Panthers come into the game with a 13-15 mark.
The Panthers hosted Fallbrook, Helix's opponent on Wednesday, back in January and defeated the Warriors, 56-24.
Helix defeated Patrick Henry twice, by margins of 12 and 15 points, while Vista defeated Henry but just three points back on Dec. 29.