CAMARA TIME: Matadors reach final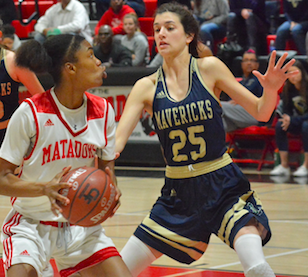 Mount Miguel senior Camara Douglas goes up against La Costa Canyon in the San Diego CIF Open Division semifinals on Wednesday.
2018 EAST COUNTY PREP GIRLS BASKETBALL
By Ramon Scott
EastCountySports.com
SPRING VALLEY – The six-time CIF San Diego Section champion Mount Miguel Matadors used a little bit of the old and a little bit of the new to reach their first title game in four years on Wednesday night.
Second-ranked Mount Miguel got 24 points and 15 rebounds from senior CAMARA DOUGLAS and 19 points along with 14 assists from freshman SYLENA PETERSON, as the Matadors advanced to the Open Division championship game on Friday night with a 61-38 victory over visiting sixth-seed La Costa Canyon at the Matadome.
And Matador junior MICHELLE CORLEY was the "X-Factor" with three three-pointers in the second half en route to 11 points.
"I was hoping to make my shots," Corley said. "Earlier in the season, it was tough, but I have been able to slow it down and play my game and get my shot."
The Matadors will take their 29-1 record into Friday's showdown with Mission Hills at Viejas Arena. The Grizzlies were an impressive winner over top-seeded La Jolla Country Day, 50-40, on Wednesday night.
Peterson to Douglas for Mount Miguel… the Matadors lead La Costa Canyon 47-25 with 1:33 left in the third quarter of the SDCIF Open Division quarterfinals… pic.twitter.com/7FjUjSRLpE

— Ramon Scott (@RamonScottPoker) March 1, 2018
Douglas and Peterson worked in tandem and were nearly able to score at will against the Mavericks.
Peterson scored nine points in the first quarter, including a field goal that made it 6-2 after the Mavs scored the first basket, then had a basket-and-one with 2:45 left in the opening eight minutes to make it 9-2.
Peterson then spent most of the second quarter penetrating the paint and assisting underneath to Douglas.
Douglas was also strong on the offensive glass, and converted from there, as well. She scored on an offensive rebound for a 31-17 with 2:45 left in the second quarter.
Cam Douglas going to work for Mount Miguel, beast mode!!! pic.twitter.com/TO2zvABiul

— BIGCITYHOOPS-GIRLS BBALL (@1Roundball) March 1, 2018
"My whole team showed up out there tonight," Douglas said. "We were just one the same page. Sylena and I were seeing the same thing, and she was finding me on the dish.
Peterson, LALLI GURROLA and TIAJA BENNETT all connected for three-pointers in the first half, as Mount Miguel led at halftime, 32-20.
The Matadors turned up the press to open the second half and put the game virtually out of reach by the end of the third.
Now the Matadors, which last won a section title under coach ROBBIE SANDOVAL back in 2011, return to a San Diego CIF championship game for the first time since 2015, but for the first time in the county's elite division.
"This team has its own legacy," Sandoval said. "These kids, except a couple of them, haven't been around to experience going to the CIF championship. We want to finish it off with a win. I know our kids are excited."
Douglas was a member of the 2014-15 Mount Miguel team that reached the Division I title game, which was won by Horizon Christian.
"Our legacy here doesn't carry us," Douglas said. "It gives us something to work for.
"For me, it would hurt to lose (the championship game)since we got there before and lost in my freshman year. We are going to play our hearts out."
Mount Miguel has won seven-straight heading into the game against the fourth-seeded Grizzlies (23-7).
While Sandoval watched the Mount Miguel boys semifinal game against Hoover from just off the baseline, he kept tabs on the updated scored from the other semifinal with assistant coach JERRICA WILLIAMS.
"I wouldn't be surprised if Mission Hills beat (LJCD)," Sandoval said prior to the anticipated tip-off in La Jolla. "That game could go either way. No matter which team wins, it is going be a great game. Mission Hills is playing really well right now."
The Matadors and Grizzlies will meet on Friday at 6 p.m. at Viejas Arena.
"