HIGHLANDERS SCRATCH OUT JAGS IN OPENER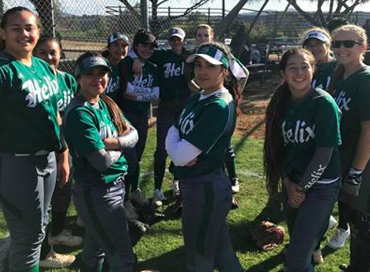 Helix team members before the opening game of the season on Wednesday.
2018 EAST COUNTY PREP SOFTBALL
By Adam Paul
EastCountySports.com
GOLD AND SILVER CLASSIC
HELIX 5, VALLEY CENTER 4
VALLEY CENTER (2-28-18) – The Helix Highlanders made opening day a memorable one as they were able to take their opening game against the home Jaguars.
In the first inning, the Highlanders would knock in a couple runs when McKenzie Flores (1-3, R, 2 RBI, HR) blasted a 2-run bomb over the right-field fence driving in Erin Brown who had singled to make it 2-0. It was Flores's first on the young season.
However, the two-run lead wouldn't last as Valley Center took advantage of some opportunities including a miscue to knot the score at 2-2.
Both teams held serve until the top of the sixth when the Highlanders thanks to a reached fielders choice by Lauralai Patane, a single by Nicole Hernandez and then both would move up via a wild pitch.
A couple of batters later with two down and runners on Kasey Castro (2-3, R, 2 RBI) came to the plate and knocked a single to left which scored both runners. Castro would go all the way to third base after a Valley Center bad throw on the throw to home.
With Castro at third up stepped Zoe Kuhlken (2-3, RBI) who smashed a single scoring Castro.
The Jaguars would pull within a run as they scored in the bottom of the sixth inning.
Sophomore Zoe Kuhlken garnered the complete game victory as she gave up 4 runs of which 3 were earned on 7 hits while fanning 5 Jaguars on the day for the first victory of the season.