Matadors have unfinished business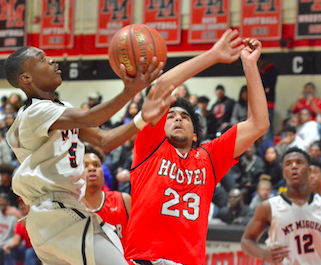 Mount Miguel senior JAMES ALLEN drives to the basket against Hoover on Wednesday night in the SDCIF D3 semifinals. / EastCountySports photo
2018 EAST COUNTY PREP BOYS BASKETBALL
By Ramon Scott
EastCountySports.com
SPRING VALLEY – Seniors JAMES ALLEN, MARQUISE EDWARDS, and the Mount Miguel Matadors have some unfinished business heading into the San Diego CIF Division III championship game.
A year ago, the Matadors stunned their way into the division title game with a series of road upsets, only to be left out of breath when they reached the final, scoring only 15 points in the first half on the way to a 58-42 defeat to Sage Creek.
Scoring isn't a problem for these Matadors.
Ninth-ranked Mount Miguel continued to make the Matadome scoreboard pinball-like on Wednesday night, racking up another home playoff victory this time around, as the top-seeded Matadors scored an 89-65 victory over the Hoover Cardinals in the section semis.
Allen scored 27 points in the contest, including 13 in the first half, while senior DARON TRAYLOR had 12 before halftime as the Matadors scored 45 points before intermission to lead by 21 points.
That 45 points in one half would be three more than Mount Miguel scored the entire contest a year ago against the Bobcats at Jenny Craig Pavilion.
The Matadors (29-4) will get a formidable foe this time around, as well, for the title tilt.
The sixth-seeded Carlsbad Lancers (15-15) won handily over visiting Calexico, 63-34, on Wednesday night.
Mount Miguel has seen the Lancers back in December.
The previously unbeaten Matadors looked sharp early in a Grossmont Winter Classic game at Santana High, opening up a 24-10 lead after one, but the Lancers controlled the rest of the game and rallied for the win.
"We know what we have to do against (Carlsbad)," Allen said. "We had a bunch of guys sick that game and we just couldn't sustain it."
Sustaining it wasn't a problem for Mount Miguel against the Cards.
The Matadors led by 25 heading into the fourth quarter.
"We had it going," Allen said. "We know when we focus on our offense and take teams out of their rhythm, we can score a lot of points real fast."
This Mount Miguel team is on track to be one of the highest scoring teams in section history. Their current per-game-average of 75.1 points per contest is tied for 14th all-time in the section.
Also part of the Matador scoring brigade on Wednesday night was junior MIKEECE DUNBAR, who scored six points in last year's championship game, and junior C.J. JACKSON, who had a first-quarter left-handed throw-down that put the Matadors ahead, 15-8.
Jackson is playing his first year of organized basketball but can be a finishing force down low.
"Once they got C.J.'s footwork down, that's all it took for him to take off," Allen said. "Having him down there really opens things up for us around the basket."
It was several series of driving layups that from Allen and Edwards that left fourth-seeded Hoover frustrated on Wednesday night.
Edwards took a shot on his inner shoulder that forced him from the game for several minutes. He returned, however, and the pain appeared to be gone once he got back into action.
Carlsbad comes to the championship game with playoff wins over the 11th-seed, the 14th-seed and the seventh-seed in order to get to the title game.
"We've gotten to this point," said Allen. "Now we just have to go out with the same teamwork and intensity that has gotten us this far and win this 'ship."
The Matadors and Lancers will meet on Saturday at 7:30 at San Marcos High.