Knights open for championship business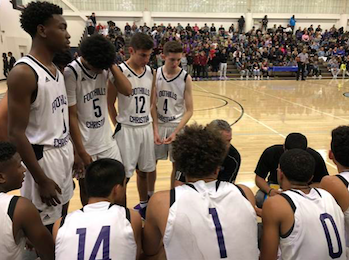 Foothills Christian during a time out at Cuyamaca College on Wednesday night.
2018 EAST COUNTY PREP BOYS BASKETBALL
EastCountySports.com staff report
EL CAJON – Foothills Christian senior TAESHON CHERRY came out firing in the second half, hitting three three-point field goals in the early going to help the top-ranked Knights defeated No. 5 Mater Dei Catholic, 67-55, in the San Diego CIF Open Division semifinals at Cuyamaca College on Wednesday night.
Cherry finished with 21 points and 13 rebounds as Foothills Christian (26-5) won for the 18th-straight time.
Foothills Christian will face Mission Bay in the championship game on Friday at Viejas Arena. The Bucs knocked off Torrey Pines, 64-62, also on Wednesday.
Mater Dei Catholic (24-7) jumped out to an early despite a couple of baskets by FCHS guard JAREN NAFARRETE and DORIAN BLUE hit a three to give Foothills an 18-15 lead, as the Knights led by one-point at halftime.
Early in the contest, the Knights were limited to just one shot, while the Crusaders getting multiple opportunities of their own on the offensive glass.
However, Foothills Christian surged into the lead 15-13 early in the second quarter.
In the second quarter, Cherry threw down a dunk and taunted the Mater Dei crowd, drawing a technical foul, his third foul of the first half.
Mater Dei forces a series of turnovers late in the second quarter and regained the lead.
Foothills Christian's YASSINE GHARRAM was able to lead the Knights' tempo in the second half.
Gharram had a drive down the lane and passed to D.J. CARTER-HOLLINGER, who made a three-point basket to make it 38-30, and the Crusaders called a time out.
Foothills Christian led 45-35 at the end of three periods as the Crusaders cooled down from the field.
However, moments later, a 5-0 run cut the lead in half, but Cherry made a basket down low in a mismatch to extend the lead back to 51-44.
The Knights led by nine with four minutes left in the game, but once again the Crusaders closed the gap to 55-51.
Cherry knocked down a three-pointer with just over two minutes remaining in the game, but moments later drew his fifth foul.
Foothills Christian still led 60-53 with 48 seconds left in the game.
The Knights will be playing in their tenth CIF championship game in 12 seasons.
FCHS coach BRAD LEAF will be aiming for his 10th overall CIF championship as a coach.