Matadors' dream season ends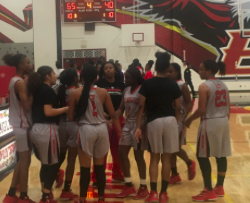 2018 EAST COUNTY PREP GIRLS BASKETBALL
CIF STATE OPEN DIVISION PLAYOFFS
By Dave Dickens
EastCountySports.com
RANCHO CUCAMONGA (3–9-2018) – The Mount Miguel Lady Matadors have been spot-on fantastic, exciting and just plain winners.
With coach ROBBIE SANDOVAL at the helm, with 428 career victories, including 30 this year, the Mount Miguel ladies have won 18 out of 18 league championships under his tutelage.
All of the Grossmont Conference coaches are some of the best ever, El Capitan's DARREN CURTIS, Grossmont's GRACE CAMPBELL, and Sandoval, to name a few. Point
Point being, because of the amount of winning the Lady Matadors have achieved over the 18-year tenure of Sandoval, Mount Miguel is an attractive spot for many girls looking to win and further develop their skills as a basketball player.
Mount Miguel has been exhausted playing so many tough squads, and with very few days of rest, and if they can fit in a practice, they will.
The Matadors were down 25-24 at the half due to the last minute heroics of Etiwanda as an unbelievable 3-point shot was made to put them up from being down, 24-22.
"The key in the third quarter was when were down 29-24 with 3 minutes left, we had a pick and roll play, and unusual
for her, SYLENA PETERSON missed it," said Sandoval.
What also destroyed the chances of Mount Miguel mounting a comeback, losing CAMERA DOUGLAS at the end of the third quarter, fouling out of the game.
The Mount Miguel Lady Matadors ultimately lost to the ETIWANDA EAGLES, 65-40.
"They ultimately wore us down, and the officiating was lacking as well," said Sandoval. "I think what ultimately hurt us, as well, missing 17 free throws.
"I just want to say I'm super proud of the girls and the effort tonight and throughout the season."
Notables for Mount Miguel included MICHELLE CORLEY, who had 1 rebound, 1 point,  and 1 assist, TIJAA BENNETT, who had 2 rebounds, 1 assist, and 2 steals, CAMERA DOUGLAS, who had 12 points, 10 rebounds, 1 assist and 4 blocks, Peterson, who had 18 points, 7 rebounds, 4 assists, 4 steals, DEYONNA McBRIDE had 1 steal, while LALLI GURROLA had 10 points, including 2 3-pointers, 2 rebounds, 1 assist, and one steal.