ROUNDUP: Bulldogs bring the power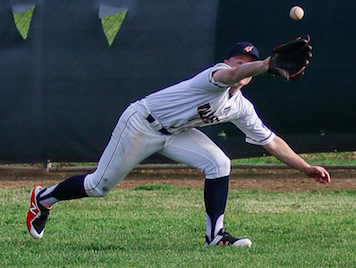 A Valhalla player attempts a catch on Monday afternoon. / photo by Don De Mars Photography
2018 EAST COUNTY PREP BASEBALL
EastCountySports.com staff report
EL CAJON – Ramona High junior Derek Diamond hit two home runs on Monday afternoon, leading the visiting Bulldogs to a 6-2 win over the Valhalla Norsemen in the 31st annual Hilltop-Lolita's Tournament.
Diamond hit the second of back-to-back solo homers with senior teammate Bryce Roe as 10th-ranked Ramona jumped out to a 2-0 lead.
Diamond hit his second homer of the game, driving in Roe, with a two-run shot in the top of the fifth to extend the Bulldogs' lead to 6-0.
Valhalla earned their runs in the bottom of the seventh when senior JACOB BARBA hit a hard single to right, scoring sophomore RYAN PEROT (walk).
Junior JONAH ST. CLAIRE (walk) later scored on a two-out passed ball for the Norsemen.
Junior ANTHONY YOUNG was stellar in relief for the Norse, tossing three innings, allowing one hit and one walk with two strikeouts.
Barba had two hits and stole a base and Valhalla drew seven walks.
LA COSTA CANYON 12, EL CAPITAN 3 – Fifth-ranked La Costa Canyon improved to 3-0 after taking a 10-1 lead through four innings.
El Capitan scored a run in the top of the third to close the early deficit to just 3-1.
Vaquero senior STEVIE MONTEJANO hit a sacrifice fly to left, scoring senior HUNTER MARKLE (walk).
El Capitan senior ANDREW BENEDETTO drove in senior SHAYNE CUNNINGHAM with a line single to center in the seventh inning, while junior AUSTIN BELL hit a sacrifice fly one batter earlier.
El Capitan fell to 1-2. The Vaqueros host 0-3 Hilltop on Tuesday afternoon at 3 in the Hilltop-Lolita's Tournament.
CORONADO 5, WEST HILLS 0 – In a make-up from Saturday's rainout, the visiting Coronado Islanders pitching staff tossed a combined 1-hit shutout to top West Hills, 5-0, at Wolf Pack Park on Monday (Mar. 12). The original contest was slated for Westview, but was moved since the North County field was still too wet to utilize.
Junior right-hander Sean Miley tossed the first six frames, striking out five batters for Coronado (2-2), which is undefeated on the road, yet winless at home.
Coronado scored the only runs they would need with three markers in the 2nd inning, then added two more in the 5th.
Joe Thrallskill registered a base hit and a walk for West Hills (1-3).