GMC ROUNDUP: Oquita wins one for Helix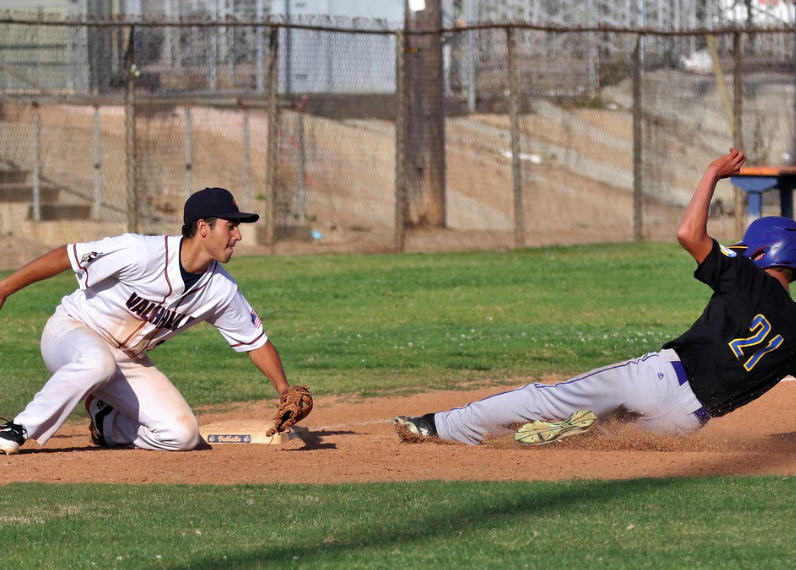 Valhalla's JACOB BARBA applies a tag against Mira Mesa on Wednesday. / photo by Don De Mars Photography
2018 EAST COUNTY PREP BASEBALL
EastCountySports.com staff report
LA MESA – Helix junior CARLOS OQUITA singled home the game-winning run in the bottom of the eighth inning, giving the Highlanders a 2-1 win over the visiting Bonita Vista Barons in the Grossmont-Metro-City Tournament on Wednesday afternoon.
The win gave the Scotties a 4-1 record so far in the GMC Tournament. Sixth-ranked Helix improved to 11-3 on the season
With the bases loaded and no outs, Oquita knocked a 2-2 pitch into left field to score ERIK SMELKO, who led off with a single. BRANDON PETERSON and ZACK OWENS drew back-to-back walks to set it up for Oquita.
"As a hitter, you are always trying to be in those situations to be able to help your team win," Oquita said. "It feels good.
Helix sophomore ALONZO RICHARDSON, a transfer from Christian High, pitched three no-hit innings to gain the win. He struck out one.
Richardson was making his pitching debut after sitting out the transfer-eligible period.
"It felt good to get back on the mound," said Richardson, a former Lemon Grove Little League and Emerald Pony slugger. "My go-to pitch was my curveball to keep the hitters off balance and get ahead in the count."
Richardson took over for sophomore THOMAS CANEDAY, who allowed one run over five innings, striking out five and walking one.
"I felt like the velocity on my fastball was up today," Caneday said. "But I would say that my curveball was my ultimate pitch because it was very effective in the right counts. "
Caneday allowed just four hits. The Helix pitching duo hit three batters combined.
"Really happy with the way we competed on the mound," Helix head coach COLE HOLLAND said. "Thomas and Alonzo really pounded the zone and gave our offensive many chances to get a big hit."
The Barons led in the second on a double-play grounder after the first two batters of the inning reached.
Helix finally tied things up in the bottom of the fifth when JORDON THOMPSON doubled to center with two out, scoring Richardson, who led off with a double.
"Tough game offensively for us," Holland said. "I didn't think we prepared very well before the game but have to give their pitcher (Sebastian Olivo) credit, he kept us off balance."
Junior DEVIN BAKER had two hits for the Highlanders, who will face No. 2 Eastlake (11-2-1) at 10:30 a.m. at Granite Hills High in the Grossmont-Metro-City Tournament's Bill Dickens-Gordon Thompson Division championship game.
STEELE CANYON 7, POINT LOMA 2 – The Cougars jolted out to a 7-0 lead after three innings and knocked off the visiting Pointers in the GMC Tournament.
Junior AARON TAYLOR had a two-run double to give Steele Canyon (5-7) a 3-0 lead in the second inning.
"We are a really good team with good players," Taylor said. "The more we win, the more we see the potential in us to win league and get another chance in the playoffs.
"We just need to keep doing our job and keep playing our game for that we can show people that Steele Canyon baseball is the best baseball.
Sophomore ANTHONY MATA, who scored twice, drove in a pair of runs with a single to center in the third to extend the lead to 5-0.
Mata proceeded to steal second and RICHIE PEDRIN then successfully stole home.
Freshman SEBASTIAN GRANADOS followed with a double to left, driving in Mata.
"I felt that I did my job and fulfilled my role which ultimately helps contribute to the team," Mata said. "With that stolen base, that allowed my team to have some success and momentum. As a
"As a team, this is a great win for us taking down a winning team in Point Loma. I think this gives our team confidence heading into league, which we are hoping to take this year."
Sophomore DANNY YANEZ drove in the first run in the first inning for SC with an infield single. He later added a double
"My coaches had the confidence of putting me in the third spot in the lineup," Yanez said. "It really motivated me to have an aggressive approach at the plate.
"This win really means a lot to our team because we got off to a rough start and didn't do so great last game against Christian High, but we're coming along and we know that we have what it takes to come out and compete."
The winning pitcher for Steele Canyon was senior IVAN CANALES, who pitched 5 1/3 innings, scattering six hits and allowing two earned runs, while striking out three.
"Every time I pitch I try to give my team all that I have for us to have success by trusting them to make plays and by setting the tone for them to have confidence in themselves so that they can play to the best of their abilities if it's hitting or defense," Canales said.
Canales was picked up in relief by TREVOR BACK, who delivered 1 2/3 hitless innings, striking out two.
"Ivan Canales really picked us up today with a great performance on the mound," Steele Canyon head coach JESSE EVANS said. "We've struggled to be consistent. We put together a solid seven innings today."
GROSSMONT 8, ST. AUGUSTINE 3 – Grossmont senior TYLER PARENT drove in three runs and junior KEONI VALDEZ homered to lead the ninth-ranked Foothillers over the visiting Saints in the Grossmont-Metro-City Tournament at Gizoni Field.
Foothiller sophomore GIO GIGANTI had three hits and scored three runs.
Grossmont (8-5-1) led 6-0 after two frames.
Senior CHRIS GIOVENGO (2-for-4) got the Hillers on the board in the last of the first on a single, scoring Valdez (walk).
Parent then drew a bases-loaded walk with one out.
The next hitter, junior ZAK FARRIS (2-for-4) singled in the third run of the frame on an infield hit.
Grossmont junior JASE RUSSELL (2-for-4) capped the four-run outburst with an RBI double.
Valdez led off the bottom of the second with a homer after fouling off three-consecutive full-count deliveries.
Parent drove in his second run in as many frams with a single to center, scoring Giganti, who singled and stole second.
Parent added his third RBI in the sixth with a two-out single.
"I looked for a good pitch to hit early in the count," Parent said. "I tried to stay with a gap-to-gap approach."
Grossmont junior JACK HYDE pitched six innings, allowing two runs and striking out five, while walking just one.
"It was definitely one of those games I had to grind out," Hyde said. "But once I started throwing my slider, it kept them off balance, and with a good solid lead and our offense doing great, I was able to keep the game under control."
CHRISTIAN 6, FRANCIS PARKER 5 – The Christian Patriots got big home runs from GARRET NIELSEN and OWEN EASLEY to lift them past host Francis Parker in an early evening upset at the GMC in La Jolla.
Nielsen led off the game with a solo shot on the second pitch of the game, but the Lancers led 2-1 after one.
The Patriots tied the game in the third on a base hit to center by senior BRAD JEREMIAH.
After Christian (7-7) took a 3-2 lead on a single by ALEX MARKOWICZ with no outs in the fourth, it was Owens' three-run home run with one out that officially swung the momentum, a home run that Owens wasn't necessarily aiming for.
"I went down early in the count and i knew I had runners on base that I had to get over," Easley said. "I tried my best to just put the ball in play and give them a chance to score. I ended up squaring up and driving it over the center field fence."
Parker got two runs in the bottom of the fifth and another in the bottom of the sixth to create some late-game drama.
The Lancers eventually put two aboard in the seventh, but LUKE RYNKOFS got the save, going 1 2/3 innings of scoreless relief.
Jeremiah struck out eight, allowing four hits to earn the pitching win against an 18th-ranked Francis Parker team which fell to 11-5.
"Brad Jeremiah really competed today," Christian head coach MIKE MITCHELL said. "We came up really big on defense today as well. Beck made a great diving play (at shortstop) to save a run."
MADISON 4, SANTANA 3 – The host Sultans put up a battle against the 16th-ranked Warhawks in a GMC contest.
Santana's TC SIMMONS singled in a run to cap a three-run fifth that turned a 2-0 Madison lead into a 3-2 advantage for the Sultans. and
"The pitcher mixed up his spots really well but later on in the game, we all figured out how to time it," Simmons said. "My teammates got on base and I saw a good pitch to hit. I knew going into the at-bat that I had to be aggressive. I saw a fastball and put a good swing on it."
Santana senior JOSH OEDEWALDT attempted a sacrifice bunt with two aboard on no outs to start the fifth, but a pair of runs scoring following a throwing error, which allowed Oedewaldt to go all the way to third.
Madison put up two runs in the seventh to decide the outcome.
Santana freshman TYLER GLOWACKI started and allowed no earned runs over five innings, striking out four and walking none.
Senior LANDON WOOD threw a scoreless sixth for Santana (3-11).
EASTLAKE 7, GRANITE HILLS 1 – The Eagles went up against the reigning state player-of-the-year in Titans star GRANT HOLMAN in the Bill Dickens-Gordon Thompson bracket at the GMC Tournament.
Holman went five innings, allowing three hits and striking out three for the second-ranked Titans.
"The Holman kid was really good today," Granite Hills coach JAMES DAVIS said. "He is tough to beat. Eastlake is really good when he is on the mound."
TK PARKER reached three times with a walk and two bases-on-balls.
"Parker had a good day," Davis added.
The Titans scored three in the first and three in the fourth.
Granite got on the board in the sixth when SEAN MCGREW doubled in a run during a rally which knocked Holman from the game as the first four batters reached against him.
However, the Eagles would be retired in-order from there, leaving the bases loaded.
MIRA MESA 3, VALHALLA 1 – Valhalla sophomore JOSEPH INGRASSIA deserved a better fate after allowing just three hits and a pair of earned runs over six innings against the visiting Marauders in the Grossmont-Metro-City tourney.
Ingrassia struck out six and shut out Mira Mesa over the first four innings, as the game remained scoreless.
The Marauders took the lead in the fifth on an unearned run, but the Norsemen answered in the bottom half of the frame.
Sophomore RYAN PEROT delivered a sac fly, driving in senior TANNER SMITH, who led off the inning with a walk.
Mira Mesa would grab a couple of runs in the top of the sixth to earn a two-run lead.
Senior COLE HOWARD pitched a scoreless frame in relief for Valhalla (4-9), which face Christian (7-7) at 10:30 a.m. at Point Loma High in a GMC Tournament division final.
SCRIPPS RANCH 6, EL CAPITAN 0 –  In the GMC Tournament, the Falcons scored a run in the first and led just 2-0 after five innings as the Vaqueros hung in with the Lions Tournament Premier Division champions in Lakeside.
The Vaqueros had five hits against Falcons' starter Ben Castiglia, who threw a complete game.