Sultans take makeup from host Panthers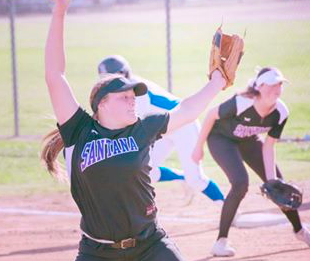 Madison Mendez, of Santana / file photo by Tammy Ryan - TRYAN PHOTOGRAPHY
2018 EAST COUNTY PREP SOFTBALL
By Adam Paul
EastCountySports.com
SANTANA 4, VISTA 0
The Sultans traveled up the freeway to Oceanside to take on the Vista Panthers in a makeup contest and were able to come away with the shutout victory.
Things got rolling for Santana in the top of the third when with one out Emma Leggett (2-3, 2R) lined a single to right field, Krysten Service (2-4, 2B) followed with a roped double and Madison Mendez (2-4, 2 RBI) drove in Leggett with a base hit to right to make it 1-0.
Leading by the slim margin the Sultans scratched another run in the top of the fifth with back-to-back singles by Leggett and Service which was followed by Mendez driving in Leggett on a ground ball to give Santana a 2-0 lead.
Santana added another run in the top of the sixth as Joey Barkhimer reached on a fielder's choice and would come into score on a double by Nicole Madrigal (2-3, RBI, 2B) to make it 3-0.
Back-to-back singles by Mendez and Mackenzie Bennett (1-4) in the top of the seventh inning with one out got the Sultans into position for another run. Courtesy runner Marilyn Downing (RUN) came into run for Mendez and Ashley Madrigal (1-3, RBI, 2B) would lace a ball to left that went for a double to score Downing to round out the scoring.
Mendez in the circle would only give up 1 hit in the complete game 7 inning victory. She also walked 3 and struck out 4 on the day.