VALLEY: Matadors, Norsemen get wins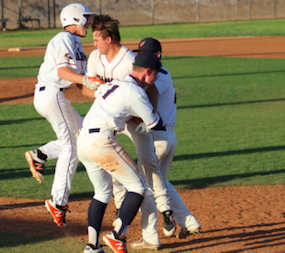 Valhalla celebrates a walk-off win on Tuesday. / photo courtesy Erica Ingrassia
2018 EAST COUNTY PREP BASEBALL
EastCountySports.com staff report
The Grossmont Valley League is shaping up as a great race if the first few games are any indication.
Tuesday's games left three teams already tied for first place at 3-1…
MOUNT MIGUEL 3, MONTE VISTA 2 – The Matadors' JOSEPH MENDOZA scattered nine hits over six innings to get the win on the road.
"Joseph Mendoza pitched his heart out," Mount Miguel head coach FRANK COIT said.
Mendoza went six innings, striking out four.
The senior's approach was simple and refreshing.
"I had to keep my composure during tough situations but it was fun," Mendoza said. "Throwing over the plate was our bread and butter."
Monte Vista scored in the last of the first, but Mount Miguel tied the game in the second inning when RUBEN PRECIADO-TEJEDA drove in a run with a single.
Mount Miguel got two runs in the third inning as ERIK KELLY singled home two runs. Kelly singled and scored in the first, as well.
"We are showing other teams that we are here to compete and play to the last out," Kelly said. "We are here to change how others have perceived Mount Miguel baseball."
The Matadors' JULIUS HARRIS had two hits, including a triple, and scored a run.
"Sophomores Julius Harris and Erik Kelly continue to shine," Coit said. "We squared up a lot of balls today again. The boys are gaining confidence daily.
Freshman MICHAEL CAMACHO threw one inning in relief out of the bullpen to earn the save.
"We have been preaching 'stay the course, trust the process, and keep grinding,'" Coit said. "I see dividends brewing weekly with our boys. We will be tough to deal with soon."
Monte Vista's ERNIE ARAMBULA had a pair of hits. He also allowed one earned run over three innings as the Monarchs' starter.
Monte Vista got some fine relief work from ANDREW SAVOY and ZACH MANUEL.
Manuel tossed two no-hit innings.
"Our pitchers threw well," Neu said. "We made a couple errors and they capitalized. Anytime you get four shutout innings from your bullpen (Savoy and Manuel) you should win the ballgame."
The Monarchs' DIEGO SANDOVAL had two hits, while teammate ABRAHAM SANCHEZ had a hit, a walk and an RBI. Senior ISAAC GONZALEZ had two hits and scored a run.
"Mount Miguel played a good game," Monte Vista coach CRAIG NEU said. "The Mount Miguel starter worked out of trouble all day. He found ways to get out of jams. I give him a lot of credit.
"They made more plays then we did. They deserved to win that game."
Monte Vista (3-1 GVL, 8-9) is in a three-way tie for the league lead.
The Monarchs will play their next game at Petco Park on Thursday at 7 against the El Cajon Valley Braves. Admission is free.
VALHALLA 3, STEELE CANYON 2 – Valhalla's MAX HAGEMAN drove in the game-winning run in the bottom of the eighth inning, lifting the Norsemen to the Grossmont Valley League victory at home.
The win creates a three-way tie atop the early league standings with the Norsemen, Cougars and Monte Vista Monarchs.
Steele Canyon opened up scoring in the first inning when BILLY TELLOUS doubled in a run, scoring MATTHEW BRINKMEIER (single).
DANNY YANEZ followed that up with a single to left for a 2-0 lead, as both hits came with two outs.
Valhalla tied the game up at 2-all in the bottom of the fifth inning when Hageman doubled to center, scoring the home team's first run of the game.
TREVOR BACK got the start for Steele Canyon and lasted six innings, allowing five hits and two runs while striking out one.
"Trevor Back gives us a chance to win every time he takes the mound," Steele Canyon coach JESSE EVANS said. "I love the way he competes, pitches with a great tempo, and goes right after hitters."
Valhalla put the winning rally together when DUNNAM walked and JOSEPH INGRASSIA sacrificed him to second with a bunt.
Hageman put a 1-2 pitch in play for the winning hit, a single to right.
"That's two very good games we've played with Valhalla," Evans said. "We had our opportunities for sure, but credit to the Valhalla pitching and defense. They made the pitches, and the plays when they needed to."
Steele Canyon's CARLOS CAMACHO had an assist in the bottom of the sixth as Valhalla tried for the lead on a hit by Dunnam.
Camacho threw out the runner, as LUKE ARIAS applied the tag.
"Carlos Camacho has worked very hard for us this year," Evans said. "Most of his opportunities this year have been as a pinch hitter but he got in the game out in left field today and made a great throw to nail the runner at the plate in a clutch situation."
RICHIE PEDRIN had two hits for Steele Canyon (3-1, 8-9)
Valhalla (3-1 GVL, 7-11) will travel to face West Hills (2-2, 6-11) in a GVL game on Thursday at 4.
WEST HILLS 14, EL CAJON VALLEY 5 – The middle of the West Hills High batting order drove in seven runs – a career-high four by third baseman Andrew Ritayik, and three more by Gavin Kondyra – lifting the Wolf Pack past visiting El Cajon Valley, 14-5, in
Tuesday's
Grossmont Valley League contest.
Kondyra, the no. 3 hitter, started the damage with a ground-rule double in the first, then a two-run single in the second. Ritayik, batting clean-up, followed with a sacrifice fly in the first, then cleared the loaded bases with a double to right-center in the third pushing the advantage to 10-3.
"Our bats came through like they're supposed to," said West Hills skipper Mickey Deutschman. "Now we just need to stay consistent with our approach at the plate."
The top three batters in the Pack line-up — Cody Pedrero, Joe Thrailkill and Kondyra — each scored three times and register a pair of base hits, while Ritayik went 3-for-4 with a pair of doubles.
The victory snapped a two-game losing streak for West Hills (6-11 overall, 2-2 GVL). The Braves fell to 4-8 (0-4 in the GVL).
El Cajon Valley snagged a quick 2-0 in the first.
Mario Jacobs stroked a 1-out single, then scored from first base when Aaron Rodriguez pulled a deep drive to the fence in right field for an RBI. Rodriguez later scored when another left-hander, Robert Verdugo, grounded into a fielder's choice.
Also driving n runs for ECVHS were Luis Huerta and Jesus Favela in the fifth.
Wolf Pack senior Colton Corderman pitched the first five frames for the victory. He struck out seven, then was aided by senior catcher Greg Plale, who threw out a pair of baserunners at third base. Plale was also effective at the plate, accepting three walks.
Landon Bailey tossed the final two innings to close out the victory, including a perfect 1-2-3 in the seventh. Corderman and Bailey combined on a 6-hitter — two each by Jacobs and Rodriguez.
West Hills next hosts Valhalla, while the Braves meet Monte Vista 
on Thursday
at 7
 p.m. at Petco Park.