Patriots launch five homers at Hickman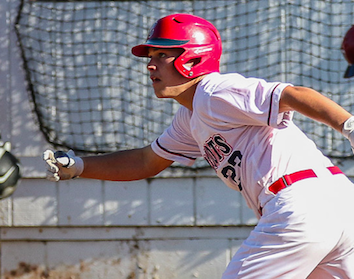 Christian High junior OWEN EASLEY / photo by Don De Mars Photography
2018 EAST COUNTY PREP BASEBALL
EastCountySports.com staff report

SAN DIEGO – Christian High senior GARRET NIELSEN hit his East County-leading fifth and sixth home runs of the season and the Patriots hit five round-trippers overall to defeat the host St. Augustine Saints, 8-5, in a Western League game on Wednesday afternoon.
Nielsen's freshman brother, TRENT, blasted his third homer of the year in the first inning and senior JAKOB BECK hit a leadoff home run to start the game off of the Saints' USD-bound senior star, Jack Dolak.
"Jack Dolak is a great pitcher," Garret Nielsen said. "I can't believe we had that much success off of him."
Christian's OWEN EASLEY had the other circuit clout to lead off the sixth inning, giving the Patriots a 6-2 lead.
Garret Nielsen went 4-for-4 in the contest, including his pair of two-run home runs, raising his batting average to .429, along with a .810 slugging percentage.
"Today I was just trying to let the ball come to me and with Christ's blessing, I was able to have a great day trying to drive the ball the other way," said the Cal-bound slugger.
Christian improved to 3-1 in the Western League (11-8 overall), a far cry from the Patriots 3-7 start, which included losses to top ten teams Eastlake and Grossmont.
"As a team, we struggled early because we are definitely a young team," Garret Nielsen said. "I knew that so I came to coach (MIKE MITCHELL) and asked him to practice even harder and work harder because I knew where we had to be to beat these impressive teams like Saints."
Now Christian High has won eight of its last nine outings.
"I am blown away by the team's performance and hope that this success can continue with the Lord's blessing," Garret Nielsen said.
Senior BRAD JEREMIAH got the win, allowing one earned run over six innings.
"The middle of our lineup is really starting to hit and our pitchers are throwing with a lot of confidence right now," Christian assistant coach BRYAN MITCHELL said. "To hit 5 home runs in a game against a great Saints team is extremely tough to do.
"We had a very gritty performance from Jeremiah today. He definitely didn't have his best stuff but really made some good pitches when he had to."And it was Armijo's first game fully back. His ankle is getting better each day, and he is starting to look good again."
The Patriots host the Saints (1-2 Western, 8-10) again on Friday.