ROUNDUP: Eagles, Scotties get GHL wins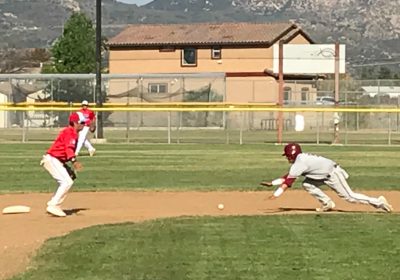 Monte Vista steals second against El Cajon Valley on Tuesday.
2018 EAST COUNTY PREP BASEBALL
EastCountySports.com staff report
EL CAJON – After starting the season as East County's best reliever, Granite Hills' JAKE FENN has proven he can be an effective starter, as well, as the senior pitched a complete game on Tuesday, lifting the Eagles over Santana, 5-3, in a Grossmont Hills League game.
Fenn posted two victories, three saves and a 0.95 ERA in nine relief appearances, allowing no runs in the first seven trips to the hill, but he started his first game last week against Grossmont.
Despite a rough go against the Foothillers in a game the Eagles eventually won, 14-6, Fenn got the call again for the home game against the Sultans.
Fenn went the distance to beat Santana, allowing six hits and no walks, while striking out six as Granite Hills improved to 2-1 in Grossmont Hills play.
The pitcher retired the first nine batters he faced and also had a pair of hits and an RBI in three trips to the plate.
Granite Hills junior SEAN MCGREW drove in the first run in the first inning with a double, scoring sophomore TK PARKER (HBP).
Eagle senior TREVOR HAZELHURST followed with a single to left, scoring McGrew.
Hazelhurst added an RBI double to center in the third, driving in McGrew (double).
Fenn then singled home Hazelhurst for a 4-0 lead after three.
The Sultans scored a run in the fourth when freshman TYLER GLOWACKI doubled to left, driving in junior BEN HART, who was the first batter to reach against Fenn when he was hit by a pitch to lead off the inning.
Santana picked up two runs in the sixth to make things very interesting when Hart doubled and scored on a triple by senior TC SIMMONS.
Granite Hills (2-1 GHL, 10-7) picked up a good insurance run in the bottom of the inning, however, when sophomore CLAY FORDHAM singled to center with two out, driving in the fifth run.
The Sultans (1-3-1 GHL, 4-14-1) got the lead runner on in the top of the seventh when senior LANDON WOOD singled, but Fenn retired the last three hitters to finish off the visitors.
The Eagles returned to the county media poll this week, coming into the week at No. 12.
The teams meet again on Thursday in Santee.
HELIX 5, EL CAPITAN 0 – Helix sophomore THOMAS CANEDAY pitched a complete-game four-hitter and the seventh-ranked Highlanders finally got into the Grossmont Hills League win column with a shutout victory at Hostetler Field.
Helix scored four runs in the fifth inning to put away an early pitcher's duel with Vaquero senior BLAKE PEYTON.
In the third, Helix junior ERIC SMELKO had an infield single to score ALZONO RICHARDSON for a 1-0 lead.
In the fifth, Helix junior DEVIN BAKER led off with a single, then Richardson dropped in a triple for a 2-0 lead.
Smelko then singled to drive in Richardson.
Junior CARLOS OQUITA added a run-scoring single, driving in Smelko.
Senior AUSTIN KRETZSCHMAR had a safety squeeze to bring in senior BRANDON PETERSON.
JACK SOTHRAS had two hits for Helix (1-1-1 GHL, 13-6-1).
Peyton lasted five innings, allowing four hits while striking out six for El Capitan (2-3 GHL, 6-12).
The teams meet again on Thursday in La Mesa at 4.
GROSSMONT 2, RAMONA 0 – Grossmont junior left-hander DREW SHIRVANIAN threw a complete game shutout in a non-league game against the Bulldogs.
"Drew was outstanding today," Grossmont coach JORDAN ABRUZZO said. "We have been looking for another guy to step up and Drew has been that guy the last couple weeks."
Shirvanian struck out three and allowed five hits.
"I was able to get batters to roll over and ground out," Shirvanian said. "Those roll overs were able to keep me in the game and finish.
"I believe my best pitch today was the curveball. My command was pretty good. I got Ramona to pop fly and ground out and my defense was able to finish the play and get the out for me.
Tenth-ranked Grossmont (12-7-1) scored in the first inning when senior CHRIS GIOVENGO drove in a run with an RBI groundout.
Ramona senior Derek Diamond was exceptional, as well, going the distance and allowing five hits.
Junior JAMES BOND and senior AUSTIN ODOM  each had two hits to lead the Hillers.
"We beat a good Ramona team and a great pitcher in their guy Diamond," Abruzzo said. "He is legit so it was a good team win,"
Senior JESSE GARCIA had an RBI single in the bottom of the fifth, driving in Bond.
"I am getting pitched around a lot," Garcia said. "I want to be patient, relaxed, and ready to hit. They like to quick pitch me, so I know i have to step in ready. I have to be patient and look for any pitch I can drive, and I was able to find one and help contribute to the team."
Shirvanian did the rest for his first win of the season in just his second start. He lowered his season ERA to 2.36.
"Drew did a great job pitching and is a solid guy in the rotation for us ," Garcia said. "Ramona had a solid pitcher, as well. I feel like we played as a solid team. We played to get the 'W' with good pitching and solid defense."
The Foothillers travel to face Helix on Friday at 4.
STEELE CANYON 20, MOUNT MIGUEL 0 – Junior BILLY TELLOUS and freshman SEBASTIAN GRANADOS hit home runs a 13-run fourth inning as the Cougars got a Grossmont Valley League win over the Matadors.
The Cougars maintained the crazy winning pace in the Grossmont Valley League, remaining tied for first with a 5-1 record.
"It feels like we're starting to get it going," Steele Canyon head coach JESSE EVANS said. "We looked real good swinging it in practice on Monday. We had the day swinging it I hoped we would."
The Cougars built a reasonable 6-0 lead through three innings, but the score got unreasonable real quick in the fourth.
Tellous belted a leadoff homer to center for an auspicious start.
Junior AARON TAYLOR drove in a pair of runs to extend the lead to 10-0.
Granados capped the baker's dozen with a three-run shot to left field.
Steele Canyon scored its first run on a bases-loaded walk by sophomore DANNY YANEZ in the first inning.
Tellous had an RBI single the second inning, while Yanez lifted a sacrifice fly in the second inning.
Junior RICHIE PEDRIN went 4 2/3 innings, allowing two hits and no runs while striking out eight and walking one to pick up the win.
Senior NOAH NADEAU struck out six of the seven outs he recorded, allowing two hits and no walks to finish out the game.
Sophomore JULIUS HARRIS continued to stand out for the Matadors with a pair of hits and four stolen bases.
"Steele played much like they do," Mount Miguel coach FRANK COIT said. "They competed at the plate and pitched well, pounding the zone. Jesse is doing a good job there."
Steele Canyon will face Monte Vista in a matchup of two of the three teams tied top the standings on Thursday at 4.
MONTE VISTA 16, EL CAJON VALLEY 5 – Monte Vista scored eight runs in the third inning and went on to win the Grossmont Valley League game at the Braves' field, keeping pace with the other league leaders.
Monte Vista scored in the first inning when DIEGO SANDOVAL singled on a 1-1 pitch, driving in the first run.
Monte Vista's third inning scoring came from doubles by CAM SCHULER, ABRAHAM SANCHEZ and DERRICK WILEY.
Monarch senior ISAAC GONZALEZ had three hits in the game and drove in a run, as well, in the big innings.
Freshman ERNIE ARAMBULA added a sac fly in the frame. He also finished out the game with a scoreless inning of relief.
Wiley then had a sacrifice fly on his second trip of the plate of the frame.
Senior JON GULLEY got the win for Monte Vista. He allowed one run on three hits over 2 1/3 innings, striking out four and walking one.
Senior BLAKE MATANANE pithed 1 2/3 innings of scoreless relief for Monte Vista.
Sanchez drove in a team-high three runs.
El Cajon Valley senior PAULO MICHEL had three hits in four trips, driving in a pair of runs.
Braves senior JESUS FAVELA and junior ROBERT VERDUGO both had a pair of hits and drove in a run.
"I was glad that my team kept pushing hard," Favela said. "We just didn't play fundamental baseball. We tried our hardest to help start something but we just didn't have it. We just have to look forward to tomorrow against Valhalla and hopefully give them a challenge."
El Cajon Valley will host Valhalla on Wednesday at 4.
FOOTHILLS CHRISTIAN 6, TRI-CITY CHRISTIAN 4 – The Foothills Christian Knights opened up their two-game set with the Eagles with a home win to improve to 2-1 and remain tied for first place with Classical Academy.
Foothills Christian's CORBIN HARRIS went 3-for-4, while TREVOR SMALLWOOD had two hits and two RBI.
Senior BAILEY LEWIS had two hits, scored a run and drove in another. He also pitched 6 2/3 innings, striking out 10, to earn the win.
"Bailey Lewis pitched a great game.," Foothills Christian head coach DAVE LEWIS said. "Chris came out and got the last batter.
Freshman TYLER KENNEDY had a hit and a sacrifice fly in the bottom of the fifth, which lifted the Knights lead to 4-2.
"We faced a very good pitcher with under a two ERA and we put 11 hits together against him," Dave Lewis said. "Great league win. It's a very good league and having everyone available makes a huge difference.
"We lost six games by a total of eights runs (earlier this season) and there's no doubt that would have made a difference."
Bailey Lewis earned his third win of the season on the hill and raised his batting average to .379.
"I felt really good coming into this game with my velocity strong and my curve and change working well," Bailey Lewis said.
"We played a great game today," Bailey Lewis said. "Everyone hit very well knocking out their ace."
Foothills Christian scored on a double by Smallwood in the first inning and a sacrifice fly by CADE CABRAL in the second inning after the Eagles had tied the game at 2-all in the top of the second.
In the seventh, with two out, senior CHRIS STALLARD came in for another save. His third in just seven appearances so far this month.
The Knights (3-1, 13-9) will face TCC again on Thursday.
VALHALLA 10, WEST HILLS 0 –
In a complete turn-around from last week's meeting which saw the ballclubs play into extra innings, the Norsemen rode the arm of senior TANNER SMITH, who tossed a three-hit shutout at the visiting Wolf Pack, 10-0, in Grossmont Valley League action.
Smith struck out two batters in Tuesday's (Apr. 24) complete-game effort.
The GVL co-leading Norsemen (9-11, 5-1) received an unearned run in the 1st inning but plated three more in the fourth as the bats at the bottom of the batting order woke up.
Junior JONAH ST. CLAIR and JACOB BARBA slugged consecutive RBI doubles for a 3-0 lead.
Junior CAM ZAMUDIO sacrificed Barba to third, with the senior scoring on a balk.
West Hills (6-13 overall, 2-3 GVL) got a lead single from CODY PEDRERO, who lined a base hit to left field. However, the Pack managed just a pair of infield singles – by right fielder COLTON CORDERMAN and catcher ANDREW RITAYIK – the rest of the way.
The contest got out of hand in the 6th when a pair of West Hills errors led to more unearned runs. The Norsemen kept the pressure on by stealing several bases in the latter innings.
West Hills will host Mount Miguel on Thursday at 4 p.m.