Vaqueros' Mead pitches gem vs. Helix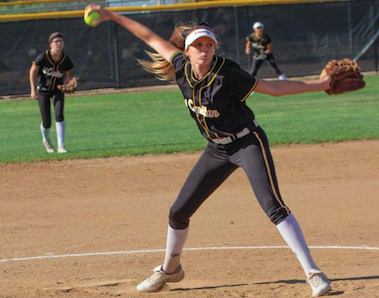 El Capitan's KYLIE MEAD
2018 EAST COUNTY PREP SOFTBALL
By Adam Paul
EastCountySports.com
GROSSMONT VALLEY LEAGUE
EL CAPITAN 6, HELIX 0
The Vaqueros scored late and procured the victory as Kylie Mead spun a complete game no-hit of a gem against the Highlanders on the road.
Having already defeated the Highlanders the Vaqueros knew this time around that it would be a dogfight and it was as neither team could do anything offensively. Both teams pitching was keeping the other in check each inning which kept the game scoreless until late.
Moving to the top of the sixth inning with one out, Allyson Von Yokes (1-4, R, RBI, HR) on a 1-1 count was able to get a hold of one and crank it over the center field fence for a solo home run and give El Capitan a 1-0 lead. The next batter Mead (1-3) was able to lace a single, Olivia Martinez (RUN) into run, a couple batters later with two outs Brandy Taylor (2-3, R) singled to put runners at first and second, Kiki Angeles would walk to load the bases, Taylor North (RUN) into run, Madisyn Wieher (1-4, R, 3 RBI, 2B) followed with a smash bases-clearing double that scored Martinez, Taylor and North.
Leading 4-0 the Vaqueros were not quite done as Madison Michalek-Rosales (1-4, R, RBI, 2B) followed with another RBI double that scored Wieher to give the Vaqueros a 5-0 lead. They tacked on their final run on a single by Hannah Davis (2-4, RBI) that scored Michalek-Davis.
Despite a walk in the bottom of the sixth Mead retired the next batter to end the inning and move to the seventh.
Leading 6-0 and having not given up a hit Mead went out and promptly struck out the first two batters before getting the last batter to fly out for the final out and end the game.
Taking the loss for the Highlanders Laurali Patene who went 7 innings giving up 6 runs on 9 hits while walking 1 and striking out 3.
El Capitan's Mead spun a complete game 7 inning no-hit gem while walking 2 and striking out 8.