Mountain Empire youngster putting up staggering numbers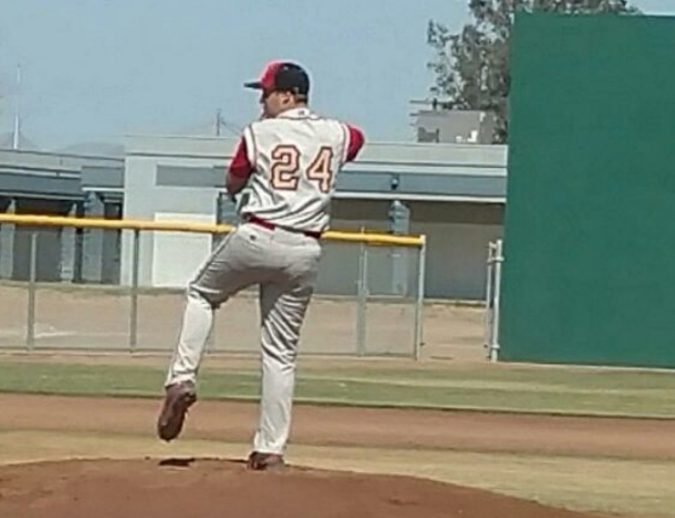 Mountain Empire's TREVOR ELLIOTT
2018 EAST COUNTY PREP BASEBALL
By Dave Dickens 
EastCountySports.com
PINE VALLEY (5-2-2018) – Sometimes the biggest talent available goes unnoticed due to the location of that particular player's resident area and school.
A fantastic example is 6-foot-1, 205-pound junior TREVOR ELLIOTT of Mountain Empire High School.
This standout pitcher has been playing organized team baseball since he was five years old, with Mountain Empire Little League, and later with Alpine Little League.
Young Elliott has been around baseball his whole life as his father was a pitcher at Mountain Empire High School, as well.
Two days ago, the Mountain Empire Red Hawks were defeated by Cavalry Christian Academy, 4-3.
In that defeat, Elliott recorded his 105th overall strikeout on the season, tying his father JUSTIN ELLIOTT's record of 17 in one game set years ago.
"My Dad is close with head coach CHRIS NOLAND," Trevor Elliott said. "My dad, in a funny matter, asked coach to
take me out of the game on Tuesday afternoon after I tied his strikeout order.
Trevor has two more games to increase his strikeout number, which leads all of San Diego and is No. 1 in the state of California.1 strikeout is going to beat his father and continue to lead
One strikeout is going to beat his father and continue to lead the entire state. There are four games left to play for the Red Hawks.TREVOR ELLIOTT will lead his
Trevor Elliott will lead his team into battle two more times from his command center atop the pitcher's mound. He will
face Borrego Springs and Liberty Charter.
The Mountain Empire Red Hawks sit tied for first place in the Citrus League with Calvary Christian and are more than likely going to the No. 2 or No. 3 seed for postseason play.
"Trevor has been our ace from the beginning of the season and we save him for our tougher opponents," said Noland. "Trevor throws in the mid-80s and has a devastating curve."
Trevor Elliott is currently 7-2, has a 1.39 ERA and opponents are batting .112 against him.
Trevor also helps himself at the dish, as well, currently hitting .400 with 16 RBI.
Elliott has been at the varsity level since he was a freshman. He posted a 7-3 record, 52 strikeouts, 4.23 ERA.
In his sophomore year, he was 4-7, and impressively gad 91 strikeouts, and a 2.44 ERA.
Elliott does not currently have any offers to commit and with a current 3.40 non-weighted GPA, would like to attend SDSU, Grossmont, or Southwestern Community Colleges. COMMUNITY COLLEGES.
His major of choice is geology, as he mentioned he finds rocks very interesting.
After the CIF playoffs, Trevor Elliott will join The Hustle travel ball team, along with several players from
Eastlake, Hilltop, and Bonita Vista High.