Scotties are show stealers at regional team championship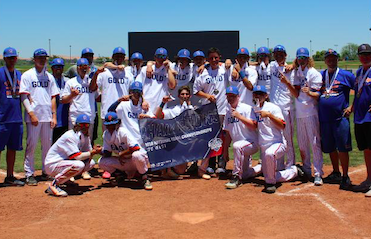 2018 EAST COUNTY SUMMER BASEBALL
Source: San Diego Show Staves Off Comeback Attempt by CBA Marucci National, Wins Gold, 10-8 | USA Baseball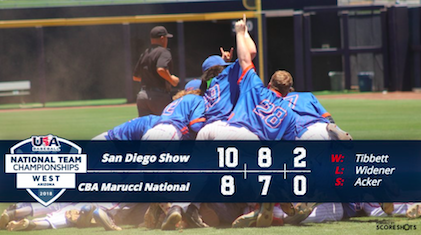 PEORIA, Ariz.- Completing an undefeated run in the 2018 17U National Team Championships, San Diego Show topped CBA Marucci National, 10-8, to take home Gold at Peoria Stadium on Friday.
Kickstarted by a huge nine-run first, the Show bullpen proved to be the difference-maker, holding the CBA bats at bay for six innings after Show starter Ricky Tibbett was bounced.
"We just kept changing pitching to find the guy that got in the groove," the Show Head Coach Brian Cain said. "Our pitching depth was a big strength for this team."
The offense got going right away, with CBA starter Jacob Widener walking the bases loaded before Garrett Frechette singled to give his team the early advantage. The inning would continue with little relief for Widener, as Show piled on three more runs.
Jordan Thompson doubled to drive in two after Mike Campagna was hit by a pitch, forcing home a run and ending Widener's day early.
Zach Martinez would enter for CBA, but Show refused to slow down, adding five more runs before taking the field on defense. Alonzo Richardson and Taylor Johnson would add to the hit column, helping show to the early nine-run advantage.
CBA answered in the bottom half of the first with two runs of their own, beginning what would be a steady comeback to make things interesting.
After loading the bases in the second, Spencer Williams would be hit by a pitch, followed by a Javy Espinosa walk to bring home a pair. Cody Freeman would bring in another on a fielder's choice to close the gap to four.
Both teams would go quietly in the third, and after Show went scoreless in the top half of the fourth, CBA added two more on a Cameron Repetti single, shrinking the Show lead to just two.
Williams would make noise for CBA again in the fifth, providing an RBI-double to bring the deficit to one.
In the top of the sixth, Chad Abel would triple to deep right field before eventually scoring on a passed ball, adding some insurance for Show.
"I was looking first pitch, saw it in my wheelhouse, and I squared it up pretty well," Abel said. "When the dugout's not hitting very well, I try to get it going."
CBA would put runners on in both the sixth and seventh, but great efforts by both Griffen Zamora and Charles Acker would lock in the championship for Show.
Earning the win for Show was Tibbett, allowing just one run in the first inning. He gave up one hit and walked two.
Acker put out the fire in the seventh, earning the save. He allowed no his and no walks in an inning of work, striking out one.
Show caps off a great tournament, wins Gold over CBA! #Champs18🌵 pic.twitter.com/3PsY8moQC3

— West Championships (@USABChamps_West) June 22, 2018
San Diego Show will have a pair of teams competing in this week's 15U National Team Championships in Arizona, where they will look to follow suit with their 17U counterpart.
---
San Diego Show shuts out Storm Elite, advances to Gold Medal Game
June 21, 2018
GLENDALE, Ariz.- After a dominating all-around performance, San Diego Show earned themselves a spot in Friday's Gold Medal Game, defeating Storm Elite, 7-0, at Dodgers 5 at Camelback Ranch on Thursday.
Starting pitcher Tyler Thornton threw 6.0 scoreless innings, allowing only three hits and two walks while striking out 10 batters. Kyle Casper had a team-high two hits, including a double, RBI and run scored.
The scoring started early, as Angelo Peraza doubled and scored on a Casper RBI-single. A hit and a pair of errors allowed three more runs to cross, putting Show up by four early.
Garrett Frechette tripled in the second to drive in two more, followed by a Mike Campanga ground ball that would plate the seventh and final run of the game.
Storm Elite would make things interesting in the sixth, loading the bases with two away. However, an Anthony Ramirez line out would end the threat.
Suffering the loss for Storm Elite was Jacob Manzella, allowing seven runs (five earned) on just four hits. Nicholas Romanowski pitched well in relief, allowing no runs and just one hit while striking out four and walking none.
San Diego Show will go for gold tomorrow at the Peoria Sports Complex against CBA Marucci National. First pitch is scheduled for 10:00 a.m.
Thornton named Pitcher of the Day for June 21
June 22, 2018
PHOENIX- Elias Rios of CBA Marucci National was named Player of the Day for June 21 after two great offensive performances to help his team to Friday's Gold Medal Game. Rios went 5-for-6 on the day, collecting two RBI on a triple and a double. He also scored two runs.
Tyler Thornton of San Diego Show was named Pitcher of the Day. Thornton helped his team advance to Friday's Gold Medal Game, starting the Semifinal matchup against Storm Elite. He threw 6.0 innings, allowing no runs on three hits and two walks, striking out 10 along the way.