South stars sweep East County games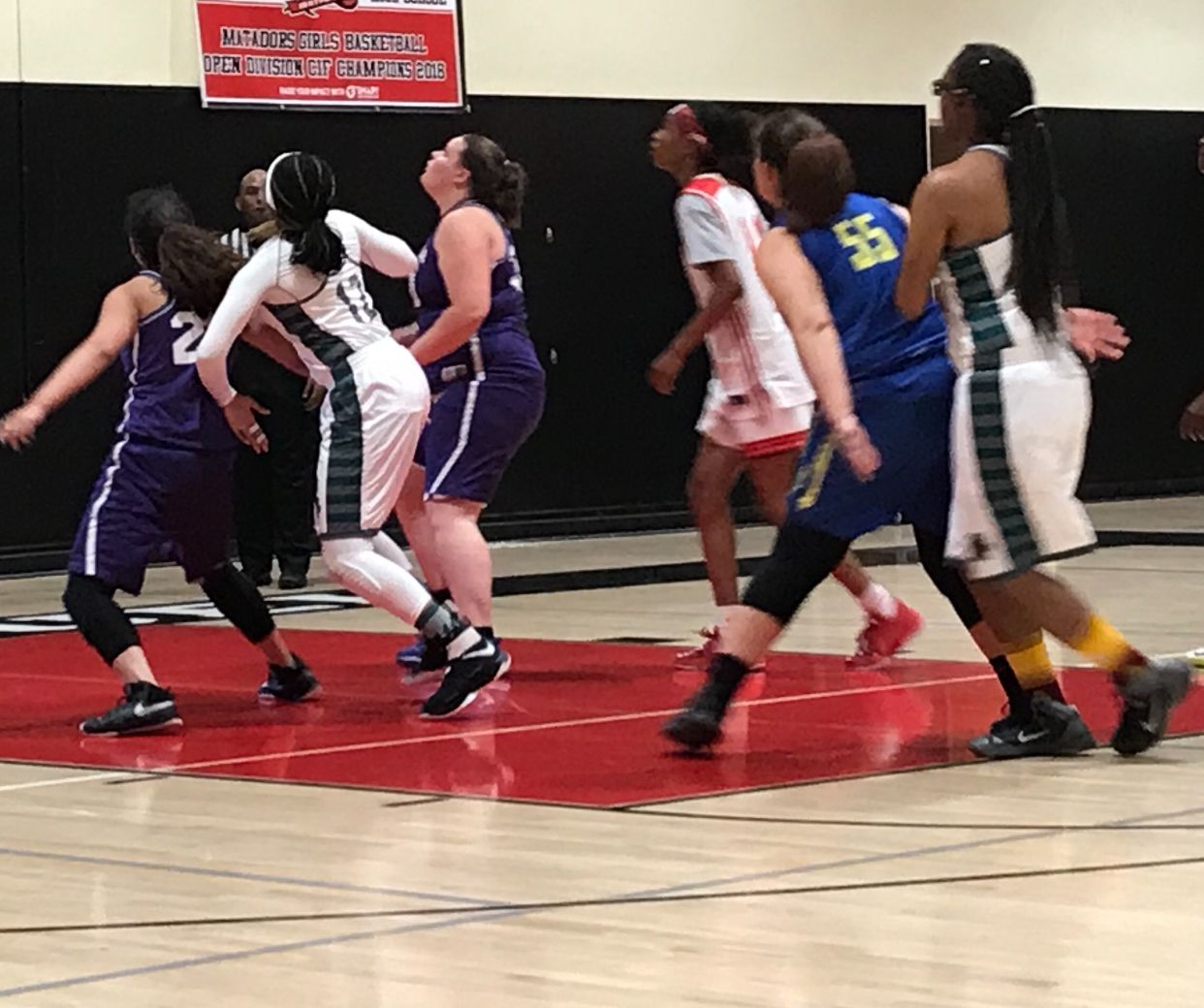 East County girls await a rebound during the Bill Dickens Senior All-Star Game on Saturday night.
2018 EAST COUNTY PREP BASKETBALL
EastCountySports.com staff report
SPRING VALLEY – El Capitan High senior DANNY ESTRADA went from being Grand Marshal at the Lakeside Western Days Parade on Saturday morning to nearly saving an all-star basketball team later that night at Mount Miguel High.
Estrada, who was Commissioner of Athletics at El Cap this school year, scored seven points and had four rebounds, a block, a steal and an assist all in the fourth quarter to help the East County North All-Stars nearly rally from a one-time 25-point deficit in a game won by the East County South All-Stars, 113-108, at the Bill Dickens Boys & Girls Senior All-Star Games.
Earlier, in the girls' all-star contest, the East County South All-Stars needed overtime to defeat the East County North All-Stars, 53-51.
Estrada was up early riding in the back of a beautifully refurbished pickup alongside fellow Vaquero seniors SYDNEY GEORGE and ASHLEY FRONBERG.
By 7 p.m., Estrada was in the gym and ready to compete for a North side that let the South run their own scoring parade for the first three periods, taking a 21-point lead into the fourth.
South team game Most Valuable Player DERON TRAYLOR, of Mount Miguel, scored 22 of his 25 points over the first three quarters. He made 11 of his 16 field goal attempts in the game.
North team game MVP NASHOM CARTER, of Christian High, led the fourth-quarter flurry along with North teammate CAM BARRY, of West Hills.
The Northsiders combined for 24 points in the fourth quarter (the game was played with 12-minute periods) to lead the frenetic comeback that saw the game get as close as 104-101 in the final two minutes.
Steele Canyon star GAGE SANDERS also finished with 25 points and was instrumental in helping his South squad hang on for the win, with three three-pointers and 13 points in the fourth quarter.
Also for the South, Helix's AMARI GREEN had 16 points, nine rebounds, four steals and three assists, while teammate RAMZI SULTAN, of Valhalla, had eight points and a game-high 13 rebounds.
For the North team, El Capitan's CHASE LOVATO seemed to attack the early deficit with a never-say-die attitude, as he had 19 points and seven rebounds.
Also for the North, Christian's DANIEL WELCH had 10 points and six rebounds.
Barry won a halftime three-point shooting contest with 35 total threes in two one-minute rounds defeating the strong showing of Granite Hills' RAY CUERO.
"The game was fun to be a part of," said El Capitan head coach JEFF BICKFORD, who guided the North squad. "Each team scored over 100 as (Tournament organizer and Mount Miguel girls head coach) ROB (SANDOVAL) requested.
"I was proud of Chase and Danny hustled, as usual."
The girls led off the evening and the North All-Stars eventually rallied from a 29-22 halftime deficit to force some extra time.
Mount Miguel's CAMARA DOUGLAS needed a quarter to get things going offensively but finished with a game-high 24 points for the South team.
Douglas also had eight rebounds, four steals and three assists, including a steal and then length of the court pass to Helix's MARINA SMITH (10 points) for the only bucket in the two-minute OT, to earn team Most Valuable Player honors.
West Hills' KERRIE DANIELS and Santana's KOBIE HOLLAND formed a formidable duo for the North team.
Daniels had 19 points and 21 rebounds to earn North team MVP honors.
Holland finished with 13 points and 23 rebounds in the game, which was played with 10-minute quarters.
The girls' three-point contest was won by LAILA SMITH, of Mount Miguel, a certain all-league selection who missed the entire season with a knee injury. She also played several minutes in the first half.
Between games, WANDA DICKENS, the spouse of the late Bill Dickens, was honored for her contribution in reporting on East County athletics.
BILL DICKENS EAST COUNTY PREP BOYS and GIRLS SENIOR ALL-STAR GAMES
SATURDAY, APRIL 28
AT MOUNT MIGUEL HIGH SCHOOL