EAGLES' LEGENDARY COACH THOMPSON HONORED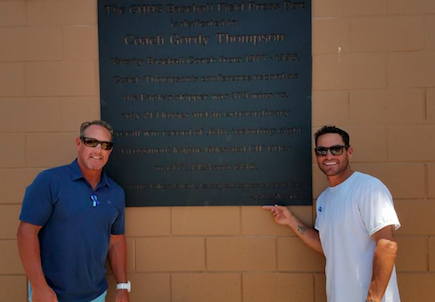 BRIAN AND MARCUS GILES stand before a plaque in honor of Granite Hills baseball coaching great GORDY THOMPSON. / photo by Karen Beth Pearlman
By David Dickens
EastCountySports.com
EL CAJON (06-23-2018) – As the sun peered through the late morning June gloom, so many greats all at one golden gathering.
Former Helix head coaching Houdini, Jim Arnaiz, former Eagle greats, Brian and Marcus Giles, who recently lost their father to an abrupt cardiac arrest, former pitching great, Donnie Carroll, former El Capitan head baseball coaching guru, Steve Vickery, who incidentally applied for the varsity baseball coaching vacancy prior to Gordy Thompson's acceptance of the job in 1976, as the skipper of the Granite Hills Eagles.
Saturday, we would reflect and remember the great man, coach Gordy Thompson.
There were also many others on hand, Gordy's wife, Sharon, daughter Dana McCray, and son Brad Thompson, Grossmont Union High School Superintendent Brian Wilbur, even members from Gordy's first team he had once referred to as, "The Bad News Bears," team he first inherited in 1976.
The gathering this fine, crisp, morning was nothing short of a true celebration of a truly remarkable man.
Prior to the announcements, every attendee signed in at the table, set up beautifully with two framed portraits of coach Gordy Thompson in his late 70's early 80's pinstripes, sign in book to scribe in your name and a spot for your fond memory of Thompson.
Everyone was also entertained prior to the fantastic speakers with the beautiful rendition of the Star Spangled Banner, and later " Take Me Out To The Ballgame," by the Eastlake Band from Eastlake High School.
Current Granite Hills Varsity baseball head coach James Davis was the leadoff speaker. Coach Davis went on to thank everyone for coming, and how great it was to have so many former great players, coaches, and baseball people in general. As he looked up to the sky, Davis said, "Gordy, I will do my best with all your teachings to also take great care of the field like you did."
Brian Giles spoke of a 12-game winning streak in 1987, he was a sophomore, and let's just say the varsity players decided to perform a hazing, Brian paid no mind, hoisted his trousers up the flagpole, until losing to Fallbrook to break the 12-game winning streak.
Coach Marc Noble spoke of the more important things in life, that learning how to coach baseball was a bonus.
"Gordy taught me how to be a better man, husband, and father," coach Noble said.
Thompson's daughter, Dana McCray, gave a heartfelt speech on her father, Gordy Thompson's life and how wonderful of a father he was, how she first became the Eagles' official scorekeeper, how much she loved the Granite Hills athletic traditions of class, her father established especially winning with class on the baseball field.
This wonderful event ended with the unveiling of the plaque located on the rear of the press box.
Sharon Thompson and McCray officially unveiled the plaque donated by the Grossmont Union High School District and Granite Hills High School, and created by Jimmy Don, from the hit television show, "Fixer Uppers."
Gordy will remain in all of our hearts at ECS forever as well.