MATADOR CATCHER FINDS HIS NICHE
Updated: January 10, 2019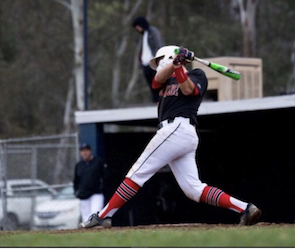 Mount Miguel senior CAMERON BEAUZEC
2019 EAST COUNTY PREP BASEBALL
By Dave Dickens
EastCountySports.com
SPRING VALLEY (1-1-2018) – Mount Miguel High School has come forth with plenty of talent, however, best known for their famed, 18-year lock of league titles for girls varsity basketball, head coach Robbie Sandoval has done a tremendous job with the scouting during the preseason and making sure his girls get the best college opportunity after the season, academically and on the basketball court, most recently, CAMERON DOUGLAS, playing hoop for Fort Wayne (Ind.), a Division 1 school linked up with Purdue University.

Let's not forget another present big-name player who played football at Mount Miguel as a stellar defensive end who made huge contributions as a Husky for the University of Washington, CORY LITTLETON, who would later sign in 2016 with the Los Angeles Rams as a special team player, and has made plenty of noise for the playoff-bound Rams this year.

Next man up, let's face it, the 2018 Mount Miguel Matador baseball team had a rough season last year, although they played a few close games.

One of the jewels to come out of this squad, senior catcher CAMERON BEAUZEC has accepted a substantial baseball scholarship from Bethany College of Lindsborg, Kansas, for 2020.

This is the first scholarship player since head coach Frank Coit came over from the Granite Hills program to Mount Miguel.

Beauzec will be officially signing on Wednesday, January 9, at 1:30 p.m. at Mount Miguel High School.

Cameron comes from a very athletic family.
"My mom played netball, ran track, was an all-varsity swimmer, and played varsity tennis," Beauzec said. "As an added bonus, she played varsity women's cricket."
Cameron's stepfather played junior varsity baseball at Mount Miguel.
Beauzec has played travel ball since the early age of 12 and did not have the desire to play juniors in Little League.
Cameron has played ball since he was 5 years old, and has had the privilege to play in all nine positions as a baseball player.
"In my little league days, I played shortstop and was a centerfielder, as well," Beauzec said. "As I approached 12 years old and started to play travel (ball), I played in left and all over the infield. The only time I ever pitched was high school ball."
Beauzec had received many offers and multiple invitations to work out for college coaches.
"I chose Bethany College because I connected with the coach at a showcase and I liked how he managed the team."
Not only does this bright young lad have a great future on the baseball diamond, he also has the desire to enter the medical field.
"I will be pursuing a bachelors degree in exercise science in hopes to become a medical professional," Beauzec said. "I remain undecided between physical therapy and medical practitioner."
Beauzec will be packing up and relocating in the 2019 fall semester at Bethany College.
Cameron recalls several fond memories as a Matador.
"Starting as a freshman at first base, and as a starting catcher from my sophomore year until the present, the amazing banquets put on," Beauzec recalled. "Being a four-year varsity starter is a great memory because I have met many people and had the opportunity to lead people.
"One of my favorite moments as a Matador was holding two camps for young kids we had because I was able to have fun helping kids see their own potential."
When questioned about coach Coit, Beauzec said: "I have definitely learned maturity through coach and I've also learned to develop a skill, where win or lose, stats do not matter, what matters is how you helped your team and what you could have done better today. Basically not being selfish on the field."