Pineda tabbed WBA All-Star Game MVP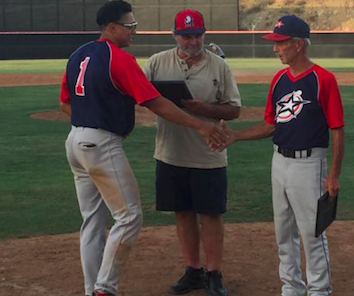 Kyle Pineda receives a team MVP award at the WBC all-star game.
2018 SAN DIEGO STARS BASEBALL
Special to EastCountySports.com
SAN MARCOS (7-8-2018) — San Diego Stars outfielder Kyle Pineda fueled the top of the batting order by collecting two hits including a double plus a walk, scoring all three times, leading the National Division to a 9-1 victory at the 8th annual Western Baseball Association All-Star Game, held

Saturday

(July 7) at Palomar College.
For his efforts, Pineda, a product of Grossmont High and Southwestern College, was named the Offensive Player of the Game. National teammate Gavin Brown of the San Diego Reign took the nod as Pitcher of the Game with a pair of 1-2-3 innings, featuring three strikeouts.
Pineda did his damage for the first five innings, as the National mounted an early 6-0 cushion.
Since the WBA All-Star Game debuted in 2011, whichever squad featured the Stars (North-South format, American/National, et al), members of the San Diego Stars have been on the winning side seven times. This includes one contest when members of head coach Mickey Deutschman's squad were split among the rosters, yet the one with the majority of Stars again came away as winners.