Bowl champ Cougars no one-hit wonders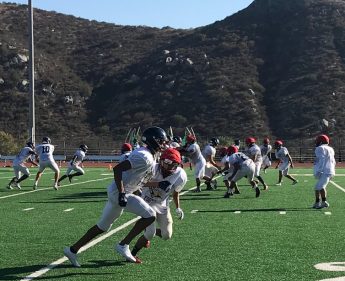 Steele Canyon players train during preseason camp.
2018 EAST COUNTY PREP FOOTBALL PREVIEW
STEELE CANYON COUGARS
EastCountySports.com staff report
SPRING VALLEY – What can the Steele Canyon Cougars do for an encore?
After winning the San Diego Section Division II title and State CIF Division bowl game championship last season, the Cougars, who enter the season on an eight-game winning streak, are still being mentioned among the sleepers in San Diego County after their promotion to Division I this season.
That alone gives Steele something to shoot for.
The Cougars will have to replace some key cogs to keep their title engine rolling, but head coach SCOTT LONGERBONE oversees a deep program that went 9-1 on both the JV and freshman levels last year.
Although SC will have to replace the Walter Zable award winner at quarterback, it will have the support of a strong 1-2 running back combination in the East County in veteran KENNETH WATSON and highly-touted newcomer WES NEELY.
The Cougars didn't put up gaudy statistics on offense despite lighting up the scoreboard on several occasions, including during playoffs.
Instead, Steele Canyon relied on a heady defense that put their extremely efficient offense in position to dictate the tempo. This year, 14 starters return, including six on offense.
"This is the same offense we ran last year, so its just going to be the same but with a 1-2 punch," said Watson, a senior.
Watson had a season-high 161 yards in a win over El Capitan and scored two touchdowns in the CIF state Division 3-A bowl title game, as he played a role in several games during the second half of the season.
But all eyes may end up on Neely, who wowed fans in both stands all season on the freshman squad by racking up 49 touchdowns and making enough big plays to nearly fill a memory card.
Early computer projections, as well as, several media members have placed the Cougars just inside or near the county's top ten, although a panel of coaches has Steele just outside the top 15 to open the season.
"I feel like we are ranked a little low, but I understand because we are moving up to Division I from Division II so there will be some pressure just because we did win it all in D2," Watson said.
Senior receiver VALON MARTINEZ returns.
Junior transfer CHRIS CARTER, from Radford, Va., was a second-team All-District selection as a receiver and kick returner for the Radford High Bobcats.
Longerbone reports a three-way battle in camp at quarterback, including senior NATHAN BARNETT, a transfer from Immaculata (Sommerville, N.J) High, where he passed for nearly 1,000 yards last season in seven games.
Protection should be led up front by seniors SOMMER AUDEH and JOSH CONSTANCIO, along with junior center DARRIN ROLDAN.
"We definitely lost a lot of players," Watson said. "Most of our starters on defense were seniors, but we have a lot of young dudes coming up that are going to make a big impact on our season."
Junior slot and safety CHANCE JOHNSON began last season on the junior varsity ended up starting in the state championship game.
"I think the biggest strength we have is a whole lot of athletes we can put at certain positions and still make both the offense and defense run smoothly," Johnson said. "We try to do things off of instinct sometimes so we are working on discipline and were looking pretty good so far in camp."
The Cougars lost big names on defense, but certainly still boasts plenty of experience.
Senior linebacker BILLY TELLOUS was a second-team All-East County selection for the champs.
"I am confident in my guys on defense," Tellous said. "Our coaches are going to get us there and we are going to be a team to be reckoned with once we get into (the Grossmont Hills) League."
Despite their postseason successes, Steele finished just third in the circuit, a result Tellous is anxious to change.
"The pressure is always on after any great season but our coaches and players know we are going to have a great season," he said.
Stepping in to lead the way will be senior defensive tackle IAN MILLER, senior linebackers DAVID LIPSCOMB and SPENCER O'GORMAN, and junior linebacker CAMERON EWERT.
Sophomore JOSIAH STEWART is a top newcomer up front, while LB/TE COLTON GUERRERO is another sophomore ready for the varsity, according to Longerbone.
"This league is pretty incredible," Tellous said. "No matter what team we are playing with our going to go out there and be physical, athletic, and aggressive, and I know we are going to get the win."
Other depth is provided by versatile senior linemen JACOB WHITEHALL, ARAMIS CARSON, JADEN MCGOWAN, DYLAN PETTY and ANDREW MORALES.
Other defenders include senior ALEXANDER ATHERTON, along with juniors AILIAMU-AHYOU MORSE and LUIS ALVARADO.
Steele Canyon opens the season against a fellow highly-ranked opponent in Carlsbad, then host three-straight opponents – Brawley, Bonita Vista and Otay Ranch – before concluding the non-league slate at Mira Mesa, a team the Cougars defeated twice last year at home, including the playoff opener.
"That's going to be our goal this year," versatile senior CAZZ TRISBY said. "Just be 1-0 after every week and build chemistry as a team."
In the Grossmont Hills League play, SC hosts Granite Hills and Grossmont, eventually concluding the season at Helix.
"We love to compete with both those programs," Longerbone said. "I think our league, in general, is going to be up this year. Our league is going to be a fun experience every week."