Jahmon, Monarchs face new hierarchy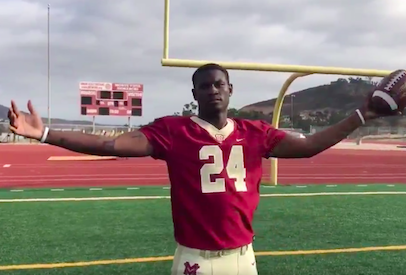 JAHMON MCCLENDON / by Ruben Pena - SDFNL Magazine
2018 EAST COUNTY PREP FOOTBALL PREVIEW
MONTE VISTA MONARCHS
EastCountySports.com staff report
SPRING VALLEY – There are very few reminders of the Monte Vista Monarchs' 2017 San Diego Section CIF Division 4 championship around the team's facilities this summer.
While the team was sure to celebrate their terrific accomplishment from last season, especially with so many underclassmen on that team, the Monarchs were quick to put aside their accolades and awards heading into camp.
"I haven't worn my (championship) ring in months," said senior defensive lineman BLAKE SCHMIDT. "We took down most of the reminders that we won CIF in our war room and try to forget about last year until after this season.
"We have to put everything that has happened in the past. The goal is to try and win another title."
Or three.
While the Monarchs made big headlines with their county title run, the sting of a couple of chances left behind gives the team motivation to start strong and finish stronger in 2018.
Eighteen starters return from a team that fell a game short of winning the Grossmont Valley League banner and one-point short of a CIF State Regional bowl playoff after squandering a four-touchdown lead in the second half.
Monte Vista has also earned promotion into the San Diego Section's Division 3, but by all accounts, are still a top contender in a very competitive field.
"Anytime you move up a division you are going to be tested, " said Monte Vista head coach RON HAMAMATO (7th year, 36-37 overall at MV, 223 career coaching win). "We are going to be challenged in those games mainly on the offensive and defensive line.
"We have a pretty good team with a lot of returning players, but only ony time will tell."
The Monarchs feature one of the county's top players on offense in senior JAHMON MCCLENDON.
The San Diego State-bound running back was a first-team All-San Diego CIF performer last season and an all-world performer in the section title game against San Diego High when he rushed for 383 yards and eight touchdowns.
"When I was scoring I didn't know how many touchdowns I had," said McClendon of his famous night. "My friend, (teammate) SERGIO CORTEZ told me I had eight touchdowns. I was just running."
Teams will still be getting a big dose of the Monarchs' running game this season.
McClendon rushed for nearly 2,500 yards and 40 touchdowns last season and some have even suggested that 3,000 yards this season wouldn't be out of the question.
The 6-foot-2, 220-pounder can focus on leading Monte Vista to another successful season with his commitment to the Aztecs out of the way.
"(SDSU) is a very good fit for me," said the now-affable star. "I feel welcomed and I feel like I am at home. I am going to have a good time there."
While McClendon has proven his ability to shed and break tackles over and over again, he and his backfield mates, led by senior ELSHADDAI LEVI, a second-team all-Valley player last season.
"Jahmon gives the hardest effort and fights for us," said senior lineman CHRISTIAN DE LA CRUZ. "I love his camaraderie and work ethic. He is that focal point that brings us together and elevates us to the next level."
McClendon, meanwhile, is quick to give credit where due.
His line, including second-team all-Valley player RON BARRY, a junior, and GERRY ARELLANO, a senior, return as part of an extremely deep unit.
"They are always working hard out here pushing sleds and getting ready," McClendon said. "I am very grateful for all of my O-linemen. They do a lot for me and I wouldn't be anything without them.
During the Monarchs' rise to the top of the division ranks, a steady improvement in their passing game had made them even more dangerous offensively, however, Monte Vista is starting from scratch a bit this season after unexpectedly having to move senior KENNY STEVENS behind center.
"Kenny is doing an awesome job and we're really proud of him," McClendon said. "I am really looking forward to the season and seeing how he does."
Still, there is no panic in the team's plans.
"All of us together as an offense click on all cylinders," De La Cruz said. "Just something that makes us work and push ten times harder."
Hamamoto's plan in Spring Valley has long been ingrained by ball control and a staunch defense.
He has that luxury behind one of the county's premier run-stopping units led by the Montana State-bound Schmidt.
"On defense, that's our goal, to set a school record for least rushing yards allowed," said Schmidt, who is joined up front by ISAIAH GARDNER
The Monarchs also return a veteran defensive backfield including seniors CARLOS ROBERSHAW, TERELL KYLE and JEVON BROOKS.
Junior LOGAN SCHMIDT heads the linebacking corps.
Monte Vista will have another top piece, as senior JASON HERNANDEZ will be one of the top kickers in the Grossmont Conference, if not the entire county.
"We have a bunch of kids coming back so hopefully it carries over to this season," Hamamoto said. "I heard Rocky Long talk on the news and said, 'what you did last year doesn't mean anything.'
"Everybody is going to want to knock us off."
The Monarchs' non-league schedule is chock full of section title contenders in both D3 and D4.
Monte Vista will host division rival University City, which it met twice last season, while facing fellow D3 tough teams Christian and Bishop's on the road. The Monarchs host top D4 contenders Mar Vista, in the season opener, and Chula Vista in a rematch of an overtime playoff game last season, before heading into GVL play.
The Monarchs face Spring Valley league rival Mount Miguel on the road to open league and the title is expected to be decided on the final night of the season when new league entry West Hills visits.
The pieces are still there for another historic run, according to the older Schmidt brother, Blake, who recently committed to Montana State, giving the Monarchs' program a rarity in producing two Division 1 players in one class.
"I am just looking forward to getting us to a state title," he said. "We did win CIF but there is always stuff to work on, especially because we are moving up a division, we've got to step everything up. We have a goal which is to go farther than we did last year and all of us are working harder to accomplish that."