Stars, Salinas slam into Elite 8 at NBCWS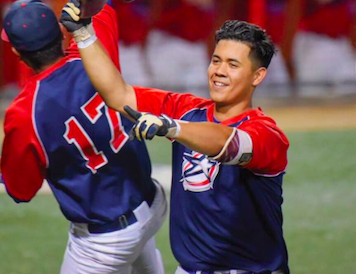 Stars' Hank Gonzalez comes home after a solo home run in the second inning Tuesday night. / NBCWS photo
2018 SAN DIEGO STARS BASEBALL
NATIONAL BASEBALL CONGRESS WORLD SERIES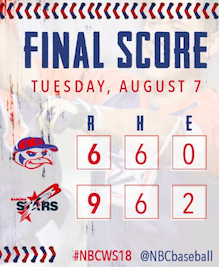 East County Sports.com staff report
WICHITA, Kan. (8-8-2018) — San Diego Stars center fielder Tristan Salinas drilled a first-inning grand slam to cap a 5-run outburst, then registered the defensive gem of the game with a diving catch to open the 7th, lifting the San Diego Stars to another victory at the 84th annual National Baseball Congress World Series.
Avenging a tournament-elimination setback the last time San Diego visited historic Lawrence-Dumont Stadium in 2013, the Stars took down the Hays (Kan.) Larks, 9-6, this time to send their opponent home.
The triumph allowed the Stars (27-7 overall) to finish second in Group C, advancing to Thursday's national quarterfinals against a team to be determined. Four other pool play games will cap the pool play round on Wednesday to determine the Elite 8 pairings.
Following four walks to force in a run, Salinas knew the Larks pitcher would eventually need to throw a strike, yet waited for an over-adjustment for a pitch down the middle instead of on a corner.
Salinas stroked the ball to left field for a 5-0 cushion. And when Hank Gonzalez opened the 2nd with a solo home run to push the margin to six, life was easy for Stars pitcher Noah Quintana.
The Stars' winningest pitcher this summer at 5-2, Quintana carried a no-hitter into the 5th, retiring 9-of-10 batters. He carried a 4-hitter through seven frames before giving way in the 8th for his sixth victory this summer.
Reliever Michael Byerline tossed 1 2/3 innings but allowed an unearned run on a potential, game-ending popup which was dropped. However, the potential game-tying run at the plate, Clayton Lewis garnered the final out for his first save of the summer.
The Stars offense started with walks to second baseman Brady Joslyn, right fielder Ryan Culp, shortstop Ryan Kouba and left fielder Cabot Van Til (RBI). Salinas followed with his fifth homer of the summer, then Gonzalez went deep for his first homer since returning from independent professional ball.
The Stars also scored three times in the 6th. Ryan Culp stroked a base hit to center, scoring Gonzalez. Dallas Seidel followed with a 2-run double to score Joslyn and Culp, yet moving one run short of triggering the mercy rule.