Sultans shore up strengths for season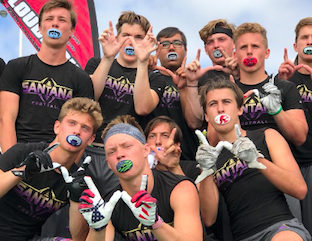 Battle at the Shores champion Santana Sultans / TopDawg Network
2018 EAST COUNTY PREP FOOTBALL PREVIEW
SANTANA SULTANS
EastCountySports.com staff report
SANTEE – The Santana Sultans made summer football fans take note when they won the Battle of the Shores 7-on-7 passing tournament in late June, the program's first such tournament win in several years.
With junior quarterback NATHAN TEMPLE at the helm in 2018, the Sultans have found a good reason to rally around their new signal caller.
"Nathan hasn't had a lot of varsity playing time," said Santana head coach TIM ESTES. "There are going to be some learning curves, but he'll be fine with those."
Santana hasn't had any problem scoring points against comparable defenses over the last two seasons and with the Sultans' history of developing quarterbacks, Temple studied hard as a sophomore apprentice rather than getting game reps on last year's junior varsity.
"I was working really hard last year and to be able to play this year as a starting quarterback feels really good," Temple said. "We have a lot of talent at wide receiver, our line should hold up well. I think we should be pretty good this year."
Senior RB/LB IAN LITTEN is a returning two-way star who rushed for nearly 450 yards last season while making 41 tackles on defense.
"He's got size, speed, and strength," Estes said.
Senior COLTON SNIPES is the Swiss Army knife of this group. He caught 17 passes last year with three touchdowns, while defensively, he had 29 tackles. along with an interception. He is also the team's specialist.
"Defensively, everyone does their own job and everyone gets it done just right," Snipes said. "We just have to know there is a margin for error that we can take advantage of. The difference between giving them the ball near midfield and dropping it at their own goal line is monumental."
Junior RANDY SMITH is a rapidly-improving two-way player at wide receiver and safety.
"He's got a lot of talent, he's really fast and had great hands," Temple said. "He should be any good against any defense. He has alot of great routes, good moves."
Junior running back BROOKS MOUTAW splashed on the scene last season and scored seven touchdowns. He debuted with a 170-yard performance in a memorable 50-43 win against eventual state bowl finalist Vincent Memorial in El Centro last September.
Junior two-way stud LUKE SIMANEK, who registered three sacks last season, is one of the top returning linemen in the Grossmont Valley League. He's joined by senior leader ERIC KASZYCKI and junior defensive end JACE LYNCH, who had three sacks last year.
Junior OLB/RB CAMERON LARICCIA is one of the East County's fastest rising stars, especially on defense, after recording over 60 tackles and picking off two passes last season.
Junior JACOB PETERSON helps lead the linebacker corps.
The Sultans really shine in the defensive secondary. They took risks at times, giving up some long gainers gambling against superior teams, but the timing paid off in their victories, as their turnover margin was often the key.
Junior free safety DONNIE KELLY had a pair of picks last season. Senior SEAN IVERSON returns, as well.
"I think our defense should rock this year," Temple said. "We have a lot of talent at safety and cornerback. We should be able to stop the passing game."
The Sultans 1-3 in the Grossmont Valley League play and a 4-7 overall last season, which ended their one-year stay in the SDCIF section's Division III. Instead, they'll return to D4 where they reached the title game just two years ago.
"The whole season should be pretty good, the whole schedule looks good," Temple said. "There are a lot of teams out there that we couldn't beat last year, that I would like to beat this year. Our whole thing is looking for a championship."
Still, the initial power rankings will likely show that Santana will have to work to move up the ranks in the postseason, as well as, face a tough schedule in the GVL, especially now that their rival, West Hills, has returned to the league.
The Santee Mayor's Cup Trophy has resided in West Santee for the better part of nearly three decades.
"We haven't beat them since 2011, so they are always going to be a good test for us," Estes said. "Right now, no doubt, they have our number, but we've got a number of starters back, so we've got a chance. I think we can be pretty good."
The rest of the non-league schedule has rematches from last year with Vincent, along with Christian, and games with Serra, and Mountain Empire in an exciting late add that will see the visitors coming in from Pine Valley for the season opener.
"We were both looking for games or be faced with only playing nine games," Estes said. "It just kind of fell into our lap and we were thankful. We think it should be great.
"I think we can win a majority of our non-league games."
The league campaign is tough against the top rivals, but the Sultans get favorite Monte Vista, along with Mount Miguel, at home. The Sultans and Matadors have had some wild back-and-forth affairs over the last couple of season.
"I think we're going to do pretty well where we are at and who we are playing against," Snipes said."