Redhawks gliding into contention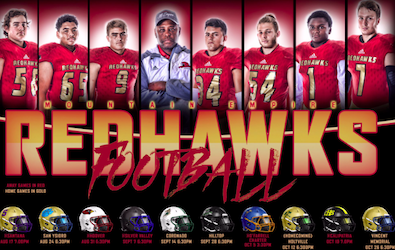 EDIT: TOPDAWG NETWORK
2018 EAST COUNTY PREP FOOTBALL
MOUNTAIN EMPIRE RED HAWKS
EastCountySports.com staff report
PINE VALLEY – Despite the math not necessarily being in the Mountain Empire varsity football team's favor of late, the Redhawks continue to defy the odds.
The Mountain Empire unit is once again long in talent, but short on numbers, which makes finishing the deal against its stiffer opposition always the challenge.
Redhawks fourth-year head coach BERNARD VANN has been blessed with players who advanced to play on the community college or small four-year college level and has some of those this year as well, but the learning curve in Pine Valley can sometimes be a winding road as the coach often has to use more than a fair share of underclassmen.
But in this pinnacle year for Vann and his staff, 14 starters return from last year's 5-5 squad. The Redhawks might be looking up at most of the teams in its Division V placement by the SDCIF, but are certainly expected to fair no worse than last year's club and might be considered ripe for dramatic improvement, including in the Manzanita League.
In fact, the computer ratings are likely to rank the Redhawks as a serious contender for a section championship.
"It seems like we're moving in the right direction definitely," Vann said. "This is my first graduating class coming up, so we want to try and win league because we haven't won it. That what the players want to do.
"We were 5-5, so we just missed the playoffs, too. With Division V expanding to 12 teams, we've got an opportunity to go to the postseason."
The Red Hawks host their two top rivals, Holtville and league favorite Vincent Memorial, in the four-team circuit. A win over the Vikings on Homecoming (Oct.12) would do wonders for MEHS' playoff possibilities.
Mountain Empire's senior stars CAMERON WILL, DALLAS PRINCE and GABE HYDORN are the team's undisputed leaders.
"Having coaching as good as we do now, it has helped me overcome what I didn't believe I could achieve," said Prince, a free safety, and slotback. "That is part of the culture now here at Mountain Empire, we're trying to build as a team, not as individuals."
The Redhawks recorded three shutouts on defense last season, including two late in the season, as seven starters return on that side of the ball. The team based a lot of its success on forcing turnovers.
"We have a coach on the field in (LB/TE) Cameron Will," said Prince, who intercepted a pass in three-straight games last season and also had a two-pick game. "He can change the outcome of a game."
Hydorn is a play-making quarterback that can try to do too much at times, according to Vann, but guided an offense that averaged over 21 points per game last year.
"Gabe works hard but we are trying to focus on cutting down the turnovers," Vann said. "He makes a lot of big plays but sometimes I'll ask him, 'What made you do that?', and he'll say, 'I was just trying to make a play, coach,' and that's exactly what he's trying to do."
Sometimes trying to make those plays came on critical third- and fourth-down situations where the Redhawks have lacked in dive-play and goal-line situations. Vann thinks he may have found a solution with 200-pound senior NATHAN ROSE.
"When we need two or three yards, he's going to get us those yards," Vann said. "That's an area where we've had a little problem. I don't think we're going to have that problem this year. He is going to be a hard-nosed runner and I think he's going to be hard to bring down."
Like many of Mountain Empire's top players, Rose sees time as a defensive stopper on defense, as well.
Senior NATHAN ROSE RB and defensive player
"I started out as a linebacker since my freshman year," Rose said. "But if I had to choose now, I would play running back."
Rose and the other backs will be running behind an offensive line that is likely to contain two freshmen in 225-pounder CHAD ENNIS and freshman ABRAHAM PENUELAS, who is a dead-ringer for his other brother JONATHAN, a recently graduated Redhawk standout. Two-way lineman ANTONIO ARCE also returns.
"The offensive line is coming together," Vann said. "It's taking some young guys and seeing what they can do. They are working hard."
MARCUS SMITH, a 6-foot-2, 190-pound sophomore, is ready to compete for time on offense as a runner and a receiver, according to Vann.
"He has really good hands," said the coach, "He goes up and gets it and catches it with his hands."
Another two-way starter is wide receiver/cornerback MARQUIS DAVIS, a 5-foot-11 senior
"We've got a pretty good defense, but there's always room for improvement," Davis said. "On offense, there is a lot of teamwork. Gabe knows what he's doing at quarterback."
Other two-way senior trench standouts include CHARLIE SALLEE and AARON PETERSON.
Mountain Empire opens the season with a tough assignment on the road in Santee against the Santana Sultans.
The Redhawks' toughest test of the season comes at home on Sept. 28 against the visiting Hilltop Lancers.
The Manzanita season is a three-week sprint at the finish. Mountain Empire went 1-2 last year, including a 14-10 loss at their heated rival, Holtville.
"I'm confident in my team, but we treat every opponent the same, Prince said. "We just want to go out there and give it our best effort. It takes everybody being on the same page. There aren't a lot of guys we can throw in there, so if everybody is doing their job those games are winnable. We have to put the work in."