Helix will need tune-up before Cajon trip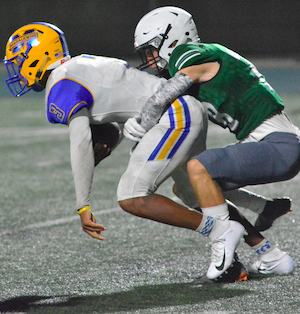 Helix wraps up against Mira Mesa at the SDFNL Classic on Saturday night. / photo by Ramon Scott
2018 EAST COUNTY PREP FOOTBALL
SDFNL KICK-OFF CLASSIC
EastCountySports.com staff report
MIRA MESA – What the Helix High varsity football team lacked in discipline and execution, the Highlanders easily made up for in size, strength, and depth in a 35-0 scrimmage victory over the host Mira Mesa Marauders at the 2018 SDFNL Kick-off Classic Saturday night.
Played in 10-minute quarters under near game-like conditions, Helix powered their way through the Mira Mesa defense, sans more than a few procedure penalties, especially near the goal line.
The Highlanders had to get into the end zone twice after a pair of touchdowns were called back for the minor infractions.
Helix still scored on successful goal-line plays, including a pair of rushing touchdowns in the red zone from ELELYON NOA, but the junior back told reporters after the game that the team expected to hear about the lack of execution from the coaching staff on Monday, just five days out from a state top-25 showdown at Cajon High, of San Bernardino.
Helix junior Elelyon Noa scores a touchdown during the third quarter of the SDFNL Kickoff Classic Saturday night at Mira Mesa High… pic.twitter.com/IMjNaKL4Pa

— Ramon Scott (@RamonScottPoker) August 12, 2018
Helix senior JOSHUA SHIELDS scored on a 14-yard touchdown run, while senior KAMRYN BROWN scored on a 10-yard pass from CHASE OSBORN.
The Helix defense did a very nice job against several different Marauder looks, but they got one last chance to get fired up in the fourth quarter when Mira Mesa senior Noah Tumblin was in at quarterback.
The Highlanders didn't allow the star much progress other than a first down near midfield.
Helix wraps up against host Mira Mesa just outside the goal line during the third quarter of @SDFNLMagazine Kick-Off Classic Saturday night… pic.twitter.com/HgyYAXkxCD

— Ramon Scott (@RamonScottPoker) August 12, 2018
In other scrimmages involving East County squads at The SDFNL Classic:
CHRISTIAN 42, HILLTOP 13 – Senior ALEXANDER GONZALES scored on runs of 15 and 45 yards for the Patriots.
Christian took a 14-0 lead in the first quarter. The Patriots led 21-7 with five minutes left in the first half.
Senior JAVIER JIMENEZ had a 1-yard touchdown dive for CHS. Christian High senior quarterback OWEN EASLEY scored on a 1-yard sneak.
The Pats took a 27-6 lead into halftime after recovering a fumble and converting it into another long touchdown run.
CHS led 42-7 with under four minutes to play in the third quarter, as JUSTIN ROEHL had a 13-yard touchdown recption for the Pats. TODD BEEZER had an 67-yard interception return for a touchdown, as well, for Christian.
🏈 A couple of highlights from today's scrimmage between @HilltopHighASB and @CHSPatsFootball.#Football pic.twitter.com/Uz0CvPNKY3

— Jose M. Martinez (@JoseMartinezTV) August 12, 2018
MORSE 48, EL CAPITAN 0 – The Tigers' speed was apparent and their blocking was strong, as well, against the Vaqueros.
A Vaquero fumble late in the first quarter resulted in Morse's second touchdown of the game on a 44-yard run.
Morse's Shamar Martin scored one of his two touchdowns in the second quarter on another big TD run.