RedHawks get Caver experience at SDFNL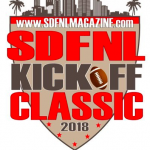 2018 EAST COUNTY PREP FOOTBALL
SDFNL KICKOFF CLASSIC
SAN DIEGO 21, MOUNTAIN EMPIRE 7
By Roxy Burns
Special to EastCountySports.com
MIRA MESA – The Mountain Empire RedHawks traveled to Mira Mesa High School for a preseason tuneup versus Division IV runner-up San Diego High.
Two big broken plays cost the RedHawks as they lost 21-7.
Gabe Hydorn, recovering from an illness that held him out of practice two days last week, did not start but he entered late in the first quarter and completed 9-of-14 passes for 82 yards and a TD pass to Cameron Will for 8 yards.
"I think we've got a lot of work to do this season to get ready for Friday nights," Hydorn said. "It's always good to do a warmup and get all those jitters out."
Dallas Prince caught 3 passes for 38 yards along with 4 tackles and an interception. He also had a 67-yard pass reception right before the end of the 1st half that would have put the RedHawks in scoring position with the score 14-0, but it was called back for a penalty.
Mountain Empire's Tony Arce had two tackles for loss.
"I don't think we executed very well but we will get that fixed this week," Mountain Empire head coach BERNARD VANN said. "We plan to be ready come Friday night."
The RedHawks travel to Santana Friday, Aug. 17, to begin the season.
The Mountain Empire-San Diego game was the first game of the SDFNL Kickoff Classic, a set of scrimmages played at two locations – Mira Mesa and Madison – on Saturday.
To gain admission into the stadiums, fans were asked to donate at least one canned good.
Montell Allen and Ruben Pena of San Diego Friday Night Lights Magazine then presents the donation to the San Diego Food Bank.
"We run a program called 'We Care' which means we embody the community," Allen said. "So the Food Bank is something we want to embody in our community and give back to those in need.
"We know in San Diego County one in every 11 kids are homeless. So we want to be able to do our part and at least to be able to give them a hot meal and put some groceries on the table, be at the Food Bank and help out."
2018 SDFNL All Star Game invite
Mtn Empire WR/Ath Dallas Prince and TE/LB Cameron Will. pic.twitter.com/E60qMoT5ci

— Montell Allen (@MBASports1) August 11, 2018