Opening night belongs to Foothillers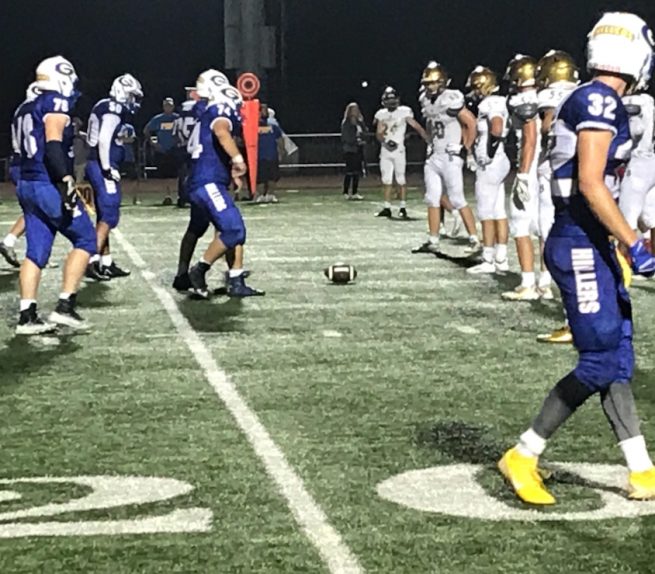 Grossmont lines up against Bishop's Friday night.
2018 EAST COUNTY PREP FOOTBALL
GROSSMONT 28, BISHOP'S 10
EastCountySports.com staff report
LA MESA – This time, it was the Grossmont Foothillers that had the offensive weapons when The Bishop's School came to town Friday night.
Grossmont made big plays and the defense turned the tables on the Knights this time around in order to pick up a 28-10 win.
The Knights earned a field goal early, but Grossmont scored when junior JAHMAL NEVELS rushed in from 17 yards out with just a couple of minutes left in the first.
The red zone possession was set up by a 40-yard run from sophomore ROBERT TUCKER down to the 23.
Grossmont got a 22-yard touchdown pass from junior JAMIE ODOM to junior SKIP WALTOWER early in the second quarter in the first half.
Late in the second, Odom passed to senior DAMARI CRAWFORD for a 20-yard touchdown, making it 21-3 at intermission.
"Our offense did great tonight we came out fast and scored our first to drives to get some momentum," Odom said. "This is how we expect our offense to look minus a few errors that we will fix heading into the next game.
"The routes we called opened up great and our receivers did a great job of getting open making it easier on me altogether."
Odom extended plays and made plays on the run, including a long gainer in the second half, which was played mostly under a running clock.
Odom had 137 yards on 13-for-21, as senior ZAK FARRIS had three receptions for 43 yards to lead the team.
Tucker rushed for 69 yards on nine carries.
"I love using both aspects of offense – running and passing – to keep the opposing defense on their heels," Odom said. "I believe it makes it way harder for a defense with a running quarterback."
After the Foothillers stopped Bishop's again, Grossmont senior THOMAS MANGUM picked up a successful punt on a near busted snap and ended up turning the play into a long touchdown.
Last season, the Knights brought a talented passing combo into Lt. Adams Stadium and beat the Hillers on opening night.
This time, Grossmont was clearly the better team, and any questions about their defense was at least answered in the first test.
Hiller junior linebacker CHRIS ALBA got off to a great start with seven solo tackles, while seniors MONRAY CANADY and ALEX GOLOJUCH combined for five tackles-for-loss.
Senior defensive back WILL TURNER made a statement for the new defensive backs, recording four pass break-ups. The Knights were just 5-for-16 passing.
"Our defense played amazing tonight and played with a lot of energy," said Odom, who was dropped to the turf four time by Bishop's. "They did a great job of swarming the call and giving it all they've got.
"The defense worked hard to get the ball back for our offense so we could do our thing and that's exactly what they do."
The Knights' Clarence Freeman had a 70-yard TD reception for the final margin.
In the first quarter, Bishop's talented quarterback Tyler Buchner was injured on a fake punt and would not return.