Monarchs handle mismatch like pros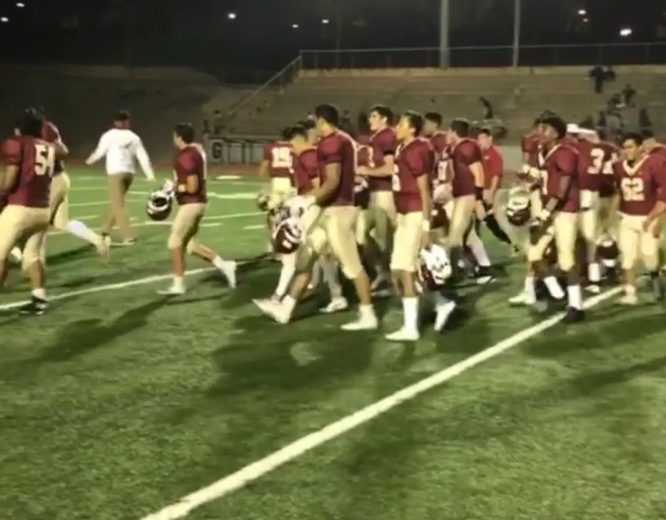 MONTE VISTA WALKS OFF THE FIELD AFTER THE VICTORY OVER MATER DEI CATHOLIC FRIDAY NIGHT.
2018 EAST COUNTY PREP FOOTBALL
MONTE VISTA 44, MAR VISTA 0
EastCountySports.com staff report
SPRING VALLEY – The Monte Vista Monarchs were in overdrive to start the 2018 season Friday night.
Senior JAHMON MCCLENDON and the rest of the Monarch horsepower took the section champs from zero-to-thirty in the first 12 minutes.
The SDSU-bound star had Monte Vista's first two touchdowns of the season and gave way to his fellow backs the rest of the way to beat the Mariners 44-0.
The King's 10-yard score after a short field made it look like he could go for another eight-touchdown night, but this was a night to learn and grow as a team.
Monte Vista's defense was the star of this show, including the trio of JAVON BROOKS, BLAKE SCHMIDT, and junior ISIAH GARDNER, who swarmed in for a safety between's Jahmon's scores.
The Monarchs returned a pair of deflected passes for touchdowns in the second quarter, as Gardner and sophomore DARREN BARKINS both returned interceptions of more than 40 yards to the house.
Monte Vista forced two fumbles and recorded two sacks. SEBASTIAN VALDEZ was bringing the heat for the Monarchs, as he had a sack.
Monte Vista seniors TERELL KYLE and ELSHADDAI LEVI added touchdown runs. Kyle's scamper through the line went for 68 yards.
Monte Vista will host recent rival University City, which defeated Valhalla on Friday night, next week.