Easley-led Patriots win on Bay Area trip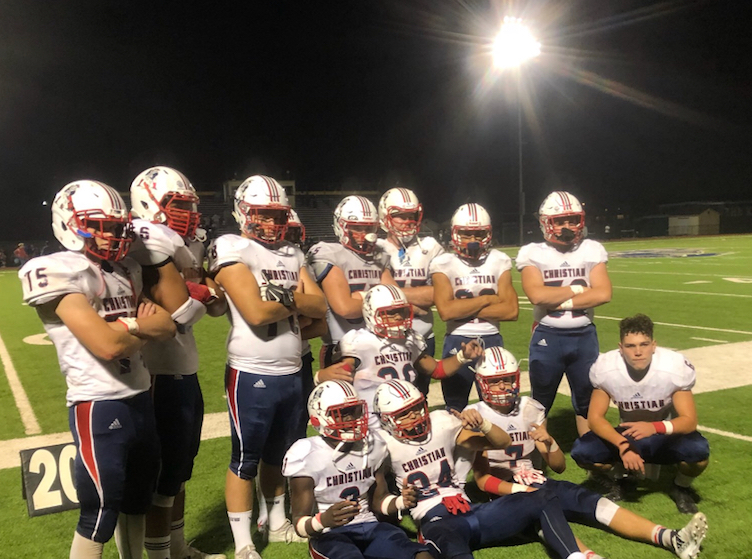 Christian High following the win over The King's Academy in Sunnyvale on Friday night.
2018 EAST COUNTY PREP FOOTBALL
CHRISTIAN 29, THE KING'S ACADEMY 27
EastCountySports.com staff report
SUNNYVALE – The Christian Patriots never trailed but were never comfortable in defeating the host King's Academy, 29-27, to improve to 2-0 on Friday night here.
Senior quarterback OWEN EASLEY rushed for three touchdowns, including the decisive score on a 12-yarder in the fourth quarter, which gave CHS a 29-20 lead.
Easley scored a touchdown in the first quarter to make it 6-0 Pats after one quarter.
Junior KARSON NORTON booted a 35-yard field goal for a 9-0 edge.
After TKA scored a touchdown, Christian junior JUSTIN ROEHL found the end zone on a pass from Easley from 19 yards out for a 16-6 lead.
However, the Knights would close to within 16-13 heading into the locker room following a touchdown pass.
Easley had the only touchdown of the third quarter with a 7-yard run, putting the Pats up 23-13.
"The whole offense played great," Easley said. "BRYCE RIEPL stood out all day because he was a go-to target. They ran with me a lot at which they didn't expect because it hasn't been a part of our offense before. The O-line had trouble at first but picked it up big time after the first quarter.
"The backs did solid all game with blocking and running – Gonzo (ALEX GONZALEZ) and JAVIER JIMENEZ."
The King's Academy struck for a 43-yard scoring pass in the fourth quarter to once again make it a three-point game.
The Patriots host the Santana Sultans in an East County matchup of early undefeated teams on Friday at Granite Hills High at 7.