RedHawks return favor and then some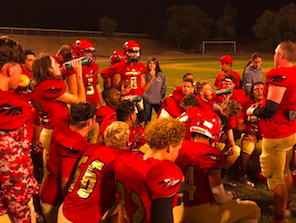 Mountain Empire following the game on Friday night.
2018 EAST COUNTY PREP FOOTBALL
MOUNTAIN EMPIRE 35, SAN YSIDRO 0
By Roxy Burns
Special to EastCountySports.com
PINE VALLEY – Coming off a disappointing one-sided loss last week, the Mountain Empire RedHawks were determined to prove themselves against visiting San Ysidro.
Well, the RedHawks proved to themselves and everyone else that they are as good as advertised with a 35-0 win over the Cougars.
Mountain Empire's 35-0 win was the biggest shutout by the team since blanking Temecula Prep, 48-0, in last season's opener.
"I think we played a good game tonight,". Mountain Empire coach Bernard Vann said. "It was complete and everyone did their jobs. That's what made the game as lopsided as it was.
"We had guys who went into the game and they did their job. It was the result of a really good week at practice. We have to keep that on, we have to continue that on cause you know the way were feeling right now in that mode where we're scared to lose games. So we're fighting and scraping like that every week and we hope to keep getting better and better until it builds up to playoffs time."
San Ysidro started off strong on their first drive as they went for a fake punt on fourth down and made it. From that point on, the RedHawks defense smothered San Ysidro and they did not cross the 50 again until the fourth quarter when the game was out of reach.
Defensive linemen Tony Arce and Charlie Sallee along with the RedHawks cornerstone middle linebacker, Cameron Will, led the charge. Outside linebacker Esteban Castillo had a pick that led to a touchdown as time ran out in the second quarter to extend the lead.
Mountain Empire showed why they are a Division V favorite as the offense exploded for 35 points in the first half and had 349 yards of total offense against a top D5 opponent. The RedHawks playmakers were limited to the first half and the clock ran for the third and fourth quarters.
Quarterback Gabe Hydorn was 8-of-9 for 159 yards and two touchdowns, and had three carries for 20 yds and two touchdowns.
"Today i feel like we played great, we played amazing as a team" Hydorn said. "The potential is amazing when you come together and play as a team. This is what comes when you put in that effort and work hard. You score like that. 35-0."
Ryan Sawyer two receptions for 57 yards and two touchdowns for Mountain Empire
The Redhawks' Nathan Rose had 10 carries for 104 yards, including a touchdown, and one reception for 17 yards.
MEHS two-way flyer Dallas Prince had 148 pll-purpose yards, including two punt returns for 85 yards and two receptions for 63 yards.
Esteban Castro had 6 carries for 51 yards for MEHS, while Marquis Davis had two receptions for 22 yards.
Will had 15 tackles, one tackles for loss, and one sack.
"I think that we just came out here and did what we were supposed to do and that's how we're supposed to do it every single week," Redhawks senior two-way star KEVIN MEZA said. "At practice we're supposed to take care of business just like we do in the game."
Mountain Empire will travel to San Diego to face Hoover for a 6:30 game next week.