Blue-collar Mesa ready for challenge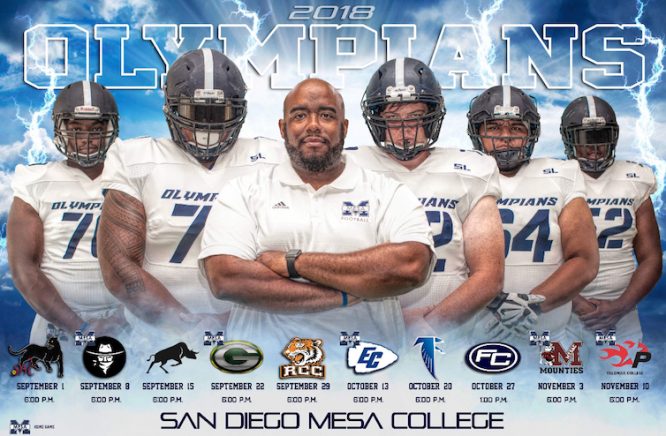 2018 COMMUNITY COLLEGE FOOTBALL PREVIEW
MESA OLYMPIANS
By Dave Dickens
EastCountySports.com
SAN DIEGO (8-24-2018) – The Mesa College Olympians finished the 2017 season 9-2 overall and 4-1 in conference play, a six-win improvement over the previous year.
San Diego Mesa finished off last season in impressive fashion, defeating Santa Ana, 37-34, in the Southern California Bowl.
Now, San Diego Mesa is looking to have one of its most successful seasons to date.
Due to San Diego Mesa's success in recent years, the Olympians have been rewarded by being reconfigured from the American Conference to the very competitive National Conference Central Division.
Mesa will still face longtime rival Southwestern College, and against the local Grossmont College Griffins, as well.
San Diego Mesa, Southwestern, and Grossmont will be competing to be the top squad in San Diego County.
Although Mesa will be also directly competing for the top spot in the Central Division featuring Cerritos, El Camino, powerhouse Fullerton, Mt. San Antonio, and the also familiar Palomar from the northern portion of the county, which also figures in the mix in the conference.
This should be one of the most exciting seasons in San Diego community college history.
The toughest game on anyone's schedule is always Fullerton. The Hornets are early preseason favorites.
They could very well win their third California Community Athletic Association championship as a unanimous favorite by all of the community college coaches.
The Olympians have a tough schedule, but look to be confident and ready to compete with first-year Head Coach GARY WATKINS JR. at the reigns with a plethora of football knowledge.
Top returners for the Olympians are sophomore wide receiver DEJON SMITH, sophomore wide receiver ANTWOINE WARE, sophomore linebacker/safety BRENDAN TORRANCE, sophomore wide receiver CHRISTIAN BAKER, sophomore offensive lineman NATHANIEL HINES, sophomore offensive lineman OMARI COOPER, sophomore offensive lineman PETER NEILL, sophomore tight end JOSHUA GAUDET, sophomore tight end KEVIN LEVESQUE, sophomore wide receiver LARONE SCALES, and sophomore defensive lineman HUGH ANTHONY.
The Olympians also feature some impressive new talent in freshman defensive back JELANI WELLS, freshman tailback JOSE SANCHEZ, freshman fullback BENJI POWER, freshman linebacker DAVID OGUNS, and freshman punter FLAVIO VARELA.
With the departure of former quarterback SPENCER MOYER, the new man on campus leading the offense is freshman quarterback TREY COX from North Little Rock, Ark., who will assume the role, and is ready to compete for a title.
Trey has been playing football since the age of 5, and organized football since he was in middle school.
"Out of high school, I (attended) Victor Valley College in Victorville," Cox said. "When I came down to San Diego to face San Diego Mesa College, I just fell in love with the area. I came down here once again after that to meet with Coach Watkins last December and was ready to start the spring semester here at Mesa and the rest is history."
Said Cox: "I met with the coaching staff and was impressed with the way they conditioned their players, the facilities and the campus itself are all great. I just knew this is where I wanted to be academically and to play college football."
Cox is majoring in Business Administration, however, his ultimate goal is to coach football.
If coaching football doesn't work out for this talented young lad, the business admin will help since his father owns a boat business.
"Both Victor Valley and Mesa are great schools, however for recruiting purposes, Mesa moving into the top 10 helped me make the decision as well to become an Olympian," said Cox.
"The offensive line I'm working with this season is something special and the offense as a whole is really starting to click, making it a pleasure to come to work on the field," Cox continued.
"We are going to prepare for Southwestern week one at Southwestern and will overcome obstacles and adversity to show everyone we will definitely compete," said Cox.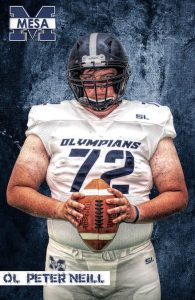 Sophomore offensive lineman PETER NEILL, from Poway high, will be one of Cox's key components to his success.
Neill had a huge impact on how well his quarterback last year performed.
Neill has played football for a majority of his life.
"I ended up at Mesa College as they had a special recruiting day at Poway my senior year," Neill said. "The coaching staff took me to the campus and made time for me. I saw that the campus and facilities were fabulous, and that helped
make the decision to attend and play football at Mesa."
Neill, who currently carries a 4.0 GPA, was a center at Poway and was set to play left guard after practicing at that position all of preseason camp last year, but in the first game in 2017 against Grossmont, five minutes prior to
kickoff Neill was informed that the left tackle was hurt, and he was the man to replace him.
A unique fact about Neill is that he and Watkins would game plan together, as Neill was so eager to get better at his craft.
Coach Watkins is really embracing his new role as Head coach of the Olympians.
"I am really happy about the returners we have along with the mixture of the fresh new talent," Watkins said. "It's really a perfect blend of returners, transfers, and bounce backs along with incoming freshmen."
Said Watkins: "We recruit the north county, south bay, city, and east county schools and we are centrally located. Our goal is to grab the best talent. We have the facilities, admin, and staff to train, develop, and get them ready to be transferred to the best universities possible."
BRENDAN TORRANCE, a sophomore safety and linebacker from Point Loma High, is also a key figure.
"What led me to become an Olympian ultimately was the education and the facilities, and the opportunity to be a great football player here," Torrance said. "I did visit several other community colleges, but again I was sold on the program here and the awesome campus.
"I love working with our defensive coordinator as he has great schemes. We all believe in him, which is why we will find success on the football field. I have played many positions on the field in high school, quarterback, linebacker, running back, but I feel this is the position I can most help my team achieve success."
The biggest strength this young man Torrance brings at the safety position is his formation recognition of the opposing offense.
"Our special teams is where we really focus," Watkins added. "This is the part of the team that could be the difference between winning and losing. Our special teams are going to be good, we work really hard on that."
The San Diego Mesa Olympians will definitely be a force to be reckoned with, and their first order of business is against an up and coming Southwestern team that will also be tough.
The teams were different as far as rosters go last season, but the returning players want to avenge the tough loss to Southwestern last season on November 11, 19-14.
The Olympians travel to Southwestern to battle on Saturday, Sept. 1, at 6 p.m.