Griffins defeat Mt. SAC in season-opener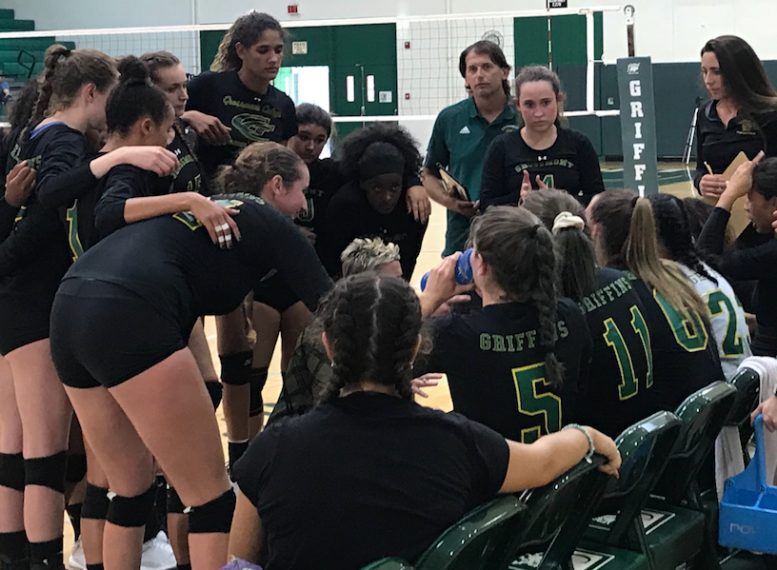 Grossmont college during a time out on Wednesday night.
2018 GROSSMONT COLLEGE WOMEN'S VOLLEYBALL
G-HOUSE MAXIMIZES KILLS, TAKES THREE OF FOUR GAMES FOR WIN
EL CAJON (8-29-2018) – The Grossmont College women's volleyball team has lived up to the energy they spoke about in the preseason.
As with any athletic team, the ladies had to rid themselves of the early rust, early mistakes, as they lost the first game.
"We definitely got the first match jitters out against a very scrappy Mt. SAC team," said Grossmont Head Coach Jamie Ivers.
Although the Griffins mounted a comeback in the first game, they came up just a tad short to the visiting Mt. SAC squad, 18-25.
Grossmont quickly regrouped under new addition, University of Hawaii transfer SHANEY LIPSCOMB, who assisted in defeating the visitors 25-19 in the second game, in which she had three kills.
"As a team, I thought we responded well to our loss in the first match. We didn't let it dictate the rest of the night," said Lipscomb.
Grossmont would play another close match in their third battle. Mt. SAC definitely came to play and kept the contest close all evening.
"Mt. SAC is definitely a very scrappy team and we responded well," said Ivers. "Shaney is huge for us. Big contributor for us emotionally and physically. She is our catalyst and leader for sure. She and CARLY GONZALEZ are our leaders. They establish a standard on and off the court daily."
ALEXIS VANLANDINGHAM (Granite Hills alum) also had three kills and second set.
As the third game wore on, the match was very competitive and remained so until the end. Shaney would add five more  kills and the added bonus of keeping her team focused and very vocal throughout the entire game, gave positive reinforcement for every missed opportunity.
The concluding set was no different as both squads battled it out until the end, G-House finishing the last set on the winning side, 25-18, and ultimately the win, 3-1.
The Griffins would finish with 47 total kills.
Lipscomb finished with the top scoring with 12 total kills.
Vanlandingham also finished at the top with 11 kills, and off the bench, KYLEE SNYDER did a fantastic job.
"Our passing, blocking and our ability to generate points are the positives to take away from this one," Ivers said. "Between now and Friday we just need to work on our cohesiveness and comfortability on the court. We have a lot of offensive threats, we just need to get them in a rhythm.
"In games 2, 3, and 4 we really limited our serving errors which allowed us to go on runs and shut the door on our opponent. As a team, I think we need to work on our energy and fire on the court. Also, having a next-ball mentality and not dwell on mistakes and lose focus."
"Personally, I think I was aggressive and consistent with my serving, passing and energy on the court," said
Lipscomb. "My hitting was completely off tonight. This was my first time competing in a real game in over a
year and a half due to ankle injury, so it will take a while to get up to my full potential. "
"Our team got better throughout the match and we picked up the game in many aspects after the first set," Vanlandingham said. "We need to work on keeping our energy more consistent throughout each set, and maintain the will to win through each and every play, so that will be something we implement
into our practice."
"As a team, we definitely had our ups and downs throughout the game but we stayed together and kept our focus I thought," Snyder said. "Being it was the first game, nerves were high but we all pulled through and played G-House volleyball. We need to practice consistent energy and engagement throughout matches looking ahead."
Grossmont appears to be of the right mindset and look to be a very competitive team once again this season.
Grossmont (1-0) will face Citrus (0-2), who dropped one contest to Fullerton and also to Cerritos, as both contests were 3-1 losses. Grossmont's tipoff is at 3 p.m. on Friday, and again will play at 7 p.m.
---
Mt. San Antonio at Grossmont
@ El Cajon, CA
8/29/2018 at 6:00 PM
| FINAL | 1 | 2 | 3 | 4 | SCORE |
| --- | --- | --- | --- | --- | --- |
| Mt. San Antonio (0-1) | 25 | 19 | 22 | 18 | 1 |
| Grossmont (1-0) | 18 | 25 | 25 | 25 | 3 |
Mt. San Antonio

SET
K
E
TA
PCT
1
10
3
24
.292
2
9
5
26
.154
3
8
3
33
.152
4
7
11
34
-.118
Grossmont

SET
K
E
TA
PCT
1
12
7
35
.143
2
12
7
33
.152
3
15
6
37
.243
4
8
7
29
.034
Mt. San Antonio

— ATTACK —
— SERVE —
— BLOCK —
#
PLAYER
SP
K
E
TA
K%
A
SA
SE
RE
DIGS
BS
BA
BE
BHE
PTS
1
Natalya Fajardo
1
0
0
0
.000
0
0
0
0
1
0
0
0
0
0.0
3
Brianda Valdez *
4
0
1
2
-.500
11
1
1
1
6
0
0
0
0
1.0
5
Selena Chen
1
0
0
0
.000
0
0
0
0
0
0
0
0
0
0.0
6
Malia Carr
4
0
0
0
.000
2
2
1
7
15
0
0
0
0
2.0
7
Kierra Coatney *
4
6
4
25
.080
11
1
1
0
12
0
1
0
0
7.5
9
Kristi Mertins
3
1
0
2
.500
0
0
1
0
0
0
1
0
0
1.5
10
Lindsey Lane *
4
7
2
14
.357
1
0
0
1
3
1
1
0
0
8.5
14
Alysha Tullar
4
9
5
28
.143
0
0
1
1
2
0
1
0
0
9.5
18
Shaianne Palos *
4
7
7
31
.000
0
1
0
0
4
0
0
1
0
8.0
19
Ashlyn Stoddard *
4
2
0
6
.333
0
0
0
0
1
0
2
0
0
3.0
20
Macy Barnes *
3
2
3
9
-.111
0
1
3
3
10
1
2
0
0
5.0
22
Janderi Ceja
1
0
0
0
.000
0
0
0
0
0
0
0
0
0
0.0
TM
Team
4
0
0
0
.000
0
0
0
0
0
0
0
0
0
0.0
Totals
34
22
117
.103
25
6
8
13
54
2
8
1
0
46.0
Grossmont

— ATTACK —
— SERVE —
— BLOCK —
#
PLAYER
SP
K
E
TA
K%
A
SA
SE
RE
DIGS
BS
BA
BE
BHE
PTS
1
Julia Holden *
4
4
5
17
-.059
0
0
0
0
2
0
0
0
0
4.0
2
Jordan Ward *
4
5
0
11
.455
0
0
0
0
0
0
5
0
0
7.5
4
Haley Morton *
4
1
0
1
1.000
11
0
2
0
7
0
0
0
0
1.0
5
Kylee Snyder
4
1
1
2
.000
24
3
3
0
4
0
0
0
0
4.0
6
Shaney Lipscomb *
4
12
9
34
.088
3
7
1
4
10
1
3
0
0
21.5
9
Naomi Talis Leilua *
4
7
5
19
.105
0
1
2
1
8
0
1
0
0
8.5
11
Alexis Vanlandingham
4
11
4
31
.226
0
0
0
0
1
0
3
0
0
12.5
19
Kayli Barrera
4
0
0
0
.000
0
0
1
1
1
0
0
0
0
0.0
21
Ashley Whipple *
4
5
2
16
.188
0
1
1
0
0
0
2
0
0
7.0
23
Jen Orbita
4
1
1
3
.000
3
1
4
0
19
0
0
0
0
2.0
TM
Team
4
0
0
0
.000
0
0
0
0
0
0
0
0
0
0.0
Totals
47
27
134
.149
41
13
14
6
52
1
14
0
0
68.0