Komets take care of positive Braves
Updated: September 1, 2018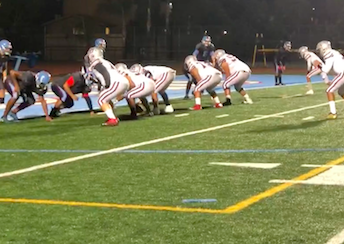 KEARNY LINES UP AGAINST EL CAJON VALLEY FRIDAY NIGHT. / ScoreStream photo
2018 EAST COUNTY PREP FOOTBALL
KEARNY 55, EL CAJON VALLEY 0
By Dave Dickens
EastCountySports.com
EL CAJON (8-31-2018) – The El Cajon Valley Braves played their tails off even in a tough 55-0 loss to the high-powered Kearny Comets.
"Kearny has great athletes across the board," said Braves head coach Nick Osborn. "They created big challenges in the secondary, as they have very athletic receivers that have been able to shake the man coverage with ease."
El Cajon Valley cornerback CLARENCE JOHNSON had a great interception in the corner of the end zone towards the
end of the fourth quarter.
"My kids play hard until the clock shows zero," said Osborn. "They are more focused on playing hard and not the points on the board, as those will come with playing hard."
Although the Comets continued to take advantage of the mismatches and the injured starters of the Braves, the Braves played their hearts out every snap.
El Cajon Valley players like DARRYL TAYLOR, quarterback ATLANTIS EIDEJUS, and JOE MALONE have been standout players that are staying focused and playing hard.
Joe Malone is a fighter and has learned, although a sophomore, how to step up in the pocket," Osborn said. "Joe was
supposed to be starting for the JV squad."
The Braves, although the numbers player-wise are down, are in better physical shape this season, combining great workouts and taking nutrition very seriously.
The Braves(0-3) will host Serra (0-3) at El Cajon Valley, Friday at 7 p.m., giving them another opportunity at breaking through.
"Serra runs a tough, but familiar 3-3 defense in which we have seen in Coronado and Francis Parker," said Osborn. "We will have a better idea on how to counter the defensive scheme, which will be key against Serra."
Also, note that Santana edged Serra a couple weeks ago.