Monarchs mastermind Patriot games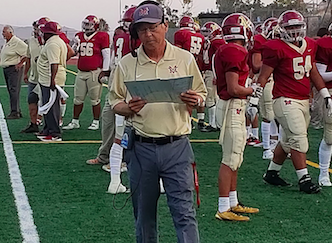 Monte Vista head coach RON HAMAMOTO on Friday night. / photo by Larry Montalbano
2018 EAST COUNTY PREP FOOTBALL
MONTE VISTA 42, PATRICK HENRY 9
EastCountySports.com staff report
SPRING VALLEY – JAHMON MCCLENDON and the Monte Vista Monarchs got it going early and often to dispatch Patrick Henry, 42-9, in a non-league game on Friday night, setting up a showdown of East County unbeaten teams next week.
McClendon scored four touchdowns in the first half, as the Monarchs racked up a 42-0 lead at halftime. Monte Vista's younger players got their grooming in the second half, as the starters began their rest for next Friday night's game at Valley Stadium against fellow 3-0 squad, Christian High.
The motoring Monarchs were operating to precision on the offensive line, pushing and pulling these Henry Patriots at will, opening lanes for their man in the backfield.
Seniors MARCO BARRAGAN and CHRISTIAN DE LA CRUZ, along with junior BRANDON NAVAREZ and MANNY LEVI paved the way.
McClendon got a long first period score that almost seems routine, but in typical Monte Vista fashion, the team starting to work on its ever-developing passing game.
Senior quarterback KENNY STEVENS completed a 43-yard touchdown pass to BLAKE SCHMIDT for a 14-0 lead after on..
LOGAN SCHMIDT and JEVON BROOKS led the defensive effort early.
"We knew that (Henry's) quarterback was one of their star players and how last year he was able to gain some yards running on us," Schmidt said. "Our plan was to keep him contained as much as possible so that his running lanes wouldn't be there."
The defense continued to do their job and then the Monarchs' run machine did their thing.
"We are solid defensively," Monte Vista head coach RON HAMAMOTO said. "We're not very flashy, but our health is the key, which is why I pulled the first team after the first half.
McClendon scored three more times in the second quarter, including a 46-yard jaunt. The Patriots have seen enough of Jahmon heading into the end zone over the last few years.
Fullback ELSHADDAI LEVI added a 1-yard score in the second period.
Unlike the last few meetings in this series, Patrick Henry had little answer on either side of the ball.
"We understood how their offense worked," Schmidt said. "We just knew we have to give great effort every single play.
The Monte Vista rush, which includes Logan's older brother, Montana State-bound senior Blake Schmidt, had Henry in a hurry.
"If feels great playing next to Blake," Logan Schmidt said. "It's a blessing every time I step on the field with him. He's going to be tough to replace next year, not only as a teammate, but as a leader."
Patrick Henry nearly punched one in during the third quarter, but Monte Vista, not ready to give up the shutout, came up with a goal-line stand.
"A lot of people played some solid football tonight," Logan Schmidt said. "SERGIO CORTEZ and SEBASTIAN VALDEZ had great nights.
"We have the potential to be one of the best teams that Monte Vista has ever seen. We just want to keep working."
Patrick Henry scored on a safety and a touchdown pass in the fourth quarter.
"Our entire defense was working hard tonight," Blake Schmidt said. "But Logan was the standout. He had three or four sacks and at least 10 tackles.
"Sebastian Valdez and I were giving plenty of pressure, while Kenny Stevens and Sergio Cortez were providing great coverage, which made it a lot easier to get sacks."
You want some fun in the East County?
The Monarchs will face the undefeated Christian Patriots next Friday night at Valley Stadium.
"We will have to break down film on Christian, but looking at the way they play and their undefeated record, we'll have to play a full four quarters to come out on top," Hamamoto said.
Patrick Henry will travel face El Capitan next week, as both squads will be searching for the first win of the season.