Vikings, Peabody top Griffins in opener
Updated: September 1, 2018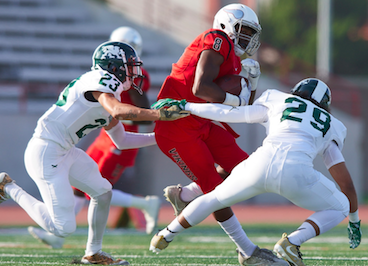 Andrew Lira and Brennan Goring of Grossmont wrap up. / John Fajardo
2018 COMMUNITY COLLEGE FOOTBALL
LONG BEACH CITY 38, GROSSMONT 21
EastCountySports.com staff report
LONG BEACH – The Long Beach City College Vikings defeated the Grossmont College Griffins, 38-21, on Saturday behind four touchdown passes from freshman quarterback Drake Peabody.
Opening Game & Opening Drive = 7pts VIKINGS!!!! pic.twitter.com/nwGwgwKbtV

— Randy Totorp (@RTotorp) September 2, 2018
Grossmont trailed 10-0 late in the first quarter when KOBE EURI rushed in for an 11-yard score.
However, the Vikes would score the next four touchdowns, including three via the air by Mr. Peabody
The Griffins scored twice in the fourth quarter.
Quarterback ANTHONY POSADA passed to MATTHEW LINTON for an 11-yard score.
Eure added his second touchdown of the game – a 1-yard gain with 5:15 left – for the final margin.
Grossmont's JACOB ROZAR had four reception for 45 yards.
Posada was 16-for-26 for 99 yards.
Grossmont quarterback JOSH HARRIS left the game in the second quarter with an injury. He did not return.
A bright spot on defense for Grossmont was a team total of six sacks, including three by ANTHONY SOLA.
Grossmont's DEREK SUTHERLAND had an interception. BRYSON COLLINS had nine total tackles, including a sack.
The Griffins were promising on special teams, as former Grossmont Foothiller ANDREW LIRA proved his punt return ability with a 44-yarder, while former West Hills High star TAJ BROOMFIELD made a 51-yard kick return.
Lira added a pair of pass breakups.
No. 11 Long Beach City got a pair of TD hookups from Peabody to sophomore wide receiver Patrick Lee.
---
BOXSCORE
GROSSMON vs. LONGBEAC at LBCC
9/1/2018 at 5pm

Grossmont




21

Long Beach




38
SCORING
1
2
3
4
FINAL
Grossmont (0-1)
7
0
0
14
21
Long Beach (1-0)
10
14
7
7
38
PRD
TIME
SCORING SUMMARY
GROSSMONT – LONG BEACH
1
11:14
Long Beach – Patrick Lee 5 yd pass from Drake Peabody. (A. Delgadillo kick is good).
Drive: 9 plays, 75 yards in 3:46.
0 – 7
1
08:01
Long Beach – A. Delgadillo 28 yd field goal.
0 – 10
1
00:27
Grossmont – Kobi Eure 11 yd run. (Ethan Albertson kick is good).
Drive: 1 plays, 11 yards in 0:06.
7 – 10
2
04:31
Long Beach – Patrick Lee 48 yd pass from Drake Peabody. (A. Delgadillo kick is good).
Drive: 2 plays, 48 yards in 0:12.
7 – 17
2
00:27
Long Beach – Drake Peabody 3 yd run. (A. Delgadillo kick is good).
Drive: 6 plays, 53 yards in 0:59.
7 – 24
3
04:31
Long Beach – Pierre Robinson 21 yd pass from Drake Peabody. (A. Delgadillo kick is good).
Drive: 5 plays, 60 yards in 2:51.
7 – 31
4
14:47
Long Beach – Jonathan Bonds 9 yd pass from Drake Peabody. (A. Delgadillo kick is good).
Drive: 7 plays, 50 yards in 2:45.
7 – 38
4
13:19
Grossmont – Mathew Linton 11 yd pass from Anthony Posada. (Ethan Albertson kick is good).
14 – 38
4
05:15
Grossmont – Kobi Eure 1 yd run. (Ethan Albertson kick is good).
Drive: 5 plays, 34 yards in 1:28.
21 – 38
GROSSMONT
STATISTICS
LONG BEACH
15
FIRST DOWNS
21
7
5
3
Passing
Rushing
Penalty
10
8
3
27% (3 of 11)
THIRD DOWN EFFICIENCY
27% (4 of 15)
0% (0 of 0)
FOURTH DOWN EFFICIENCY
0% (0 of 1)
197
TOTAL OFFENSE
419
63
3.1
Total Offensive Plays
Average gain per play
79
5.3
124
NET YARDS PASSING
285
17-30
4.1
3-27
3
Completions-Attempts
Net yards per pass play
Sacked: Number-Yards
Had intercepted
22-36
7.9
6-34
2
73
NET YARDS RUSHING
134
33
2.2
Rushing Attempts
Average gain per rush
43
3.1
9-241
PUNTS: Number-Yards
7-242
26.8
Average
34.6
161
TOTAL RETURN YARDS
8
2-41
5-121
2–1
Punt Returns: Number-Yards
Kickoff Returns: Number-Yards
Interception Returns: Number-Yards
0 0
0 0
3-8
6-71
PENALTIES: Number-Yards
14-150
3-2
FUMBLES: Number-Lost
1-0
6-34
SACKS: Number-Yards
3-27
2–1
INTERCEPTIONS: Number-Yards
3-8
26:43
TIME OF POSSESSION
30:29
Grossmont

Long Beach

| PASSING | C-A | YDS | LG | TD | INT |
| --- | --- | --- | --- | --- | --- |
| Drake Peabody | 22-33 | 285 | 48 | 4 | 1 |
| Jonathan Murphy | 0-2 | 0 | 0 | 0 | 1 |
| Milshon Lathan | 0-1 | 0 | 0 | 0 | 0 |

| RUSHING | ATT | YDS | AVG | LG | TD |
| --- | --- | --- | --- | --- | --- |
| Donald Gordon | 7 | 33 | 4.7 | 20 | 0 |
| Pierre Robinson | 4 | 28 | 7.0 | 17 | 0 |
| Teshawn White | 7 | 27 | 3.9 | 8 | 0 |
| Raphael Jones | 4 | 17 | 4.3 | 6 | 0 |
| Jonathan Murphy | 3 | 9 | 3.0 | 18 | 0 |
| Victor Bates | 1 | 8 | 8.0 | 8 | 0 |
| Angel Favela | 3 | 8 | 2.7 | 3 | 0 |
| Mason Bowen | 1 | 2 | 2.0 | 2 | 0 |
| Drake Peabody | 13 | 2 | 0.2 | 7 | 1 |

| RECEIVING | NO | YDS | AVG | LG | TD |
| --- | --- | --- | --- | --- | --- |
| Victor Bates | 4 | 102 | 25.5 | 45 | 0 |
| Patrick Lee | 5 | 69 | 13.8 | 48 | 2 |
| Jonathan Bonds | 7 | 57 | 8.1 | 15 | 1 |
| Pierre Robinson | 2 | 33 | 16.5 | 21 | 1 |
| Milshon Lathan | 1 | 21 | 21.0 | 21 | 0 |
| Raphael Jones | 1 | 5 | 5.0 | 5 | 0 |
| Donald Gordon | 1 | 4 | 4.0 | 4 | 0 |
| Jeremiah Houston | 1 | -6 | -6.0 | 0 | 0 |

| PUNTING | NO | YDS | AVG | LG | TB | IN 20 |
| --- | --- | --- | --- | --- | --- | --- |
| Tanner Carcamo | 7 | 242 | 34.6 | 52 | 1 | 2 |

| KICKOFFS | NO | YDS | AVG | TB | OB |
| --- | --- | --- | --- | --- | --- |
| Agustin Delgadillo | 6 | 367 | 61.2 | 1 | 0 |

| KICKOFF RETURNS | NO | YDS | AVG | LG | TD |
| --- | --- | --- | --- | --- | --- |

| PUNT RETURNS | NO | YDS | AVG | LG | TD |
| --- | --- | --- | --- | --- | --- |

| INTERCEPTION RETURNS | NO | YDS | AVG | LG | TD |
| --- | --- | --- | --- | --- | --- |
| Derek Sutherland | 1 | 3 | 3.0 | 3 | 0 |
| TEAM | 1 | -4 | -4.0 | 0 | 0 |

| INTERCEPTION RETURNS | NO | YDS | AVG | LG | TD |
| --- | --- | --- | --- | --- | --- |
| Victor Bates | 1 | 0 | 0.0 | 0 | 0 |
| Jeremiah Houston | 2 | 8 | 4.0 | 8 | 0 |

| FUMBLES | NO | LOST |
| --- | --- | --- |
| Donald Gordon | 1 | 0 |
DEFENSIVE STATISTICS
#
GROSSMONT
SOLO
AST
TOTAL
SACKS-YDS
TFL-YDS
FF
FR-YDS
INT-YDS
BRUP
BLKS
QBH
45
Anthony Sola
8
2
10
3 – 19
4 – 23
–
–
44
Bryson Collins
3
6
9
1 – 0
–
–
–
26
Derek Sutherland
5
1
6
–
1 – 2
–
1-3
19
Kyle Caliver
3
1
4
1 – 5
1 – 5
–
–
2
Preston Piltoff
2
1
3
–
–
–
–
2
9
Darian Williams
1
2
3
–
–
–
–
23
Andrew Lira
3
0
3
–
–
–
–
2
41
Chris McDonough
1
2
3
–
–
–
–
54
Anthony Jordan
3
0
3
1 – 10
1 – 10
–
–
99
Chris Veenstra
2
1
3
–
–
–
–
TM
TEAM
3
0
3
–
–
–
1–4
14
Treaquan Jenkins
2
0
2
–
–
–
–
17
Dachelle Johnson
2
0
2
–
–
–
–
52
Kyree Woods
1
1
2
–
–
–
–
91
Maze Masoe
1
1
2
–
–
–
–
1
Johnathan Summers
0
1
1
–
0.5 – 3
–
–
5
Max Schwenke
1
0
1
–
–
–
–
21
Kyler Perrault
0
1
1
–
0.5 – 3
–
–
25
Fabias Shipman III
1
0
1
–
–
–
–
29
Brennan Goring
1
0
1
–
–
–
–
1
34
Dylan Helmholtz
0
1
1
–
–
–
–
40
Damontae Hill
0
1
1
–
–
–
–
43
Blake Jarrell
0
1
1
–
–
–
–
95
Mathew Fa'alele
0
1
1
–
–
–
–
TOTALS
43
24
67
6 – 34
8 – 46
0-0
2–1
5
#
LONG BEACH
SOLO
AST
TOTAL
SACKS-YDS
TFL-YDS
FF
FR-YDS
INT-YDS
BRUP
BLKS
QBH
1B
Justin Allmond
5
2
7
–
1 – 2
1
–
–
6D
Malik Street
3
2
5
–
1.5 – 4
–
–
1
9D
Deondre Johnson
5
0
5
–
–
–
–
7D
Josh Talbott
2
2
4
–
–
–
–
1
21
Jack Genova
2
1
3
–
1 – 1
–
–
25
Keshawn White
2
1
3
–
1 – 10
–
–
26
Kai Kaneshiro
2
1
3
–
0.5 – 0
–
–
TM
TEAM
3
0
3
–
–
2-0
–
5D
Ahmir Wilson
1
1
2
–
1 – 2
–
–
8D
Cross Poyer
1
1
2
–
–
–
–
1
43
Micah Hagler
1
1
2
–
1 – 2
–
–
44
Noah Bias
1
1
2
–
1 – 1
–
–
45
King Joseph Maaele
2
0
2
2 – 22
2 – 22
–
–
50
Divine Obichere
1
1
2
–
–
–
–
69
Ivan Guajaca
0
2
2
–
–
–
–
90
Che Gueye
0
2
2
–
–
–
–
95
Marvin Boyd
2
0
2
1 – 5
1 – 5
–
–
1D
Blake Jenkins
1
0
1
–
–
–
–
3D
Dylon Madison
1
0
1
–
–
–
–
13
Jeremiah Houston
1
0
1
–
–
–
2-8
30
Zach D'Amico
0
1
1
–
–
–
–
34
Deion Williams
1
0
1
–
–
–
–
35
Jaylin McNeal
1
0
1
–
–
–
–
37
Agustin Delgadillo
1
0
1
–
–
–
–
98
Kaze Hayashi
0
1
1
–
–
–
–
1
Victor Bates
–
–
–
1-0
TOTALS
39
20
59
3 – 27
11 – 49
1
2-0
3-8
3
OTHER INFORMATION
Location: LBCC
Stadium: Vets
Attendance: 400
Weather: sunny
Temperature: 77