Comets win opener on 74-yard TD pass
Updated: September 2, 2018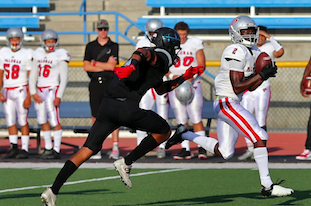 Mikel Barkley on 54-yard bomb for 2018's first TD. / (Hugh Cox photo)
2018 COMMUNITY COLLEGE FOOTBALL
PALOMAR 20, MOORPARK 16
By Tom Saxe
Palomar College SID
MOORPARK (9-01-2018) / (REVISED 9-03-2018) — In a season opener when visiting Palomar jumped out to an early lead only to have upset-minded Moorpark battle back to go on top by three points on a fourth-quarter field goal, Rodney Thompson saved the Comets' bacon on Saturday evening.
The red-shirt freshman from St. Augustine High School threw a 72-yard touchdown bomb to Bryce Walker streaking down the right sideline in front of the Raiders' bench in the fourth quarter at Griffin Stadium. Jacob Vose tacked on the extra point, giving the Comets a 20-16 victory.
It was a particularly satisfying victory for the Comets, who dominated the Raiders much of the evening only to have youthful mistakes give Moorpark an opportunity to get back in the game after Palomar led 13-0 in the first quarter.
"We're just so young (only 10 returnees from last year's team)," Palomar coach Joe Early said. "It was probably inevitable we were going to make youthful mistakes. But better 1-0 than 0-1."
Freshman Lamar Raboteau from Mira Mesa High School returned the opening kickoff 97 yards for a touchdown but a holding call behind the return nullified the play. But the Comets quickly came right back to go in front 7-0 on Connor Curry's 54-yard TD pass to Mikel Barkley and Mark Meader's extra point.
Palomar stretched its lead to 13-0 later in the quarter when Thompson passed to 6-foot-6 Cal-Berkley transfer Logan Gamble for a 17-yard touchdown in the right corner of the end zone.
"We started really fast, right from the opening kickoff that was called back. But had a lot of flags, which is somewhat of a concern, but nothing we can't work on," Early said.
With Palomar continuing to make mistakes, Moorpark came back to tie the game, then went in front 16-13 on its third field goal of the night.
That's when Thompson, who had been alternating series with Curry, took matters into his own hands with the 72-yard scoring strike to Walker.
Palomar held with two minutes to play on a late drive by Moorpark in the fourth quarter, but couldn't move the ball and was forced to punt. Jacob Stepanek pinned the Raiders deep in their own territory with a 48-yard punt. And, as time ran down, Oceanside High product Josh Bernard, Palomar's leading rushing two years ago who sat out last season, intercepted a desperation Moorpark pass on the next-to-last play of the game.
Thompson then took a knee as time expired to end the game.
On the night, Thompson and Curry were a combined 22-for-39 passing for 299 yards. Thompson was 15-for-27 for 200 yards and two touchdowns, while Curry was 7-for-12 for 99 yards and one TD. Thompson added 47 yards rushing on 14 carries with a long gain of 23 yards.
Running back Shevell Sterling led 11 Palomar receivers that caught passes with four receptions. Walker, Devin Nilson, Gamble, DeVion Sneed, Johnny Arzola and tight end William Gonzalez also had multiple receptions.
"We made our share of mistakes," Early said. "But if you ask me, the future's bright."
The Comets will host Southwestern in their second game of the season this upcoming Saturday night at Escondido High School's Chick Embrey Field at Wilson Stadium.
---
COMETS 20, RAIDERS 16
Palomar vs. Moorpark at Moorpark
9/1/2018 at 6:00 PM

Palomar




20

Moorpark




16
SCORING 
1 
2 
3 
4 
FINAL
Palomar (1-0, 0-0)
 13 
0 
0 
7 
20 
Moorpark (0-1, 0-0) 
 0 
6 
7 
3 
16 
Moorpark | Griffin Stadium
PRD
TIME
SCORING SUMMARY
PALOMAR – MOORPARK
1
15:00
Palomar – Mikel Barkley 54 yd pass from Connor Curry. (Mark Meader kick is good).
Drive: 5 plays, 74 yards in 2:30.
7 – 0
1
02:46
Palomar – Logan Gamble 17 yd pass from Rodney Thompson. (Mark Meader kick failed).
Drive: 9 plays, 80 yards in 3:00.
13 – 0
2
06:26
Moorpark – Riley Garrett 40 yd field goal.
13 – 3
2
00:08
Moorpark – Stephen Gomez 40 yd field goal.
Drive: 8 plays, 51 yards in 2:08.
13 – 6
3
12:20
Moorpark – Vinny Corso 1 yd pass from Bryce Viole. (Haig Mekshian kick is good).
Drive: 5 plays, 74 yards in 2:46.
13 – 13
4
14:40
Palomar – Bryce Walker 72 yd pass from Rodney Thompson. (Mark Meader kick is good).
Drive: 1 plays, 72 yards in 0:11.
20 – 13
4
08:15
Moorpark – Haig Mekshian 40 yd field goal.
Drive: 4 plays, 2 yards in 1:29.
20 – 16
PALOMAR
STATISTICS
MOORPARK
16
FIRST DOWNS
13
11
2
3
Passing
Rushing
Penalty
5
7
1
35% (6 of 17)
THIRD DOWN EFFICIENCY
21% (4 of 19)
17% (1 of 6)
FOURTH DOWN EFFICIENCY
0% (0 of 1)
391
TOTAL OFFENSE
291
71
5.5
Total Offensive Plays
Average gain per play
65
4.5
299
NET YARDS PASSING
113
22-39
7.7
1-6
2
Completions-Attempts
Net yards per pass play
Sacked: Number-Yards
Had intercepted
13-34
3.3
1-5
1
92
NET YARDS RUSHING
178
32
2.9
Rushing Attempts
Average gain per rush
31
5.7
5-194
PUNTS: Number-Yards
8-313
38.8
Average
39.1
152
TOTAL RETURN YARDS
112
4-38
5-114
1-0
Punt Returns: Number-Yards
Kickoff Returns: Number-Yards
Interception Returns: Number-Yards
3-16
3-40
2-56
15-128
PENALTIES: Number-Yards
14-139
1-0
FUMBLES: Number-Lost
1-1
1-5
SACKS: Number-Yards
1-6
1-0
INTERCEPTIONS: Number-Yards
2-56
33:47
TIME OF POSSESSION
26:13
Palomar

Moorpark

| PASSING | C-A | YDS | LG | TD | INT |
| --- | --- | --- | --- | --- | --- |
| Rodney Thompson | 15-27 | 200 | 72 | 2 | 0 |
| Connor Curry | 7-12 | 99 | 54 | 1 | 2 |

| RUSHING | ATT | YDS | AVG | LG | TD |
| --- | --- | --- | --- | --- | --- |
| Rodney Thompson | 14 | 47 | 3.4 | 23 | 0 |
| Shevell Sterling | 9 | 23 | 2.6 | 9 | 0 |
| DeVion Sneed | 3 | 17 | 5.7 | 13 | 0 |
| Connor Curry | 3 | 7 | 2.3 | 4 | 0 |
| Jonathon Segi | 1 | 0 | 0.0 | 0 | 0 |
| Team | 2 | -2 | -1.0 | 0 | 0 |

| RECEIVING | NO | YDS | AVG | LG | TD |
| --- | --- | --- | --- | --- | --- |
| Bryce Walker | 3 | 91 | 30.3 | 72 | 1 |
| Mikel Barkley | 1 | 54 | 54.0 | 54 | 1 |
| Logan Gamble | 2 | 54 | 27.0 | 37 | 1 |
| Devin Nilson | 3 | 23 | 7.7 | 11 | 0 |
| Shevell Sterling | 4 | 22 | 5.5 | 11 | 0 |
| DeVion Sneed | 2 | 22 | 11.0 | 12 | 0 |
| Zach Morel | 1 | 8 | 8.0 | 8 | 0 |
| Johnny Arzola | 2 | 7 | 3.5 | 8 | 0 |
| Johnny Armentrout | 1 | 6 | 6.0 | 6 | 0 |
| Malachi Russell | 1 | 6 | 6.0 | 6 | 0 |
| William Gonzalez | 2 | 6 | 3.0 | 4 | 0 |

| PUNTING | NO | YDS | AVG | LG | TB | IN 20 |
| --- | --- | --- | --- | --- | --- | --- |
| Jacob Stepanek | 5 | 194 | 38.8 | 48 | 0 | 0 |

| KICKOFFS | NO | YDS | AVG | TB | OB |
| --- | --- | --- | --- | --- | --- |
| Jacob Vose | 1 | 65 | 65.0 | 1 | 0 |
| Mark Meader | 1 | 45 | 45.0 | 0 | 0 |
| Jacob Stepanek | 2 | 120 | 60.0 | 0 | 1 |

| KICKOFF RETURNS | NO | YDS | AVG | LG | TD |
| --- | --- | --- | --- | --- | --- |
| Lamar Raboteau | 3 | 84 | 28.0 | 36 | 0 |
| Team | 1 | 17 | 17.0 | 17 | 0 |
| Josh Bernard | 1 | 13 | 13.0 | 13 | 0 |

| PUNT RETURNS | NO | YDS | AVG | LG | TD |
| --- | --- | --- | --- | --- | --- |
| Devin Nilson | 3 | 29 | 9.7 | 12 | 0 |
| Josh Bernard | 1 | 9 | 9.0 | 9 | 0 |

| INTERCEPTION RETURNS | NO | YDS | AVG | LG | TD |
| --- | --- | --- | --- | --- | --- |
| Team | 1 | 0 | 0.0 | 0 | 0 |

| FUMBLES | NO | LOST |
| --- | --- | --- |
| Rodney Thompson | 1 | 0 |
DEFENSIVE STATISTICS
#
PALOMAR
SOLO
AST
TOTAL
SACKS-YDS
TFL-YDS
FF
FR-YDS
INT-YDS
BRUP
BLKS
QBH
43
Chris Calhoun
4
1
5
–
–
–
–
1
Jay Craft
3
1
4
–
–
–
–
20
Cameron Bullock
2
1
3
–
1 – 2
–
–
90
Isaiah Kaleopa-Tuisee
3
0
3
1 – 5
1 – 5
–
–
29
Josh Bernard
2
0
2
–
–
–
–
1
33
Giovanni Herrera
2
0
2
–
–
–
–
91
Jayson Pace
1
1
2
–
1 – 13
–
–
94
Nick So'oto
2
0
2
–
–
–
–
3
Zach Goodkin
1
0
1
–
–
–
–
5
Shevell Sterling
1
0
1
–
–
–
–
9
Jihad Hightower
1
0
1
–
–
–
–
31
Jonathon Segi
1
0
1
–
–
–
–
37
Andre Meiers
1
0
1
–
1 – 1
–
–
45
Spencer Kaoanga
1
0
1
–
–
–
–
93
Martin Bonacci
1
0
1
–
–
–
–
98
Mason Simeta
1
0
1
–
–
–
–
TM
Team
1
0
1
–
–
1
1-0
1-0
44
Arnold Yoder
–
–
–
–
1
21
Louie Flores
–
–
–
–
1
12
Rodney Thompson
–
–
1-0
–
TOTALS
28
4
32
1 – 5
4 – 21
1
2-0
1-0
2
1
#
MOORPARK
SOLO
AST
TOTAL
SACKS-YDS
TFL-YDS
FF
FR-YDS
INT-YDS
BRUP
BLKS
QBH
19
Ivory Jackson
6
0
6
–
3 – 19
–
–
2
Dru Mathis
3
2
5
–
–
–
–
11
Lorenzo Bernardi
2
2
4
–
–
–
–
33
Dillon Chong
4
0
4
–
–
–
–
22
DJ Turner
2
0
2
–
–
–
–
41
Anthony Ervin
2
0
2
–
1 – 3
–
–
9
Jalen Turner
1
0
1
–
–
–
1-56
2
18
Gianni D'Arienzo
1
0
1
–
–
–
–
20
Tavias James
1
0
1
–
–
–
1-0
1
21
Braxton Rodgers
1
0
1
–
–
–
–
28
Dylan Fuentas
0
1
1
–
–
–
–
30
James Galindo
1
0
1
–
–
–
–
38
Kevin Riu
1
0
1
–
–
–
–
44
Mikeanthony Monette
1
0
1
–
–
–
–
59
Thomas Galvan
0
1
1
–
–
–
–
TM
Team
1
0
1
1 – 6
1 – 6
1
–
–
TOTALS
27
6
33
1 – 6
5 – 28
1
0-0
2-56
3
OTHER INFORMATION
Location: Moorpark
Stadium: Griffin Stadium