Patriots top Monarchs in double overtime
Updated: September 8, 2018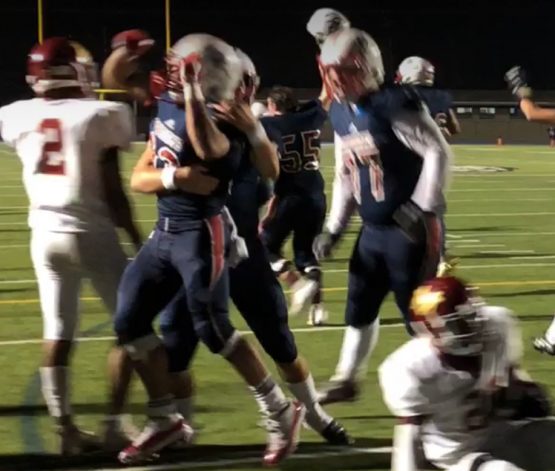 JAVIER JIMENEZ and teammates celebrate after the winning conversion on Friday.
2018 EAST COUNTY PREP FOOTBALL
CHRISTIAN 22, MONTE VISTA 21 (2 OT)
By Jim Lindgren
Special to EastCountySports.com
EL CAJON – Rare is the game when a team yields 261 yards to a single opposing player, and everyone on the defense deserves a game ball.
Such was the case Friday night as Christian "contained" Monte Vista star Jahmon McClendon, and the Patriots prevailed in double overtime, 22-21, when Javier Jimenez took a pitch off right tackle and plowed into the end zone for a 2-point conversion following a 22-yard touchdown strike from Owen Easley to Alex Gonzalez.
"Great high school football game," Christian coach Matt Oliver said. "We had to go for two there. I figured the game had gone on long enough. Let's settle this thing with one play."
During a timeout following Gonzalez' score, Monte Vista coaches were anticipating another Easley pass. Oliver and offensive coordinator David Beezer, however, were drawing up a pitch play they hadn't called all night.
"We thought they were going to pass it," Monte Vista coach Ron Hamamoto said. "They made a great call."
Running behind Nathan Lee, Blake Tofflemire and Duncan Hunter on the right side of the line, Jimenez had room to scoot a bit outside. He was hit by two defenders at the goal line and managed to roll in for the score and the win, setting off a wild celebration by the Patriots.
Christian gained only 24 yards in the second half, but it got the 28 yards it needed most in a second overtime possession to remain undefeated at 4-0. Monte Vista fell to 3-1.
Coming into the game, the Monarchs were ranked No. 1 and Christian No. 2 in Division III.
In three previous blowout victories, McClendon had rushed 39 times for 507 yards and 12 touchdowns in only six quarters of playing action for him.
He touched the ball 51 times on Friday with 48 rushing attempts going for 235 yards, including a 28-yard TD to open the scoring. He also caught both of Monte Vista's completions on the night for 26 yards, including a 17-yard touchdown on a screen pass as Monte Vista tied the game, 14-14, with 1:37 to play in the third quarter.
McClendon also attempted a pass on a sweep fake, but his deep pass to Blake Schmidt was defended well by the Christian secondary.
Monte Vista was averaging nearly 45 points per game and McClendon was getting 13.1 yards per carry through the first three games.
Asked before the game how the Patriots planned to handle McClendon, Oliver said wryly, "Put nine guys in the box. Take our chances with the pass."
It worked. Not to perfection, but it worked.
The 6-foot-2, 215-pound senior tailback averaged only 4.9 per carry against a Christian defense determined to limit him. McClendon had only one rush for more than 13 yards and only five for more than 10 yards.
The Monarchs moved the chains for 19 first downs and ran 73 plays gaining 304 total yards. Christian ran only 43 plays and totaled 164 yards, only 53 after the first half.
"They played good defense," Hamamoto said. "We're used to breaking a lot of big plays and scoring a lot of points.
"They did a good job containing us. They played a really good defensive game."
McClendon is not easily taken down by one guy, and the Patriots often needed two, three or four players to stop him. They gave up some yards but not the big home runs the Monarchs are accustomed to getting from their SDSU-bound star.
Christian's defense included Tofflemire, Jimenez, Gonzalez, Cody Bostian, Christian Salacup, Kyle Olsen, Bryce Riepl, Jake Ifrid, David Ventura and Jack St. Fleur keyed on attacking and limiting McClendon's total.
"He was a little beat up at the end," Hamamoto said.
Monte Vista scored first on the second play of the second quarter when McClendon found some rare running space on a 28-yard touchdown scamper. His 13th rushing TD of the season capped a 13-play, 79-yard scoring drive that covered nearly 7 minutes. McClendon carried 10 times on that drive for 68 yards.
Christian answered quickly, however. Salacup returned the ensuing kickoff 68 yards to the Monarchs' 20-yard line. Three plays later, Easley threw a strike to Gonzalez on a post pattern, and the game was tied 7-7 with 9:25 to play in the second quarter.
With 1:21 before halftime, a short punt gave Christian the ball at their own 45-yard line. A pass interference penalty on the first play moved the ball to the Monarchs' 40-yard line. Easley completed passes of 3 yards to St. Fleur and 13 to Riepl, but Bryant Adams' third sack of the half put the Patriots back to the 36-yard line with 0:22 to go.
On the next play, Easley tossed backward to wideout Justin Roehl, who looked downfield and saw Riepl open down the right sideline. Roehl's pass hit Riepl in stride for a 36-yard touchdown and a 14-7 Christian lead at intermission.
McClendon carried 20 times for 103 yards in the first half.
Easley was 8-of-13 passing for 87 yards with a touchdown. He completed only two more passes the rest of the way – a 6-yard gain in the third quarter and the 22-yard TD in the second overtime. He finished 10-of-24 passing for 115 yards with two interceptions.
Predictably, Monte Vista started its first possession of the second half – from the 20-yard line after a Christian punt – with five consecutive McClendon runs. After 16 plays and 8:40, McClendon took a screen pass from Kenny Stevens on the right flank and raced 17 yards for a touchdown and a tie game at 14-14 with 1:37 left in the third quarter.
No one would score again until the third possession of overtime.
After an interception by Darren Barkins, Monte Vista had a promising drive going midway through the fourth quarter. After 10 plays, the Monarchs faced a third-and-2 from the Christian 34-yard line. But consecutive penalties for false start and illegal formation turned that into third-and-12 from the 44. Two incompletions ended that threat.
Christian managed only two first downs in the third quarter and none in the fourth.
Monte Vista and Christian had played only twice before. The Monarchs won the first one, 35-14, in 1980 under coach Gary Cooper. The Patriots won, 20-10, in 2016.
This one was tied at the end of regulation, and Monte Vista got the ball first in overtime.
McClendon carried twice for 1 and 3 yards and Stevens gained 1 yard on a keeper. Facing fourth-and-5 from the 20-yard line, Hamamoto called on Jason Hernandez to attempt a 38-yard field goal, but the kick fell just short of the uprights.
Christian's second play of its first OT try resulted in an interception by Sergio Cortez at the 2-yard line.
On the Monarchs' second OT possession, Terell Kyle ran for 6 and then 1 yard, and McClendon got a first down at the 11 with a 7-yard gain.
Ventura stopped McClendon on the next play for a 2-yard loss – McClendon's only negative yardage of the game. An encroachment call against Christian put the ball on the 8-yard line. McClendon ran for 6 yards, and then fullback Elshaddai Levi plowed into the end zone for a 2-yard TD and a 21-14 lead after Hernandez' third PAT kick.
The Patriots needed only two plays to score. Jimenez rushed for 3 yards and then Easley placed a perfect pass to Gonzalez for a 22-yard TD to make it 21-20.
Jimenez' 2-point conversion made winners of the Patriots.
Gonzalez caught five balls for 75 yards, and Riepl had three receptions for 56 yards. Jimenez finished with nine carries for 48 yards, but four sacks of Easley put the Patriots' rushing total at 13 yards.
Both teams have a bye next week. Christian returns with a Sept. 21 game at Santa Fe Christian, while Monte Vista travels to La Jolla for a game against The Bishop's School.
CHRISTIAN 22, MONTE VISTA 21 (OT)
Monte Vista 0  7 7 0 7 – 21

Christian   0 14 0 0 8 – 22
MV – Jahmon McClendon 28 run (Jason Hernandez kick)
C – Alex Gonzalez 16 pass from Owen Easley (Karson Norton kick)
C – Bryce Riepl 36 pass from Justin Roehl (Karson Norton kick)
MV – Jahmon McClendon 17 pass from Kenny Stevens (Jason Hernandez kick)
MV – Elshaddai Levi 2 run (Jason Hernandez kick)
C – Alex Gonzalez 22 pass from Owen Easley (Javier Jimenez run)