Vaqueros' big plays take out Henry
Updated: September 8, 2018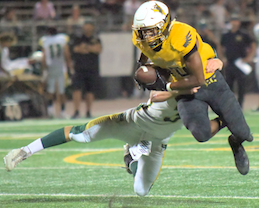 El Capitan senior YAPHET YOKLEY runs after a catch Friday night. / photo by Melissa Honick
2018 EAST COUNTY PREP FOOTBALL
EL CAPITAN 41, PATRICK HENRY 3
EastCountySports.com staff report
LAKESIDE – El Capitan senior YAPHET YOKLEY has quietly become the county's biggest big-play threat.
Yokley, already known in these parts as a quick-strike artist, scored on touchdown receptions on 50 and 39 yards and returned a kickoff 92 yards for a touchdown to help the Vaqueros pick up their first win of the season with a 34-3 win over visiting Patrick Henry on Friday night.
Yokley caught his first score on El Cap's first series after the defense stopped Henry on downs in the opening moments.
This one was part-speed and part-strength, as Yokley slipped the grasp of two defenders before easily gliding past any other chasers for the 39-yarder.
El Capitan senior RENE PONCE stepped in front of a pass thrown in the neighboorhood of two receivers and had a 35-yard interception return for a touchdown with 17 seconds left in the first quarter, giving the Vaqueros a two-score advantage. Ponce had another interception later in the contest.
In the second quarter, El Capitan put together a scoring drive that resulted in a 4-yard touchdown run by TYLER SMITH.  regained possession of the ball and made their way to the 5-yard line.
After Patrick Henry got on the board midway through the second quarter on a 36-yard field goal, Yokley turned in his 92-yard kick return.
Yes, Yaphet has speed, but his vision on kickoff returns is also something to note.
With just over a minute to go in the first half, Hauser threw a screen pass to senior NATHAN SCHUNK, who covered 19 yards for a score and a 35-3 halftime lead.
To open the second half, Yokley had his 50-yard score to assure the result.
Hauser passed for 176 yards. Yokley finished with five receptions, overall.
The Vaqueros also rushed for over 200 yards
"Wick had a good game, but it really was an overall effort," El Capitan head coach RON BURNER said. "The defense put together a goose egg, but we gave them a field goal down there. Our defense had a great game, a great game plan, and that's what it takes to get W's."
The win ended El Capitan's three-game losing streak and coach Burner avoided his first 0-4 start.
The Vaqueros will meet West Hills in two weeks, following their bye week.
"I probably make their schedule way to hard, but that's the type of competition we're going to face in league," Burner said. "We've got a bye so guys will get healthy. Then we have West Hills. It's always a rivalry with them."
The programs are expected to announce a perpetual award in honor of Burner's late son, Tony, who was a quarterback at West Hills before joining his dad's coaching staff at El Cap.