Jaguars take Rams' turnovers by horns
Updated: September 16, 2018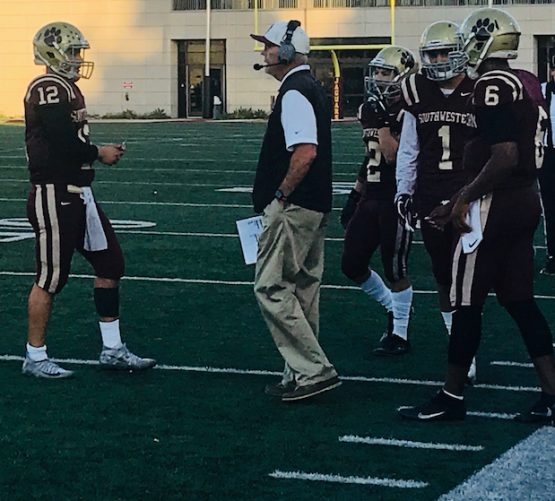 Marcus Hernandez-Torres comes over to talk with coach Ed Carberry on Saturday night.
2018 COMMUNITY COLLEGE FOOTBALL
SOUTHWESTERN 40, VICTOR VALLEY 7
EastCountySports.com staff report
CHULA VISTA – The Southwestern College Jaguars forced seven turnovers and defeated the Victor Valley Rams, 40-7, at DeVore Stadium on Saturday night to improve to 3-0 on the season.
Highlighting the takeaways was SWC freshman ISAAC WRIGHT's 100-yard interception return for a touchdown early in the fourth quarter.
The Jaguars scored 17 points in the first quarter and led 26-0 at halftime.
Southwestern managed the lopsided win despite being outgained, 295-162.
Freshman DAELYN MOSES-DUNN forced a recovered a fumble on the game's opening drive that the Jags turned into three points.
Sophomore quarterback MARCUS HERNANDEZ-TORREZ, in his first extended game action with the Jaguars since 2017, had a 22-yard pass and rushed 20 yards for a score with 3:52 left in the first quarter for a 10-0 lead.
Jaguar sophomore JONATHAN MILSAP (Helix) recovered a fumble at the Ram 18 with 1:31 left in the quarter.
Freshman DEANDRE DANIELS rushed a couple of times, including a 9-yard score with just seconds remaining in the period. Daniels rushed 17 times for 60 yards on the evening.
In addition to the turnover-fest created by Southwestern, the special teams unit also blocked a field goal early in the second quarter, as LOGAN DARBY got a piece of the kick and recovered it.
Freshman defensive end JORY WEBER got his mitts in the turnover oven, forcing a fumble that was recovered by SWC teammate DURAN MILLER (Mount Miguel).
This time, the Jags would capitalize on the short field with a score as JOSH MASON caught a 10-yard touchdown from Hernandez-Torres with six minutes and change left in the second quarter.
Also helping manage the circumstances was kicker JAIME MEDINA. He belted two field goals, including a 48-yarder with 44 seconds left before halftime, and pinned a pair of punts inside the 20. Medina just missed on a 51-yard projectile, hitting the crossbar.
"He's like a clinic out there every time he kicks," Southwestern head coach ED CARBERRY said. "He asks where you want it and then he puts it wherever you say."
Medina's punt following the first series of the second half was fumbled by Victor Valley and recovered by Milsap at the opponent's 11.
Sophomore ARMANI JONES-SAILOR had a 1-yard rush for a score to make it 33-0.
Hernandez-Torrez, out of Otay Ranch High, went 13-for-28. Eleven different Southwestern receivers caught passes.
"Marcus Hernandez hasn't played a real game in quite a while," Carberry said. "He did a great job of managing the offense."
JALEN PORTIS and ANGELO TRUJILLO (Castle Park) both had an interception for the Jags.
"Trujillo played shutdown corner today," Carberry said. "He was really fantastic out there."
The Jags defensive line has been solid, particularly on the run. Teams are finding much success against the group, led by ALEXIS QUINONES and Miller, who combined for 12 tackles, including 2 1/2 for loss.
"The (defensive linemen) are quick and they are strong," Carberry said. "They are not the tallest group, but they are not a bunch of big, slug guys, either.
Oh, and what's next for the 3-0 Jaguars? How about a home matchup with none other than the 3-0 Fullerton Hornets. After a couple of close wins to open the season, FC rocked Santa Ana, 85-0, on Saturday.
The state's top-ranked team had a couple of close wins on the road to open the season, but rocked Santa Ana, 85-0, on Saturday.
"Obviously, they are No. 1 in the country," Carberry said. "It's a great opportunity for us to use that as a measuring stick about where we are at relative to that program."
Carberry added that sophomore quarterback DEMONTE MORRIS "should be good-to-go" as the starting quarterback against FC next Saturday at 6 at DeVore Stadium.
---
Victor Valley vs. Southwestern College at Chula Vista, CA
9/15/2018 at 6:00

Victor Valley




7

Southwestern




40
SCORING
1
 2 
 3
 4
 FINAL
Victor Valley (0-3)
 0
 0
 7
 0
 7
Southwestern (3-0)
 17
 9 
 7
 7
 40
Chula Vista, CA | DeVore Stadium
PRD
TIME
SCORING SUMMARY
VICTOR VALLEY – SOUTHWESTERN
1
08:31
Southwestern – Jaime Medina 35 yd field goal.
Drive: 4 plays, 5 yards in 1:30.
0 – 3
1
03:52
Southwestern – M. Hernandez-To 20 yd run. (Jaime Medina kick is good).
Drive: 9 plays, 57 yards in 3:40.
0 – 10
1
00:15
Southwestern – Deandre Daniels 9 yd run. (Jaime Medina kick is good).
Drive: 3 plays, 18 yards in 1:16.
0 – 17
2
06:09
Southwestern – Josh Mason 10 yd pass from M. Hernandez-To. (Jaime Medina kick blocked).
Drive: 6 plays, 24 yards in 2:00.
0 – 23
2
00:44
Southwestern – Jaime Medina 48 yd field goal.
Drive: 4 plays, 6 yards in 0:43.
0 – 26
3
10:50
Southwestern – A. Jones-Sailor 1 yd run. (Jaime Medina kick is good).
Drive: 5 plays, 11 yards in 2:19.
0 – 33
3
05:35
Victor Valley – SOMAJ BREWER 6 yd pass from EVAN NELSON. (MARK VASQUEZ kick is good).
Drive: 10 plays, 85 yards in 5:05.
7 – 33
4
14:00
Southwestern – Issac Wright 100 yd interception return. (Jaime Medina kick is good).
7 – 40
VICTOR VALLEY
STATISTICS
SOUTHWESTERN
16
FIRST DOWNS
12
6
9
1
Passing
Rushing
Penalty
4
6
2
43% (9 of 21)
THIRD DOWN EFFICIENCY
50% (9 of 18)
33% (2 of 6)
FOURTH DOWN EFFICIENCY
0% (0 of 1)
295
TOTAL OFFENSE
162
79
3.7
Total Offensive Plays
Average gain per play
65
2.5
222
NET YARDS PASSING
81
16-40
5.5
3-9
3
Completions-Attempts
Net yards per pass play
Sacked: Number-Yards
Had intercepted
15-31
2.6
0-0
1
73
NET YARDS RUSHING
81
39
1.9
Rushing Attempts
Average gain per rush
34
2.4
4-88
PUNTS: Number-Yards
5-179
22.0
Average
35.8
65
TOTAL RETURN YARDS
212
1–9
4-69
1-5
Punt Returns: Number-Yards
Kickoff Returns: Number-Yards
Interception Returns: Number-Yards
3-6
2-45
3-161
9-66
PENALTIES: Number-Yards
6-45
4-4
FUMBLES: Number-Lost
0-0
0 0
SACKS: Number-Yards
3-9
1-5
INTERCEPTIONS: Number-Yards
3-161
34:09
TIME OF POSSESSION
25:51
Victor Valley

Southwestern

| PASSING | C-A | YDS | LG | TD | INT |
| --- | --- | --- | --- | --- | --- |
| EVAN NELSON | 16-40 | 231 | 42 | 1 | 3 |
| TEAM | 0-0 | -9 | 0 | 0 | 0 |

| RUSHING | ATT | YDS | AVG | LG | TD |
| --- | --- | --- | --- | --- | --- |
| MAREEK PITTS | 16 | 76 | 4.8 | 18 | 0 |
| KHADEEM RICHARDS | 7 | 32 | 4.6 | 13 | 0 |
| LAWRENCE HILL | 7 | 22 | 3.1 | 8 | 0 |
| EVAN NELSON | 2 | 7 | 3.5 | 4 | 0 |
| DARIUS BURGOS | 4 | 2 | 0.5 | 4 | 0 |
| DARRION WEBB | 3 | -66 | -22.0 | 0 | 0 |

| RECEIVING | NO | YDS | AVG | LG | TD |
| --- | --- | --- | --- | --- | --- |
| SOMAJ BREWER | 6 | 92 | 15.3 | 42 | 1 |
| KAYJON EDWARDS | 1 | 35 | 35.0 | 35 | 0 |
| ANDREW GLASS | 1 | 33 | 33.0 | 33 | 0 |
| LAWRENCE HILL | 2 | 31 | 15.5 | 26 | 0 |
| KHADEEM RICHARDS | 3 | 29 | 9.7 | 12 | 0 |
| ROBERT JOHNSON | 3 | 11 | 3.7 | 6 | 0 |

| PUNTING | NO | YDS | AVG | LG | TB | IN 20 |
| --- | --- | --- | --- | --- | --- | --- |
| DARRION WEBB | 4 | 88 | 22.0 | 29 | 0 | 0 |

| PUNTING | NO | YDS | AVG | LG | TB | IN 20 |
| --- | --- | --- | --- | --- | --- | --- |
| Jaime Medina | 5 | 179 | 35.8 | 49 | 0 | 2 |

| KICKOFFS | NO | YDS | AVG | TB | OB |
| --- | --- | --- | --- | --- | --- |
| MARK VASQUEZ | 2 | 112 | 56.0 | 0 | 0 |

| KICKOFF RETURNS | NO | YDS | AVG | LG | TD |
| --- | --- | --- | --- | --- | --- |
| SAVON FIELD | 2 | 38 | 19.0 | 23 | 0 |
| KHADEEM RICHARDS | 1 | 20 | 20.0 | 20 | 0 |
| MAREEK PITTS | 1 | 11 | 11.0 | 11 | 0 |

| PUNT RETURNS | NO | YDS | AVG | LG | TD |
| --- | --- | --- | --- | --- | --- |
| KHADEEM RICHARDS | 1 | -9 | -9.0 | 0 | 0 |

| INTERCEPTION RETURNS | NO | YDS | AVG | LG | TD |
| --- | --- | --- | --- | --- | --- |
| ANGLE AVERY | 1 | 5 | 5.0 | 5 | 0 |

| FUMBLES | NO | LOST |
| --- | --- | --- |
| KHADEEM RICHARDS | 1 | 1 |
| DARRION WEBB | 3 | 3 |
DEFENSIVE STATISTICS
#
VICTOR VALLEY
SOLO
AST
TOTAL
SACKS-YDS
TFL-YDS
FF
FR-YDS
INT-YDS
BRUP
BLKS
QBH
4D
CARLOS MIJARES
4
1
5
–
1 – 2
–
–
2D
DARREN WOODSON
4
0
4
–
–
–
–
21
VICTOR WILLIAMS
4
0
4
–
1 – 9
–
–
23
SAVON FIELD
4
0
4
–
–
–
–
2
24
ANGLE AVERY
3
1
4
–
–
–
1-5
47
BRAXTON VICTOR
4
0
4
–
2 – 14
–
–
5D
CHRISTIAN ROPER
2
0
2
–
1 – 1
–
–
11
ROBERT BUTLER
2
0
2
–
–
–
–
25
JABARI LEWIS
2
0
2
–
–
–
–
75
JAHVON WILLIAMS
2
0
2
–
–
–
–
3D
DANA JENKINS
1
0
1
–
–
–
–
6
MAREEK PITTS
1
0
1
–
–
–
–
6D
AARON HILL
1
0
1
–
–
–
–
1
7D
NATHAN CROUCH
1
0
1
–
–
–
–
8D
BRYCE MOORE
1
0
1
–
1 – 1
–
–
20
JERMIAH JACKSON
1
0
1
–
1 – 3
–
–
1
44
LUCIO MONRROY
1
0
1
–
–
–
–
71
ANDREW SORIANO
1
0
1
–
–
–
–
TM
TEAM
1
0
1
–
–
–
–
32
DARRION WEBB
–
–
–
–
1
TOTALS
40
2
42
–
7 – 30
0-0
1-5
4
1
#
SOUTHWESTERN
SOLO
AST
TOTAL
SACKS-YDS
TFL-YDS
FF
FR-YDS
INT-YDS
BRUP
BLKS
QBH
7D
Duran Miller
5
2
7
–
1 – 3
1-0
–
24
Anthony Alton
4
2
6
–
0.5 – 0
–
–
3D
Cameron Hanson
5
0
5
–
–
–
–
5D
Issac Wright
5
0
5
–
1 – 1
–
1-100
6D
Logan Darby
3
2
5
–
–
–
–
1
91
Alexis Quinones
2
3
5
1.5 – 6
1.5 – 6
–
–
1D
Angelo Trujillo
3
1
4
–
–
–
1-32
2
11
Jesse Leasau
1
2
3
–
–
–
–
41
Jalen Portis
3
0
3
–
–
–
1-29
44
Noah Berry
1
2
3
0.5 – 1
0.5 – 1
–
–
51
Daelyn Moses-Dunn
2
1
3
1 – 2
1 – 2
1
1-0
–
9D
Jonathan Milsap
0
2
2
–
0.5 – 1
2-0
–
22
Daniel Kemp
1
1
2
–
–
–
–
48
Shaun Browder
1
1
2
–
–
–
–
92
Quentin Walker
1
1
2
–
–
–
–
1
93
Ubaldo Torres
1
1
2
–
–
–
–
95
Nicholas Bailey
1
1
2
–
–
–
–
99
Jory Weber
1
1
2
–
–
1
–
–
2D
Micah Mendillo
0
1
1
–
–
–
–
26
Daquez Crawford
1
0
1
–
–
–
–
32
Will Havird
1
0
1
–
–
–
–
47
Gavin Wilkinson
1
0
1
–
–
–
–
68
Barush Martinez
1
0
1
–
–
–
–
69
Louis Shimoum
1
0
1
–
–
–
–
82
Cameron Kane
1
0
1
–
–
–
–
97
Saul Sandoval
1
0
1
–
1 – 1
–
–
TM
TEAM
1
0
1
–
–
–
–
TOTALS
48
24
72
3 – 9
7 – 15
2
4-0
3-161
3
1
OTHER INFORMATION
Location: Chula Vista, CA
Stadium: DeVore Stadium
Attendance: 500
Weather: Sunny
Temperature: 75